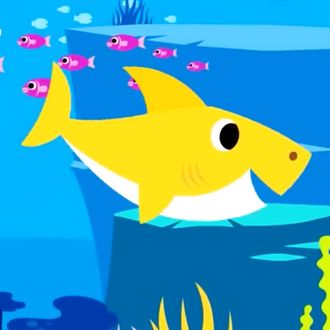 Just when you thought it was safe, Baby Shark's tiny fins appeared in the water to the tune of hand claps and "do-doo"s like a bad Jaws sequel. Nickelodeon has decided to bring about a parent's worst nightmare: a TV show and product line based on Baby Shark. At the news, Vulture staffer Kathryn VanArendonk's 5-year-old captured everyone's thoughts perfectly by asking, "WHY!? WHY ARE THEY DOING THAT?" Her 2-year-old, on the other hand, loudly demanded Alexa play the song immediately.
The tiny shark sensation first debuted in November 2015 as viral sing-and-dance hit from the children's brand Pinkfong and its parent company SmartStudy. Nickelodeon's new Baby Shark show has no details on episode length or premiere date, but in a statement given to Deadline, executive vice-president of Nickelodeon animation Ramsey Naito expressed his excitement at the announcement. "At the heart of any popular piece of content is a terrific character," he said, "and we have a great opportunity to further explore the world of Baby Shark and follow this family through some great animated adventures on Nickelodeon." Oh, boy.
The president of Nickelodeon's consumer products, Pam Kaufman, also said in a statement to Deadline that the creative team is "moving fast to get more 'Baby Shark' product across multiple categories to retailers, and our content team is excited to develop a terrific original animated series that will bring this property to new heights and even more fans." It looks like Baby Shark's quest for global domination continues. Watch the original video below if you dare.