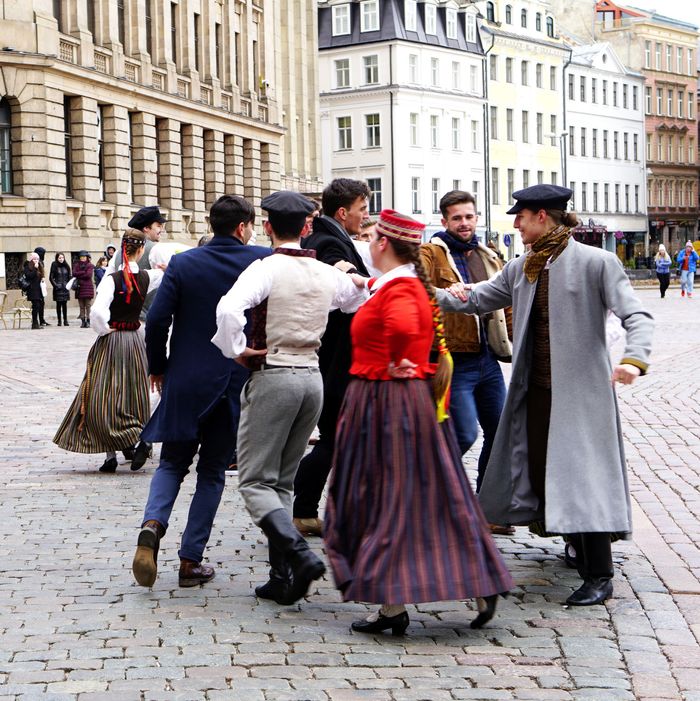 Time to dance in Latvia!
Photo: Mark Bourdillon/ABC
Any true member of Bachelor Nation will be quick to remind you of the severe, often comical disparity in travel locations between any given year of the franchise. This difference can perhaps be best exemplified by its past two seasons: Colton Underwood got to almost exclusively jet around Southeast Asia with his ladies, while Becca Kufrin had to settle for the exotic locales of Virginia and Utah. Our current Bachelorette lead, Hannah Brown, lands somewhere in the middle. After a requisite domestic pit stop in Rhode Island, Brown and her suitors have continued onto Scotland, Latvia, and next week, the Netherlands. It's nice! This writer would personally be pleased with the (all expenses paid) itinerary!
However, Brown's gents have generally been pretty meh with their new passport stamps, especially when they have to provide commentary to the camera crews about their new destinations. Presented without comment, here's what they had to say about each city.
Riga, Latvia
"This is sick." —Someone during a group walk
"Wow, look at this building." —Connor
"This is an easy spot." —Someone during a group walk
"Latvia seems like a beautiful country." —Peter
Inverness, Scotland
"This is a cool place." —Someone during a group walk
"This is a castle?" —Someone during a group walk
"Look at this thing." —Someone during a group walk
"Wow, look at those windows." —Peter
Newport, Rhode Island
"We're here." —Someone during a group walk
"Super romantic vibes." —Peter
"You guys see the bridge?" —Dylan