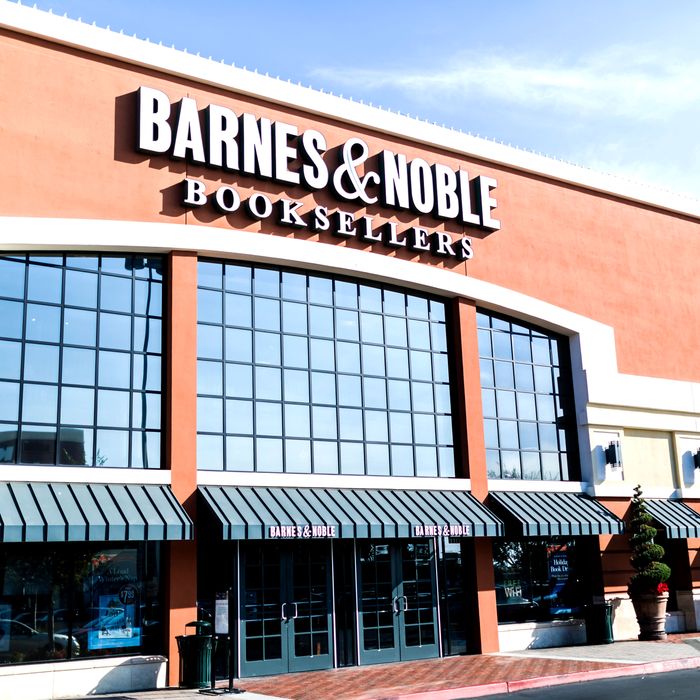 Photo: Greg Doherty/Getty Images
Last Friday, Barnes & Noble booksellers finally left its roots behind; the indie bookstore–turned–publicly traded behemoth–turned-ailing albatross is no longer founder Leonard Riggio's sickly baby. Facing the prospect of closing down entirely, the company completed a sale to the hedge fund Elliott Management after effectively putting itself on the market last October. Founded in 1971, the worldwide chain enjoyed decades of dominance in the book retail market — until the internet blew up. Starting in the late 1990s, B&N went from corporate villain (and You've Got Mail foil) to struggling underdog as Amazon rode its own arc from scrappy disruptor to monopolizing force majeure. Through the ups and downs, Riggio has either maintained control or been a short distance from the controlling seat, but the Elliott sale likely commences the first truly new management era in the company's history. And what a history it's been: Wild swings in corporate direction, CEOs hired and soon discarded — including Riggio's brother and another, allegedly dismissed for harassment, who later sued for libel. Here is a brief timeline of the outfit that changed books forever and is now forever changed by what it wrought.
1971: Leonard Riggio acquires his first store.
Riggio gets a $1.2 million bank loan to purchase the floundering Barnes & Noble bookstore on Fifth Avenue and 18th Street in New York City. The move comes six years after he dropped out of college and opened a college bookstore called the Student Book Exchange. He never finished his degree in metallurgical engineering, but he did start a bookselling empire.
1993: Riggio takes his mega-chain public, plans to make it more mega.
The New York Times reports in September of that year that the chain already has plans for "almost 300 book superstores, which are fast becoming the libraries of choice for many readers." Barnes & Noble continues to expand rapidly, adding hundreds of stores in the span of just a few years. The era of the corporatized third place (Starbucks, anyone?) kicks into gear.
1999: Big, bad B&N
Barnes & Noble has become something of a public literary enemy number one (a designation Amazon will later steal). In a feature from 1999, New York Magazine says Riggio is "well acquainted with the moral burdens of wealth and power. The success of his capacious, librarylike superstores has ironically made him the villain of the literary world — accused of breaking antitrust laws, closing down thousands of independent bookstores, bullying publishers, and flattening the literary landscape."
2003: Riggio resigns as CEO, maintains control.
He names his brother Stephen Riggio as his successor. This supposedly sends "tremors through the book industry," as Leonard has been such a towering figure in publishing. He stays on with the company, however, as executive chairman, ultimately pulling the strings.
2010: Stephen Riggio resigns as CEO.
Riggio turns the position over to "digital guy" William Lynch. By this point, Amazon has swallowed up the bookselling market and much of B&N's market share along with it. Having closed dozens of stores, Barnes & Noble has become "the little guy" again compared to the online Goliath. But Lynch promises to fight back, partly by betting big on the Nook e-reader — which debuted in 2009 — and helping the company pivot to the e-book-dominated future.
2013: So much for the "digital guy."
Lynch resigns after the Nook tanks; Nook and B&N become two separate companies. (E-books peak this year as a share of the market, declining ever after.) The company announces it will close one-third of its stores over the next decade. Riggio considers buying the company back himself (he owned 19 percent at the time), with New York writing that "by taking the company private, Riggio could … unshackle himself from the expectations of shareholders, who have objected to his redirecting cash from stores 'into the teeth of the digital book revolution,' as a Goldman Sachs research report put it." Ultimately, Riggio decides against the buyback.
2015–2016: Another CEO hired and fired; Riggio retires and un-retires.
Ronald Boire* becomes CEO in 2015. (Riggio has been overseeing the company after Lynch's resignation.) In April 2016, Riggio says he'll retire by September. But then, in August, Boire is fired and declared "not a good fit for the organization." B&N ends up paying him $4.8 million to "settle all issues related to his dismissal," and the stock plunges. Riggio postpones his retirement and becomes acting CEO, 13 years after he resigned from the position.
2017: The Parneros era begins …
B&N promotes Demos Parneros, a former Staples executive, as CEO. Riggio says he "is highly respected" and will "foster a period of new growth."
July 2018: … And ends — messily.
Never mind! Parneros is fired and sues B&N for defamation and baseless termination, claiming they only fired him because a deal to sell the company fell through. This causes B&N to say publicly that Parneros was dismissed for sexual harassment and other erratic behavior. The two parties are still tied up in court today; a ruling last month stated that the company can still proceed with legal action against its former CEO, though "B&N must pay Parneros's legal costs and fees in advance for defending himself against B&N's countersuit." Following the firing, Riggio becomes acting CEO again at age 77.
October 2018: B&N puts up for-sale sign, Riggio considers buying it again.
Barnes & Noble starts courting offers, one of which comes from Riggio himself, though the Seattle Times says he will "vote in favor of any transaction recommended by the committee." As in 2013, he decides against a buyback.
June 7, 2019: A new era begins, we hope.
Elliott Management, a hedge fund, buys Barnes & Noble for $638 million and will take the company private. The chief executive of Simon & Schuster says, "The loss of Barnes & Noble would have been catastrophic for the industry" had it folded. Last year, the same firm bought the British bookstore chain Waterstones, which has gone from posting losses to a double-digit profit margin since Elliott took over. The B&N sale was unanimously approved by the company's board, and Riggio said, "I believe they are uniquely suited to improve and grow our company for many years ahead." James Daunt, the chief executive of Waterstones, will also act as Barnes & Noble's CEO. He takes Riggio's place — for now!
*An earlier version of this article misidentified one former CEO of Barnes & Noble. His name is Ronald Boire, not David Boire.