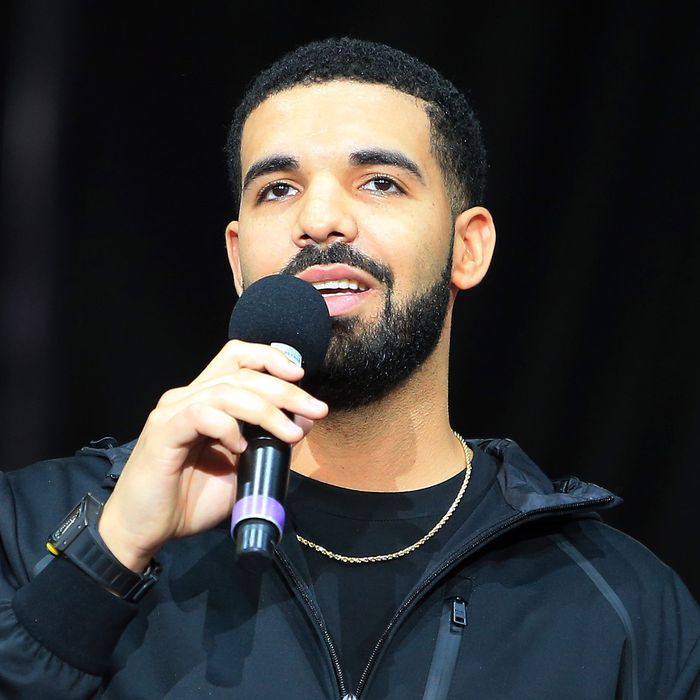 His new songs shade Pusha-T, once again making it hard to look past anything but the drama.
Photo: Vaughn Ridley/Getty Images
Every week, Vulture runs through the best, most interesting, and sometimes most confusing rap releases and other news. In this installment: Drake continues to do the most, why Lil Durk is facing murder charges, Goldlink's smart sophomore album, the alleged cover-up involving several rap classics, and more.
Drake, "Omertà" and "Money in the Grave"
On Thursday, in what could be the last professional basketball game ever played in the city of Oakland, the Toronto Raptors defeated the Golden State Warriors to win their first NBA championship. In addition to acting as a pioneer in horny wristwatch technology, Drake used the Raptors' playoff run as a chance to reestablish himself as the city's (maybe world's?) most visible sports fan. (He wasn't in attendance for the clincher, which surprised many viewers. But word was the NBA asked him not to make the trip to Oakland, citing security issues — though some have speculated that the league wanted to ensure the rapper wouldn't present another on-court distraction.)
To celebrate the win, Drake released new music the way he often has in the past: in a multi-single pack, in the middle of the night. This batch, which he's referring to as The Best in the World Pack, features two songs. One, a Rick Ross collaboration called "Money in the Grave," is mid-tempo comfort food. The other, "Omertà," is the subject of considerably more attention, and a bit more controversy.
If the title wasn't a dead giveaway, the song is the latest brick in Drake's wall of Mafia cosplay, which makes it a natural canvas for veiled shots back at Pusha-T, whose beef with Drake culminated in last year's scorched-earth "The Story of Adidon," in which Pusha revealed that Drake had a son he'd yet to acknowledge publicly. (The beef was halted when J. Prince, the Rap-a-Lot founder who helped guide Drake's career in its early stages, called for a cease-fire, citing some inflammatory future battle grounds that no party involved has yet to specify.) On "Omertà," Drake raps:
"Last year, niggas really feel like they rode on me

Last year, niggas got hot 'cause they told on me"
One thing that gets little attention — it's overshadowed by conversations about the way Drake merges singing to rapping and outshone by the sheer wattage of his celebrity — is how often and how eagerly Drake adopts the cadences and vocal textures of the more popular New York street rappers from the '90s. There are points on "Omertà," for example, where Drake adds a halting lilt to his syllables the way Biggie often did. The focus on the maybe-Pusha slights, rather than wherever Drake's omnivore streak takes him musically, underscores the way Drake the celebrity, in the public arena, consistently eclipses Drake the rapper.
GoldLink, Diaspora
It's virtually impossible to make an album that serves as a definitive take on a single genre — much less one that encapsulates the whole sprawling, rich tradition of black music across the globe. Fortunately Diaspora, GoldLink's smartly made second album, pulls shimmering and unlikely component parts from disparate genres and synthesizes them with the bounce from his native DMV. For the cleanest distillations, try the pulse of "Zulu Screams," which is aided by Bibi Bourelly and Maleek Berry, or the moment halfway through the Wizkid duet "No Lie" when the song morphs into something else entirely.
TEC, Ketha Son
The Baton Rouge rapper TEC releases music in small parcels and at an impressive pace: While last Halloween's Web Life Vol. 2 featured 14 songs, none of the original Web Life, 700 Degrees, and Luciano's Way — all released in a seven-month span — had as many as ten. Ketha Son, his latest, is a melodic, contemplative record in the latter vein that splits the difference (11 songs, 36 minutes) and confirms TEC as a thoroughly pop mutation on the Boosie DNA. Nothing here is as essential as his staggering breakout hit from last year, "Thru the Storm," but plenty is worth close attention.
Lil Durk Charged With Attempted Murder
On Friday Chicago rapper Lil Durk, whose real name is Durk Derrick Banks, and DeaVonte Bennett, a Durk protege who raps as King Von, were charged with attempted murder in a Fulton County, Georgia, courtroom. A judge found probable cause to do so after Jeffrey Churchill, a detective with the Atlanta police, testified that surveillance footage from outside a restaurant shows Durk firing a weapon from inside a vehicle.
The complete list of felony charges against Durk and Von is as follows: criminal attempt to commit murder, aggravated assault, possession of firearm during the commission of a felony, possession of firearm by a convicted felon, and participation in criminal street-gang activity. (While prosecutors are arguing that Durk and Von are members of Chicago gangs, Churchill testified Friday that he did not find any evidence to suggest that the shooting in question was gang-related.)
That shooting took place in the early morning hours of February 5 near the Varsity, a popular restaurant at the intersection of Spring Street and North Avenue in Atlanta. Police allege that Durk and Von knew that the victim of the shooting, Alexander Weatherspoon, had $30,000 in cash on him, and he was targeted for a robbery. (Weatherspoon was shot once in the thigh, taken to a nearby hospital, and recovered.) Churchill testified that it's possible Weatherspoon — who was armed — fired the first shot, after an altercation in the car he was in. Durk's attorneys have tried to cast doubt on whether their client can be identified as the shooter, as Churchill admitted that the only time he believes the footage shows Durk shooting is when he's inside a camouflage-colored Jeep.
Though he's only 26, Durk has been a significant figure in hip-hop for nearly all of this decade. As drill was exploding and national attention focused on Chicago rap more generally, Durk's early singles like "L's Anthem," "Sneak Dissin," and "I'm a Hitta" earmarked him as a potential crossover star. He signed with Def Jam in 2013 and remained there until last year, when he departed for Interscope. On May 30, he released "Turn Myself In," about surrendering freedom as part of this attempted murder case. (Durk and Von will remain at the Fulton County jail until their bond hearing, which is scheduled for next month.)
Until the shooting, 2019 had been the best year of Von's career thus far. "Crazy Story," the video for which was released at the tail end of 2018, has racked up well over 30 million views and garnered him some critical attention. Durk has maintained his innocence since the case became public; Von has not made a public comment.
Master Recordings of 2Pac, Eminem, and Others Were Destroyed in a 2008 Fire
An extensive report published in last week's New York Times Magazine claimed that a 2008 fire on the Universal Studios back lot destroyed the master recordings of as many as half a million songs, spanning virtually the entire history of popular music and including some by the 20th and 21st centuries' most iconic and important artists. (The report also goes into detail about how the extent of the fire was consistently downplayed in public reports by Universal Music Group, which is by far the biggest record label in the world.) Included in the destroyed masters were works by 2Pac, 50 Cent, Eminem, Queen Latifah, Eric B. & Rakim, Snoop Dogg, and the Roots. UMG has disputed the extent of the fire and the degree to which it will prevent the label from issuing new remastered recordings of old works, which Questlove has said is the case.