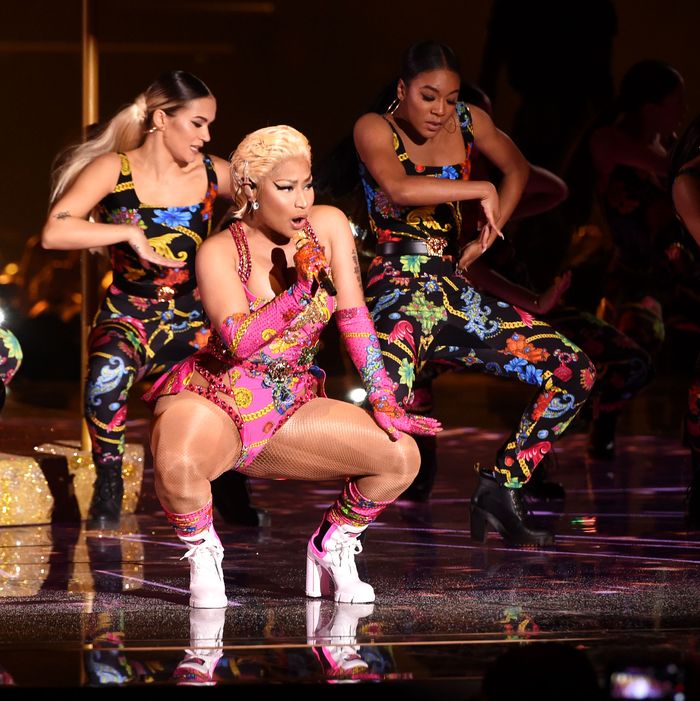 Fortunately, her new songs are reminiscent of what made Nicki central to rap earlier in the decade.
Photo: Stuart C. Wilson/Getty Images for MTV
Every week, Vulture runs through the best, most interesting, and sometimes most confusing rap releases and other news. In this installment: Nicki Minaj's comeback, Lil Nas X's disappointing "Old Town Road" follow-up, the inevitable gentrification of Biggie Smalls, Cardi B's legal woes, and more.
Nicki Minaj, "Megatron" and "Baps [With Trina]"
Last week Nicki Minaj appeared on two new songs, making for her highest-profile releases since last year's poorly received Queen. When that album was being released, Nicki was making headlines via her complaints about arcane Billboard rules over how merch packages were or were not factored into album sales totals; a perception that she was petty and spiteful took hold and overshadowed the album itself, which was considerably weaker than The Pinkprint, released almost four years prior. Fortunately, each of the new songs — a solo single called "Megatron" and "Baps," a collaboration from Trina's new album The One — are reminiscent of what made Nicki central to rap earlier in the decade.
That latter song, "Baps," stands out on an album overstuffed with guests. (Trina, who is long overdue for a critical reappraisal, tapped former partner Lil Wayne along with Boosie Badazz, Plies, Rico Love, 2 Chainz, and countless others.) It's free, bouncy, and delightfully lewd. "Megatron" is minimal in the way a summer single should be, seemingly designed to be played outside as the sun is going down. Nicki is loose and acrobatic without overselling hammy punch lines as she occasionally does on her weaker releases. Each song suggests she's capable of regaining the strangle she once had on rap and pop radio.
Lil Nas X, 7 EP
Lil Nas X is perhaps the only person alive who is conditioned to survive on the internet. But whatever he was before "Old Town Road" became the most inescapable thing on earth, on 7 EP, his debut for Columbia, Lil Nas X is alternately a meme architect trying his hand at rapping to competent but mostly flat results and a cynical opportunist throwing potentially viral moments at the wall to see which one will trend. There's the cloying "F9mily (You and Me)" and the yeehaw rehash "Rodeo," where he's blown out of the booth by Cardi B. While he's too shrewd to be pushed out of the spotlight entirely, 7 seems to indicate that Lil Nas X will not be scoring a follow-up hit of any real impact.
iLoveMakonnen, M3
iLoveMakonnen's new EP, M3, is like the rest of his catalogue: a radical morphing of sounds that have worked on radio over the last 20 years into something that sounds completely foreign. It's typified by its two excellent singles: the manic, claustrophobic "Drunk on Saturday" and the easygoing "Spendin'," which features Gucci Mane. Unfortunately, the latter is also representative of the great obstacle in Makonnen's career. What seemed to be a meteoric rise stalled after he signed with OVO due to a feud with Drake, and by the way, Makonnen points out, the industry writ large has blackballed him since he came out as gay. Makonnen has recently argued that "Spendin'," which seemed perfectly suited to Top 40 rotation, stalled when Gucci bailed on promoting it.
Mach-Hommy, Wap Konn Jòj!
Mach-Hommy is more effective than any other rapper working today at collapsing the distance between what's gaudy and material and what happens in the soul. Wap Konn Jòj! is a 19-minute burst of venom and soul, highlighted by "Mozambique Drill," a duet with his frequent collaborator, Tha God Fahim. The hook taunts: "Play stupid games, and win stupid prizes."
Sad Boy Loko Pleads Not Guilty to Attempted Murder
During a preliminary hearing last Monday in Santa Barbara, Mario Hernandez Pacheco, better known as the rapper Sad Boy Loko, pleaded not guilty to attempted murder, robbery, and assault likely to produce great bodily harm. (The charges are accompanied by three gang enhancements.) The presiding judge has denied him bail, so Sad Boy will remain in lockup, where he has been for nearly 11 months. He's expected back in court on July 26.
The charges stem from an incident on the night of July 22, 2018. A 19-year-old man, whom the prosecution has chosen to identify only by his initials, was driving around with two minors, attempting to sell a variety of drugs that he held in his backpack. Surveillance footage from around 11:30 p.m. shows the two minors entering a convenience store and leaving with a third individual (believed to be Sad Boy); all three of them join the 19-year-old man in his car. The 19-year-old man says that the four men then drove to the nearby Cacique Street footbridge, where they met an individual identified as "Yellow Shirt." At some point, Yellow Shirt allegedly brandished a knife at the 19-year-old man, stealing his backpack; when the young man threatened to call the police, he says, the four other individuals (allegedly including Sad Boy) punched, kicked, and stomped on him. The 19-year-old man says that, after he shot Yellow Shirt with a BB gun, Yellow Shirt stole the gun, hit him with it, and stabbed him.
Sad Boy's attorneys have protested on a number of grounds. For one, they argue, the Speedy Mart surveillance footage that supposedly captured him walking into the 19-year-old's car is in "notoriously bad quality." The identification process as a whole is a major point of contention: His lawyers say that police never had the victim identify a known picture of Sad Boy, rather suggesting his identity while showing the victim a grainy still from the surveillance footage. Additionally, phone records show him receiving a call near the Speedy Mart around 11:58 p.m., while the car in which the alleged assailant was riding left the area around 11:33. (Sad Boy is also shown to have made calls at 12:02 and 12:19 a.m., when the crime was allegedly occurring.) The victim described the man identified as Sad Boy as short and heavyset; at the time of the incident, Sad Boy was five-foot-eight and 140 pounds. Finally, the defense points out that footage stamped 11:58 p.m. shows a car driving in the opposite direction of the footbridge, and that a gas station attendant and Sad Boy's sister have both testified that the car belongs to Sad Boy. (The driver of the car is not visible in said footage.)
Sad Boy is certainly the most famous artist in the history of Santa Barbara and, until his arrest, was one of the ascendant Latino stars in modern rap. He'd been releasing aggressive, lo-fi music since late last decade, typified by his 2012 debut album, I'm Still Here. Effective in both Spanish and English, Sad Boy caught the attention of YG, who signed him to his 4Hunnid Records imprint in 2015. He appeared twice on YG's 2016 album, Still Brazy, on the opening song "Don't Come to L.A." and on "Blacks & Browns," which analyzed black and Latino peoples' relations to one another as well as the way each group is targeted by police. His most recent album, My Evil Ways, was released last May.
Lil Durk Released From Jail
On Thursday night Lil Durk, who was charged with attempted murder last week, was released on $250,000 bond from the Fulton County, Georgia, jail where he was being held. The decision to grant Durk bail was a reversal of the judge's previous ruling.
The attempted-murder charge is accompanied by four others: for aggravated assault, possession of firearm during the commission of a felony, possession of firearm by a convicted felon, and participation in criminal street-gang activity. All are felonies. Durk, whose real name is Durk Derrick Banks, and DeaVonte Bennett, a Durk protégé who raps as King Von — and who is charged with the same five felonies — stand accused of shooting a man named Alexander Weatherspoon outside of a popular Atlanta restaurant in the early morning hours of February 5. (Weatherspoon recovered after taking one bullet to the thigh.)
Since being released, Durk has tweeted "I'm bacccccccckkkkkk" and retweeted a message that suggests he FaceTimed with a young gunshot victim from his native Chicago. Since news of the shooting became public, Durk has maintained his innocence. No trial date has been set.
Cardi B Indicted in Strip Club Brawl
A Queens grand jury has indicted Cardi B on 14 charges, including two counts of felony attempted assault. The indictment will remain sealed until her arraignment on Tuesday afternoon.
The charges stem from a fight at Angels Strip Club in Flushing last August. Cardi, a Bronx native whose given name is Belcalis Almanzar, is accused of starting a fight with two sisters who are bartenders at the club. Police allege that Cardi and others with her "threw bottles, chairs, and hookah pipes." Cardi is said to have accused one of the sisters of having an affair with her husband, the rapper Offset.
The Notorious B.I.G.'s Childhood Home Renting for $4,000
Earlier this month, the block at St. James Place between Fulton Street and Gates Avenue was renamed Christopher "Notorious B.I.G." Way to commemorate it as the childhood home of one of the greatest rappers to ever live. In Big's rhymes, the Brooklyn of his youth was rendered as bleak and forgotten by the wealthier sections of New York City. But gentrification is swift and relentless, and the apartment in which Big grew up, at 226 St. James (the one he famously described as a "one-room shack" in "Juicy"), was purchased in 2013 for $825,000 and has undergone extensive renovations. Its owner is now renting it out at the price of $4,000 per month. The listing for the 972-square-foot, three-bed, one-bath home reads, in full:
Amazing three-bedroom home with additional den/office and separate dining room with best light is now available for rent in the desired neighborhood of Clinton Hill historic district. The limestone eight-unit condominium prewar building was recently renovated and maintains gorgeous prewar details, like hardwood floors and high ceilings. The kitchen has granite countertops, stainless appliances, and lots of storage. This home also features a windowed dining room and a spacious southeast-facing living room with an additional office. The building offers laundry, bike storage, and a common garden with plantings and barbecue area. One block from the subway and convenient to shops, restaurants, and all Clinton Hill has to offer. Sorry no pets.