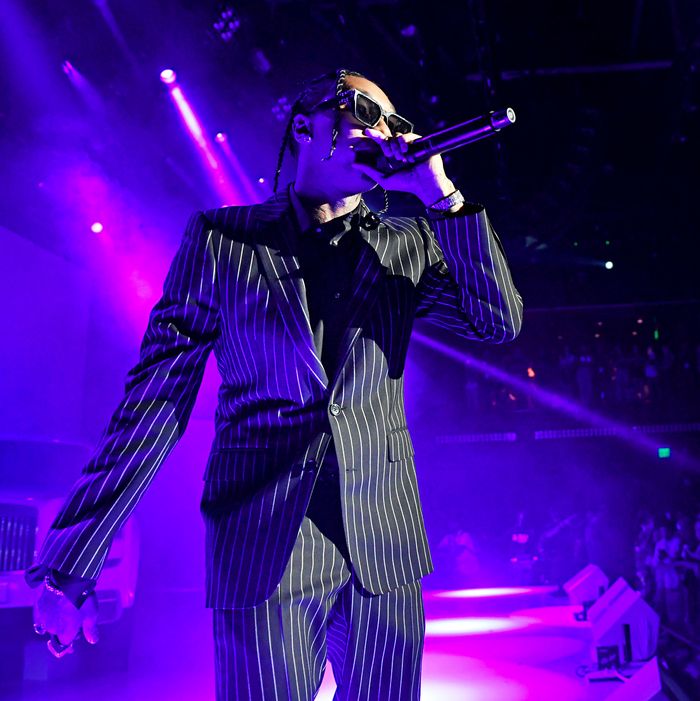 Legendary
is really a smarter, more judiciously crafted version of a DJ Khaled album.
Photo: Kevin Winter/Getty Images for iHeart
Every week, Vulture runs through the best, most interesting, and sometimes most confusing rap releases and other news. In this installment: Future extends his identity crisis, Jay-Z becomes rap's first billionaire, Tyga's improbable longevity, Pusha-T and Kanye West get sued over a sample, Polo G is more than a one-hit wonder, and more.
Future, Save Me
Future and those in his inner circle have spoken about how jarred he was by the negative reviews for his second album, 2014's Honest. While that record holds up impressively today, it was dismissed at the time as scattershot and too R&B-forward; his furious run that followed, with mixtapes Monster, Beast Mode, and 56 Nights, and the blockbuster album DS2, were often characterized as the result of a bitter breakup — which they were — but were also attempts to recalibrate his stylistic focus. (DS2, staggering as its highs are, stays in a relatively narrow tonal range.) He's recently branched back out, especially with 2017's mostly-pop album HNDRXX. Save Me, a seven-song EP, is tagged as an R&B/soul project on most streaming services. It's not as expressive as the experimental moments of HNDRXX and generally hovers around a consistent BPM, but it includes some genuinely wrenching moments — especially on "Shotgun" and closer "Love Thy Enemies." On the opening song, "XanaX Damage," Future makes smart use of production by the rapper-producer Bobby Raps, a dynamic up-and-comer from the Twin Cities.
Tyga, Legendary
Here's a tracklisting stunt that's hard to top: Take a song called "Lightskin Lil Wayne" and follow it with a Lil Wayne collaboration. By placing himself next to an endless parade of stars and tastemakers, Tyga has, improbably, established himself as one of this decade's commercial mainstays: He rode DJ Mustard's burgeoning wave with "Rack City," not to mention the coattails of Wayne, Chris Brown, et al., and here he trades verses with the likes of Blueface and Gunna. Legendary is really a smarter, more judiciously crafted version of a DJ Khaled album: It ropes in major stars, up-and-comers, and bubbling sounds but molds them into the coherent vision of a single human being.
Polo G, Die a Legend
Die a Legend is what would happen if you took the slower, more somber and introspective cuts that serve as B-side anchors of many street rap records and fashioned a whole album out of them. Polo G is one of the biggest stars in Chicago at the moment and has the technical mastery to make drill seem fresh and different nearly a decade into its run, but he has drenched it in piano and shifted its emotional center toward earnest attempts to process trauma. The album features his megahit, the Lil Tjay–assisted "Pop Out," as well as a remix that clumsily affixes two Atlantans, Lil Baby and Gunna.
Valee, Runnin' Rich EP
Valee's stock has steadily risen over the past two years without his releasing much new music. The GOOD Job, You Found Me EP from March 2018 distilled his muted yet intoxicating style, but aside from his hit Jeremih collaboration, "Womp Womp," there has been little else. Runnin' Rich, the cover of which features an image of Valee's controversially red-dyed dog, serves as a compelling stopgap. Valee's approach is singular: quiet, sly, and, recently, bitten to hell and back. It's refreshing to hear him alongside three markedly different Chicagoans (King Louie, Vic Mensa, and G Herbo), and to consider the different permutations of one city's rap lineages. (Ed. note: Valee has since taken down the EP, but says it will have an official release on streaming shortly.)
Open Mike Eagle, The New Negroes (Season 1 Soundtrack)
Open Mike Eagle is a brilliant underground rapper from Chicago who has lived in Los Angeles for more than a decade; his albums, like 2014's Dark Comedy and 2017's brick body kids still daydream, are masterpieces of postmodern paranoia. But this year, Eagle has teamed up with the comedian Baron Vaughn to bring a stand-up-comedy showcase show, The New Negroes, to Comedy Central. Each of the eight episodes in the first season featured guest comics, hosting bits by Vaughn and Eagle, and a high-concept music video that places Eagle alongside a famous guest star, performing original songs that were hilarious and, more often than not, deeply absurd. They're all collected here: a song about policing one's own behavior with MF Doom, one about eating inedible luxury goods with Method Man, and a cut called "Extra Consent" with a guest turn by Lizzo.
Forbes declares Jay-Z a billionaire.
Last week, Forbes, which makes a habit of watching other people's pockets, declared Jay-Z a billionaire. Its estimate of his wealth includes: $50 million in real-estate holdings and an art collection worth $70 million; $75 million each for his stake in Roc Nation and for profits from his own musical catalogue; $100 million for his stake in Tidal; $220 million in cash and assorted investments, including in Uber; and, most lucratively, $410 million in liquor, by way of his stakes in D'Usse and Armand de Brignac. The magazine notes that very few entertainers have crossed the $1 billion threshold, and that Jay is the first hip-hop artist to do so.
The analysis is penned by Zack O'Malley Greenburg, who has written an entire book on Hov's bank account (Empire State of Mind: How Jay-Z Went From Street Corner to Corner Office) and who notes that as far back as 1996, Jay was taking a unique degree of ownership over his career. He famously co-founded Roc-A-Fella when no existing label would give him favorable terms on his debut album, Reasonable Doubt; he went on to establish Roc-A-Wear rather than endorse a clothing brand he didn't own.
Pusha-T and Kanye West sued over Daytona song.
Fame Enterprises Inc., which holds the copyright on George Jackson's "I Can't Do Without You," has filed a lawsuit in Alabama against Kanye West, Pusha-T, Def Jam, and G.O.O.D. Music, claiming that the song was used as an unauthorized sample on the West-produced "Come Back Baby," from Pusha's Daytona. In addition to the simple fact of the song's usage, Fame claims that it would not have licensed the song under any circumstances given the subject matter of Pusha's raps. The plaintiffs are demanding a jury trial.
Drakeo the Ruler's trial begins.
Last Monday, prosecutors and defense attorneys delivered their opening statements in the case that sees Drakeo the Ruler, his brother Ralfy the Plug, and another young man charged with first-degree murder, attempted murder, and several counts of conspiracy to commit murder. The charges stem from a shooting that occurred on December 10, 2016, outside of a party in Carson, California. Neither Drakeo, whose real name is Darrell Caldwell, nor his brother is accused of shooting at the man who was killed or the two who were shot non-fatally, but the district attorney is attempting to tie them to the scene through images of guns culled from social media and music videos, and through the spat Drakeo had with the rapper RJ, who was believed to be at the Carson party in question.
In the time since the shooting, Drakeo has become one of the most creatively daring and celebrated rappers in L.A. County. His album from December 2017, Cold Devil — which was written and recorded during the few weeks he was free from lockup — is perhaps the most stylistically innovative rap release of the past half-decade. He has steadily maintained his innocence. The trial continues today, when defense attorneys will resume their cross-examination of one of the lead detectives from the L.A. Sheriff's Department.