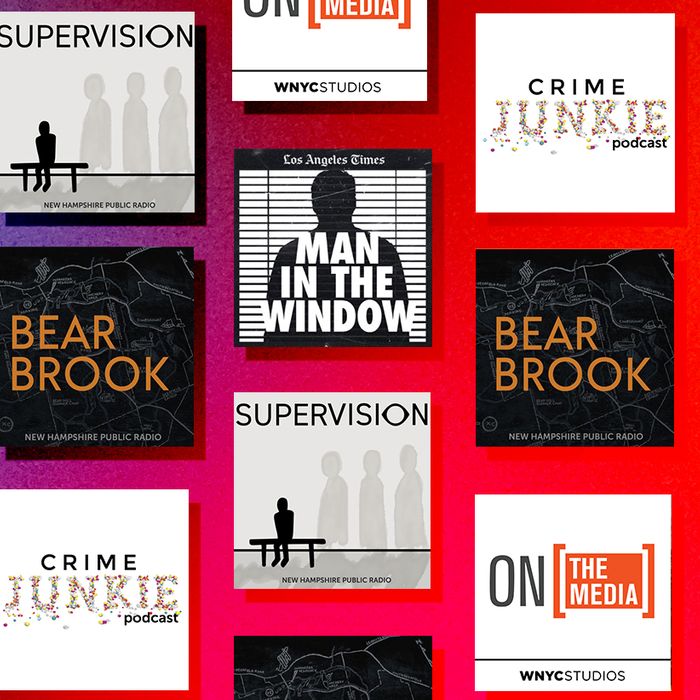 The true-crime podcast universe is ever expanding. We're here to make it a bit smaller and a bit more manageable. There are a lot of great shows, and each has a lot of great episodes, so we want to highlight the noteworthy and the exceptional. Each week, our crack team of podcast enthusiasts and specialists will pick their favorites.
Man in the Window: "Victim Number One"
The Golden State Killer's victims get their turn in this podcast from Pulitzer Prize–winning journalist Paige St. John, the Los Angeles Times, and Wondery. We're all familiar with Joe DeAngelo's actions over the decades he was an active cat burglar, serial rapist, and murderer terrorizing California, but Man in the Window gives the cases further context. St. John interviews survivors and investigators, including Bonnie Colwell in her first interview with the press since she was identified as DeAngelo's former fiancée. (One of DeAngelo's victims alleged that after raping her, he cried and talked about hating someone named "Bonnie" — a strange detail that investigators puzzled over for years.) Man in the Window also offers a look at how we've changed as a society in our treatment of sexual assault, both in terms of how it's investigated and how we view survivors and perpetrators in general. So far, the first two episodes have focused on DeAngelo's escalation from pantsless Peeping Tom to cat burglar and eventual rapist.
So far, my biggest complaint with the podcast is that it uses a particularly chilling recording of a phone call DeAngelo made to one of the women he attacked, Jane Carson-Sandler. I know many listeners have different thoughts on including 911 calls and the like, and I can definitely see both points of view. On one hand, we're listening to a true-crime podcast — buy the ticket, take the ride, etc. On the other, DeAngelo's whispers have haunted me since I heard them a few years ago at a true-crime event, and I could honestly have gone my entire life without ever hearing his voice again. So take this all with a grain of salt so far. [Note: A second episode of the podcast has dropped since the time of this writing.] —Jenni Miller
Supervision, "First Day Out"
The same week authorities credited a tip from a Bear Brook listener with cracking part of the cold case, New Hampshire Public Radio is on the radar again with their latest podcast, Supervision. It begins as a look at the parole system told through the story of one parolee, but as with many great stories, it goes in an unexpected direction. NHPR dropped all four episodes of Supervision at once, but let's look at episode two, "First Day Out." Reporter Emily Corwin meets with Josh Lavenets as he leaves the state prison where he's been serving three years for a domestic violence incident, but the scene isn't the hugs, handshakes, and deep breaths we'd imagine. We feel Josh's anxiety about having no money, no job, no car, no permanent housing, and the constant unease that a single mistake may send him back to prison at any time. Then, Corwin captures on tape an emergency that changes our perspective of both the reporter and her subject. Corwin's first-person journalism isn't self-indulgent — its transparency is both illuminating and necessary. Supervision's four tight episodes are the right length. It's filled with the conflicts and plot twists of a real life at risk. —Kevin Flynn
Bear Brook: "The In-Between"
I was obsessed with the New Hampshire Public Radio's podcast about the tragic Bear Brook murders, and this update was more satisfying and sadder than I could have imagined. Incredibly, it seems that the podcast helped two separate "citizen sleuths," Becky Heath and Barbara Rae-Venter, identify three of the four bodies found in those Bear Brook barrels. Investigators revealed those names during a press conference on June 5, 2019, details that Bear Brook investigator and host Jason Moon and his team have kept to themselves since interviewing Heath for the podcast. Learning how citizen sleuths go about their personal investigations is fascinating, and Rae-Venter's DNA wizardry — she helped solve the GSK case and was on Time's 100 List earlier this year — is always impressive. —Jenni Miller
On the Media, "Is True Crime Jinxed?"
Let's just agree, for the next paragraph or so, that everything you know about true crime is a lie. This episode of On the Media looks at what sure appears to be Robert Durst's confession in The Jinx, Andrew Jarecki's six-part HBO documentary. It turns out that that confession may not be one at all, but instead, a clever editing job done in order to give the film a story. On the Media's host Bob Garfield talks with Joe Berlinger, director of Paradise Lost: The Child Murders at Robin Hood Hills, the documentary series about three boys (including Damien Echols) in West Memphis, Arkansas, who were accused of murdering three children in 1993 as part of a Satanic ritual and sent to prison for the crime (Echols was on death row for 18 years). In his interview with Garfield, Berlinger reflects on The Jinx's "confession" and discusses the tension in filmmaking between portraying the truth and creating a story, and cites moments from Paradise Lost when he had to decide if the documentarians were going to get involved in the case after stumbling upon some potential evidence (two words: murder weapon). Durst's case heads to trial in September, but in the meantime, take a listen to this interview and decide if you really believe anything anymore. —Chanel Dubofsky
Crime Junkie: "Conspiracy: North Fox Island & The Oakland County Child Killer, Part 2"
Ashley Flowers takes a crack at the conspiracy linking the 1976 and 1977 child murders in Oakland County, Michigan, and a sprawling pedophile ring in this two-parter about the Oakland County Child Killer. It's a fascinating and terrible case that I found out about through the most recent season of Shattered, which focuses on how the unsolved murders became a particularly horrible coming-of-age tale in the suburbs where the kids went missing. Not too far away, a sprawling pedophile ring was discovered on North Fox Island, which operated under the guise of a summer camp for underprivileged boys. The island's owner, Francis Shelden, fled when the ring was busted, although one of the people involved in this horrible ring, a teacher named Gerald Richards, was arrested. Meanwhile, no one has ever officially been charged in the OCCK murders; the main suspect reportedly committed suicide, but the details don't seem to add up. Could the cases be related? Flowers and plenty of others think so.
The only thing that gave me pause is that Flowers compares this case to the Franklin Community Federal Credit Union conspiracy — she doesn't allege that they're related in any way, of course, but it's sort of "if you think this is horrible and crazy, wait until you get a load of this …" Which is true, I suppose. If you're interested in horrendous conspiracy theories about pedophilia rings, murder, politicians, and even Satanic rituals, the Franklin cover-up has it all. (In 1990, a grand jury ruled the cover-up was a hoax, but that's just what they want you to think, am I right?!)
Hopefully, the renewed attention on these murders will help the investigators get to the bottom of these horrible crimes and give the families who haven't given up the answers they deserve. —Jenni Miller