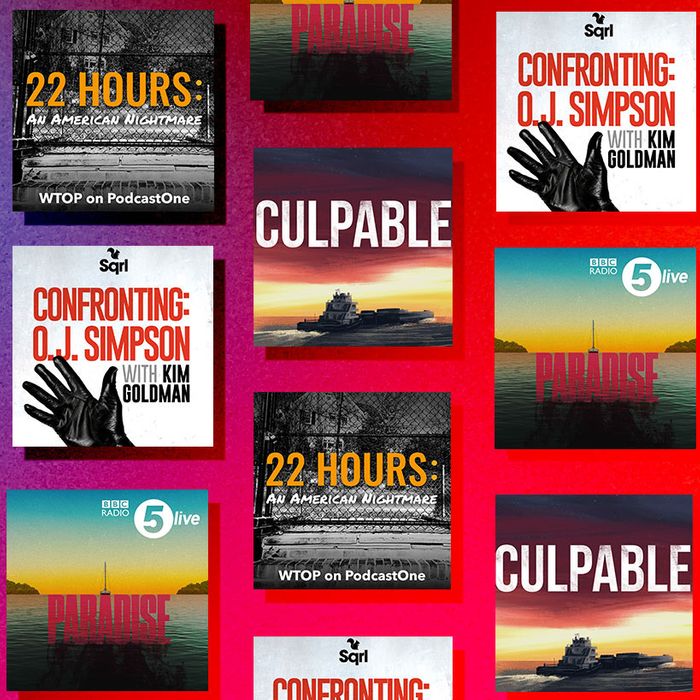 The true-crime podcast universe is ever expanding. We're here to make it a bit smaller and a bit more manageable. There are a lot of great shows, and each has a lot of great episodes, so we want to highlight the noteworthy and the exceptional. Each week, our crack team of podcast enthusiasts and specialists will pick their favorites.
Confronting: O.J. Simpson: "Objectively Bonkers"
Twenty-five years after the murder of her brother, Ron Goldman, along with Nicole Brown Simpson, Kim Goldman is looking at the case again, in order to get a better sense of how and why Simpson was deemed not guilty. In this second episode of the podcast, Goldman, along with her co-host Nancy Glass, who covered the Simpson trial in 1995, speak with Marcia Clark (the lead prosecutor) as well as Tom Lange, the now-retired LAPD detective who spoke with Simpson during that infamous car chase. They discuss the bananas amount of evidence and witness testimony that never made it into the trial, like the Bronco and the testimony of the dude who allegedly saw O.J. emptying the contents of a duffel bag into a trash can at LAX. A good rule for listening to any episode of Confronting: O.J. Simpson (there are three so far) is to keep in mind that every time your brain snags on a detail that seems strange, pay attention. For example, when O.J. told the police that the blood on his shoes was the result of a golf injury, and you can't quite imagine what kind of golf injury would cause one's feet to bleed, hold on to that skepticism — it's there for a reason. —Chanel Dubofsky
Paradise, "Welcome to Paradise"
Paradise, a BBC 5 Live podcast, got my attention right away with its opening scene in which a dental surgeon examines teeth from two badly decomposed bodies to identify a young British couple. That couple, Chris Farmer and Peta Frampton, were backpacking through Belize in 1978 when their family stopped receiving letters from them. Chris and Peta said they going to work as crew on a boat with an American man and his two sons. They were never seen alive again. Their bodies were found in the ocean off Guatemala, hog-tied and weighted down with engine parts. The boat's owner, Silas Duane Boston, was finally arrested in 2016 for the murders, though he was the only suspect from the start.
So why did it take almost 40 years for justice in the case? Reporters Dan Maudsley and Stephen Nolan set out to answer that, but acknowledge the story is more complicated than they expected, especially since Boston died in jail. Boston's adult son, Vince provides an eyewitness account as he recounts witnessing the murders. "How deep do you want to go with this story?" Vince asks the hosts. The answer is deep, and those who want to know every minute detail of the case will have plenty to digest in Paradise. —Lara Bricker
Culpable: "Trust the Process" and "Until We Meet Again"
Suicide or homicide? That's the question at the heart of this new podcast from Tenderfoot TV (Up and Vanished, To Live and Die in L.A.) hosted by Dennis Cooper. In episode one, we're introduced to 21-year-old Christian Andreacchio, a Mississippi tugboat worker who was found slumped over in his bathtub with a bullet wound to the head in 2014. Everyone who knew Christian maintained there was no way he would have died by suicide — and according to his mother, who speaks at length here about her son's death, the police spent a paltry 45 minutes investigating the shooting before declaring it self-inflicted. In episode two, Cooper begins diving deeper into Christian's life, introducing two characters who seem about as shady as the day is long. Whether they hold the key to Christian's death or are simply innocent bystanders, there's clearly enough here to warrant a more thorough investigation than the police mounted. Hopefully Culpable can finally mete out some sort of justice for Christian. —Amy Wilkinson
22 Hours: An American Nightmare: "Taken Captive"
Not that there's a hierarchy to crime, but home invasions are basically the worst. In May 2015, four members of the Savopoulos family and their housekeeper, Vera Figueroa, were murdered by an intruder in their Northwest Washington, D.C., home in what came to be known as "the Mansion Murders." When firefighters were called to a fire at the home, they found the bodies, including that of 10-year-old Phillip, covered in blood and with evidence of torture. This isn't a "whodunnit" investigation, says co-host Megan Cloherty, a reporter for WTOP, a commercial FM radio station in Washington, D.C., that produces the podcast. The case has been tried, and Daron Wint, a former employee of Savvas Savopoulos, was sentenced to four life terms for the murders. In the second episode, Cloherty and her co-host, Jack Moore, examine the timeline of the 22 hours during which the victims were held hostage, including the phone calls Amy and Savaas made while it was all happening, which are absolutely chilling. There's so much that just does not make sense about what happened: Did Wint act alone? Was his motive actually greed? Why did he get pizza delivered amid the home invasion? This whole case is the definition of A Lot, so get ready to go down a deep, super-dark, hole.