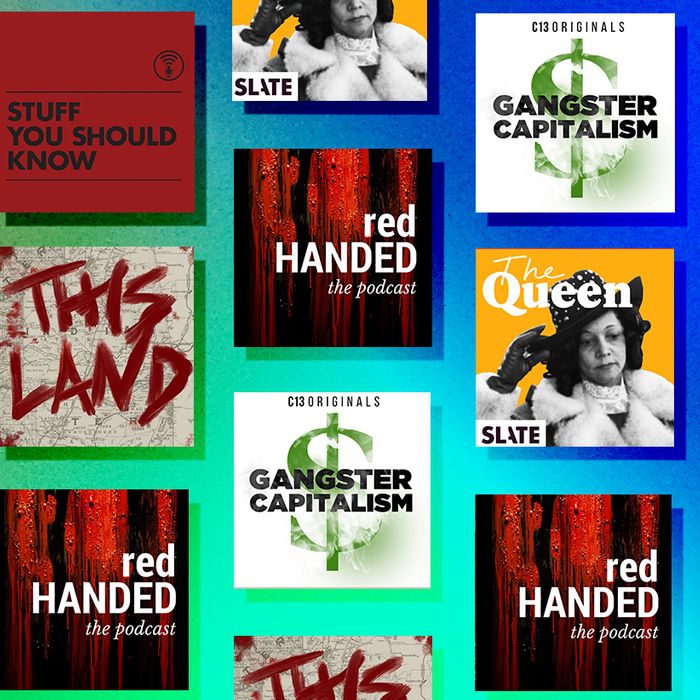 The true-crime podcast universe is ever expanding. We're here to make it a bit smaller and a bit more manageable. There are a lot of great shows, and each has a lot of great episodes, so we want to highlight the noteworthy and the exceptional. Each week, our crack team of podcast enthusiasts and specialists will pick their favorites.
The Queen: "Bobbie and Diana"
If you were kicking around in the '80s, chances are good that you remember Ronald Reagan describing a glamorous grifter he dubbed the Welfare Queen who was emblematic of all of the things wrong with the welfare system. This Chicago woman had cars and furs and all sorts of fancy things she'd bought by cashing in welfare checks — she'd stolen six figures, if not seven, through welfare fraud. And if you weren't around then, well, Reagan's folksy attempt to scare constituents has woven itself into the fabric of pop culture. In GLOW, Kia Stevens's character's wrestling character is dubbed Welfare Queen and makes the racist subtext of Reagan's fearmongering explicit.
But who was the woman behind Reagan's anecdote? Slate's podcast The Queen, which is a companion piece to Josh Levin's book of the same name, delves into the sad and strange life of Linda Taylor. As it turns out, the welfare fraud was exaggerated by the journalist who dug up her story, and Reagan ran with it, but she committed a host of other crimes, including a possible murder and kidnapping. To be clear, The Queen doesn't give Taylor a pass for her crimes, but it does give her story context and examines how the "Welfare Queen" concept became a touchstone for the vilification of people on welfare and black women in general. This is the last episode of the series, and it features interviews with two women who knew Taylor when they were children, with vastly different experiences with Taylor. A bonus episode just dropped today, but only for Slate subscribers. —Jenni Miller
This Land: "The Case"
Crooked Media enters the true-crime arena with This Land, focusing on the consequences of a seemingly straightforward murder case 20 years ago in Oklahoma. What happened does not seem to be under dispute. A man named Patrick Murphy was found guilty of murdering another man named George Jacobs. Both men were members of the Muscogee Creek Nation. Murphy was sentenced to death. The real crux of the podcast, though, is that Murphy's lawyers argue the crime took place on reservation land, putting it outside of the state's jurisdiction, a claim that has now made it to the Supreme Court. A favorable ruling would save Murphy from execution. The outcome could also result in as much as half of Oklahoma's land being designated as reservation territory. If this sounds dry, rest assured, it's not. In the "The Case," host Rebecca Nagle — herself a member of the Cherokee — tells the complicated history of land apportionment in Oklahoma and the legal theory that distinguishes between owning a piece of ground and owning the earth beneath it. The show also promises to explore a seemingly unconnected murder that occurred 150 years ago and the "larger right wing attack on tribal sovereignty." —Toby Ball
RedHanded: "Strangers at the Door: The Murder of Kanika Powell"
The only reason we have any information about the lead-up to 28-year-old Kanika Powell's 2008 murder is because of communication she had with her mother and her friends. As RedHanded's co-host Hannah points out in this episode, researching Powell's case online resulted in a lot of "404" error messages. After four instances of strange men (who knew her name) showing up on her doorstep, two of whom insisting that they had a package for her, Powell was shot in the hallway of her apartment in the middle of the day. Did Powell, a security contractor with top-secret clearance, stumble upon something she shouldn't have? Was it a hit gone wrong ("Hit men don't have Yelp review pages." — Hannah)? Was her murder connected to an active serial killer in the area? Even now, Powell's death remains unsolved, as does that of Sean Green, another person of color and a government employee, shot to death 30 miles away while parked in traffic two and a half months after Powell's death. Are they connected? In the span of 43 minutes, Hannah and Suruthi will inspire you to plunder the crevasse that is Reddit and remind you that even locking your doors might not be enough to save you. —Chanel Dubofsky
Gangster Capitalism: "Ricky"
Covering a case while the legal proceedings are ongoing is a tricky proposition. But for a new podcast detailing the college admissions scandal, documentarian Andrew Jenks (late of MTV's World of Jenks) seems to have found a sweet spot, utilizing the endless reams of incriminating transcripts, supplemented with his own original reporting. The first few episodes feature interviews that shed light on the grander societal toll this crime took. ("The Bumper Sticker Mentality" includes a truly heartbreaking chat with a rowing coach who works with underprivileged youth — ones whose spots at elite colleges could have theoretically been taken by the faux athletes who bribed their way in.) With "Ricky," Jenks is finally able to get people familiar with the scandal's mastermind — William "Rick" Singer — to speak about his upbringing and bearing. What emerges is a portrait of a young man observing his small town's elite and doing what he had to to get a piece for himself. It's the American Dream gone rotten. —Amy Wilkinson
Stuff You Should Know: "The Tylenol Murders, Parts I and II"
Oh, the innocent times — when you could take a Tylenol without wondering if it would kill you. The 1982 Tylenol Murders, which killed seven people in one day in Chicago, remain unsolved. The question of who would do something like this is an obvious one because it was basically impossible for the poisoner to know exactly who would be taking the tampered drugs, so discerning a motive proved even more difficult. In "Part I," Josh and Chuck give you the basics, including the victims, as well as what was done after it became clear that this was a case of domestic terrorism. "Part II" outlines the suspects — the chemist who literally owned a manual on how to kill people, and the dude who had, among other things, been caught with dismembered body parts in his attic. The police and the FBI, as well as citizen detectives, are still trying to solve this case, and some folks don't actually think it was a case of random murder at all, but a major glitch that Johnson & Johnson was aware of. Yikes. —Chanel Dubofsky