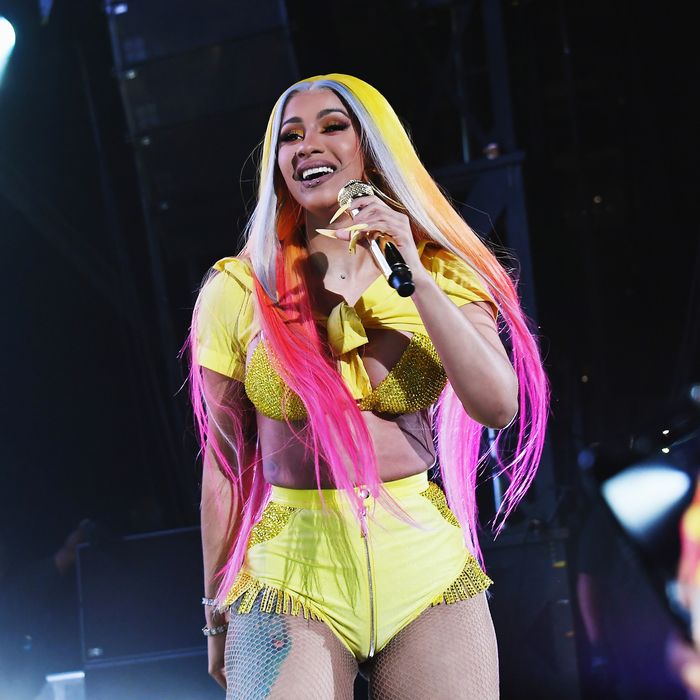 Like most of her songs, it hinges on the energy of the performance.
Photo: Nicholas Hunt/Getty Images
Every week, Vulture runs through the best, most interesting, and sometimes most confusing rap releases and other news. In this installment: Cardi B gets media shy, Yo Gotti makes a costly series of errors, Denzel Curry's latest, Meek Mill vs. the Cosmopolitan, and more.
Cardi B, "Press"
"Press" is the first new solo Cardi B song of the year, following up 2018's runaway hit Invasion of Privacy, which won her the Grammy for Best Rap Album. Her power at the moment is such that both of her latest singles, including last fall's "Money," are admitted scraps from the Privacy sessions (and, of course, "Money" went on to reach No. 13 on the Hot 100). Topically speaking, "Press" is the kind of song countless artists have written after tipping over into superstardom — the media should leave me alone, fame is exhausting, etc. — but Cardi elevates it through sheer force of anger. The song's most effective passage is its hook ("Press, press, press, press, press / Cardi don't need more press … "), where her vocals are clean and doubled. Like most of her songs, it hinges on the energy of the performance; like nearly everything she's touched in the last year, she's throwing 101 the whole time.
Denzel Curry, ZUU
Denzel Curry could very well have ended up a relic of a specific time on the internet. Though he's not yet 25, he was introduced what feels like decades ago: as part of Raider Klan, SpaceGhostPurrp's rap collective that was from Florida (but really from the digital ether), which turned then-forgotten aesthetic angles native to Memphis and Hot Topic into something sinister that resonated with rap fans around the world. The Carol City native survived that group's splintering and several seismic shifts in underground rap; last year's Ta13oo cast him as a brooding genre synthesist. Curry's obviously talented, but has been sort of like a minor virtuoso, drifting from sound to new sound.
ZUU is the kind of pivot rappers Curry's age rarely make: one that orients him away from the moody and ornate and back toward the basics of his youth and his hometown. It doesn't sound so much like his early work as it does the decade that preceded it. Where Ta13oo sprawled, ZUU is airtight; Curry's singing voice, which often took center stage on that former album, is deployed here as a complementary feature. The record is almost entirely freestyled, and is typified by the excellent single "Ricky" — which is named after Curry's father, and whose video pays tribute to his late brother's career as a backyard brawler. ZUU is a distinctly Miami record that plays as a hot, sweaty alternative to the iciness of the Soundcloud scene in which Curry is seen as a forefather.
Jim Jones, El Capo
The last half-decade has been full of false starts and lowered expectations re: a proper Dipset reunion. This is partly because people age and skill sets atrophy (the contemporary Juelz Santana verses can be hard to hear) and partly because, as trite as it might sound, Dipset was inextricable from the moment in which it existed and the momentum marking all of the group's releases. There have been times this decade when Cam'ron has tapped back into the correct vein, and when he does so fans tend to notice — his work, even at its nadir, invited the closest attention of any group member. His lifelong friend-slash-sparring partner, Jim Jones, has had to fight for every bit of shine since he left Columbia a decade ago.
El Capo (not to be confused with the bloated, forgettable Capo, from 2011) builds on his impressive but overlooked album from last year, Wasted Talent, by pairing Jim once again with the Heatmakerz, who soundtracked much of Dipset's heyday. The hammy, grinning-at-the-camera soul flips have given way to something marginally stranger and ironically more contemporary. Jimmy is mercenary-sharp as a rapper and writer here, reducing entire outfits or arrests or RICO cases or hangovers to a handful of words. There are three Cam verses, showstopping turns from Conway and Jadakiss and amusing ones from Curren$y and Rick Ross, and a series of audio clips that serve as interludes and suggest, strangely, a far more somber and ambitious look at the world than is suggested by the songwriting proper. El Capo is a slightly bizarre record that seems like it shouldn't exist.
Mozzy, Internal Affairs
Mozzy is one of those rappers who has been so prolific as to have that quality define him. Which is fair but unfortunate: the Sacramento native is one of the best rappers working today, world-wearied but electric, his razor-sharp writing filtered through a singular growl. Internal Affairs, his 22nd (!) solo project, is a welcome if not quite definitive take on this style, full of reliably unsettling raps and plenty of pathos. What really shines are the collaborations. Mozzy has always been a valuable guest rapper, especially because his voice so often works as a needed counterpoint to his more weightless peers; here he turns in a handful of compelling duets, none more captivating than the electro, maximalist "Just My Luck," which pairs him with Detroit native Sada Baby, a spiritual twin if Mozzy ever had one.
The Cosmopolitan apologizes to Meek Mill following racial profiling accusations
A little over a week ago, the Cosmopolitan Hotel in Las Vegas denied Meek Mill's attempted entry. The incident occurred on the night of a DJ Mustard performance and was captured in a video that quickly went viral. Meek wrote a caption under the footage that read, in part:
"Some of these casinos have a bunch of [tactics] to keep the level of blacks down …. but love to take our money!!!! This happens to a lot of black entertainers not just me either!! I felt crazy being put out by these white men for no reason!"
The Cosmopolitan initially balked at this, telling NBC News that Meek was refused entry because the venue at which Mustard was playing was at capacity and under the scrutiny of fire marshals. However, in the video from Meek's Instagram, hotel officials seem to suggest that Meek would be arrested for trespassing even if he visited one of the resort's restaurants, and not a nightclub.
By the end of last week, the hotel bent to public pressure and issued a public apology to Mill on Twitter, which reads:
"We apologize to Meek Mill for how we handled the situation on Saturday, May 25, as we did not act in a respectful manner and were wrong. Meek Mill has not had any prior incidents on our property. The Cosmopolitan has zero tolerance for discrimination and we pride ourselves on providing an inclusive environment. We look forward to welcoming Meek Mill back to the resort."
Meek Mill's lawyer later told NBC that his client is no longer considering legal action against the hotel.
Yo Gotti loses $6.6 million in lawsuit over scrapped collab
Yo Gotti has been ordered by a North Carolina judge to pay $6.6 million over a collaboration that he agreed to do, and for which he cashed his appearance fee, but which he never released. According to the suit, a rapper named Young Fletcher paid Gotti $20,000 back in 2016 to do a track together; Gotti is said to have taken the money while not only declining to release the collaboration with Young Fletcher, but to have put out a similar-sounding song on his own. The suit goes on to allege that Gotti attempted to circumvent Fletcher's manager and "poach" him for his own label. The judgment, obtained originally by TMZ, was for $2.2 million, which was then tripled as the judge found Gotti's conduct to be "willful, unfair, and deceptive."
Valee dyes his dog red, for some reason
Since he was introduced to a national audience in 2017 with his cameo on Z Money's "Two 16s" and his own "Shell," Valee has been a point of near-consensus. The 30-year-old Chicago rapper's laconic style has been imitated countless times, and he scored a major hit with seemingly little push from his label. But last week, he stumbled onto something that instantly made him incredibly divisive: the color of his dog.
The small dog, which had had its fur dyed bright red, earned Valee hundreds of outraged replies from Twitter users concerned for the animal's safety. Most of these tweets focused on the dye, obviously, while some inferred from the way the dog was walking that the ground was too hot for him; Valee countered both points by tweeting: "dis edible vegan dye … no chemicals. And it's 60 degrees here, not hot. y'all wild."