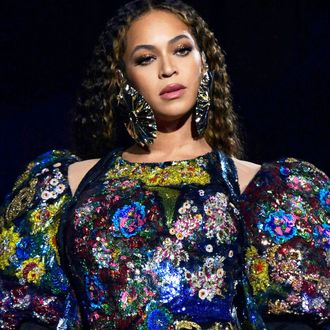 Beyoncé.
Photo: Raven Varona/Parkwood/PictureGroup/Shutterstock
Beyoncé, who must be taking classes at the Robyn Rihanna Fenty School of Not Dropping an Album But Trying to Sell Us Stuff, just launched a mysterious new merch Twitter. @ShopBeyonce features a cryptic teaser of the word beyhive, signaling a new merch drop on June 11.
Yes, Beyoncé already has a merch site fans have unloaded paychecks into, but you know this woman loves drama. The exact details of the launch are under wraps, but members of the formal Beyhive (which anyone can join) reportedly received bandannas and graphic T-shirts ahead of June 11.
The singer most recently dropped a new line of merch in April celebrating Homecoming, her Netflix documentary on the 2016 Coachella performance. Shortly after, she also released a single graffiti T-shirt saying, "WHERE IS THE FWT DVD?" — a reference to the Formation World Tour DVD fans have been begging for, but are definitely never gonna get. 100 percent cotton and 100 percent petty. Now, with the suspenseful "beyhive" drop, it's clear she's in it for the theatrics. Used to the drama, fans are already transferring money from savings to checking. Beyoncé clearly does not care about bills.