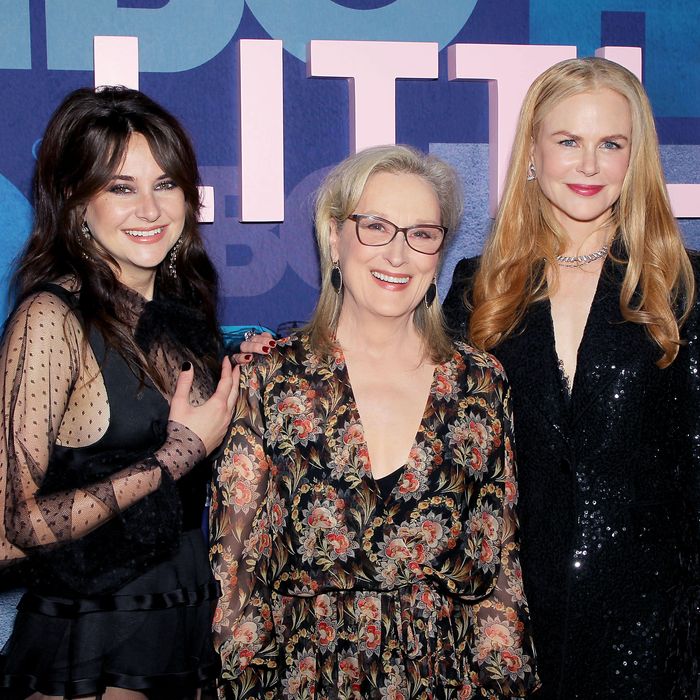 Photo: Marion Curtis/StarPix for HBO/REX/Shutterstock
If you haven't heard, the entire cast of Big Little Lies are now the loyal subjects of their "queen" Meryl Streep, who is set to make her debut in the upcoming second season. In recent interviews, cast members expressed their pure joy to work with Streep, who's set to play the mother-in-law to Nicole Kidman's character, Celeste. We did our best to collect everything the cast has said about their devotion to Streep in order to understand just how much they love her. Big Little Lies' second season premieres on HBO on June 9.
Nicole Kidman on Meryl Streep, a.k.a. "the great one"
Talking to Variety, Kidman called Streep, "the queen. I call her the great one." She also called Streep "a complete pro." On the red carpet at the season-two premiere, Kidman told ET Online, "She raises the bar. She loves to work. She shows up, she's ready, she's curious, she's so transparent in the sense that she brings the emotions and she brings this weight of her ability and also her life." Kidman also shared her excitement on Instagram, where she posted about Streep's upcoming appearance.
Reese Witherspoon calls Streep an absolute "legend"
Reese Witherspoon told Vanity Fair that Streep is "a legend" and "the sweetest, most humble, honest, and fun-loving person." The actress also talked about Streep's bowling skills on Ellen and admitted it's probably the only thing Meryl Streep happens to struggle with. "People had to like, scatter" when Streep threw the ball. On Good Morning America, Witherspoon said she had to calm herself down on the first day of filming and "literally go into another room and go, 'Calm down. She's just a person. She's just a human being.'"
James Tupper, who recognized Meryl Streep for the acting royalty she is
James Tupper, who plays Zoë Kravitz's love interest on the show, told Variety how thrilled he was to meet her. "I'll be honest with you," he said. "It was like meeting the queen of England — you're like, 'Your majesty.'"
Laura Dern, who's waiting for Streep's stand-up career to start
Dern told Vanity Fair, "Meryl is so funny. She has a great sense of humor," she said. "She's so smart, witty, and funny. She tells the funniest stories." Streep and Dern are also working together on the Little Woman adaptation. "I got to be with her again!" she said to Newsweek. "It's just a dream of my life coming true." Talking with ET Online, Dern said working with Meryl is "the dream. Having her to talk to, having her to guide you, having her to teach you."
Even though she's known Streep for years, Dern admitted to InStyle that she felt intimidated. "I never once felt intimidated until they called, "Action." And then I was like, "Oh, wow, OK, that's Meryl Streep." Even though I knew her for several years before that." Dern was also on Good Morning America, where she told the hosts that Meryl's group-chat game is unbeatable. "Meryl took it to a whole other level," she said.
Shailene Woodley, spearheading the superhero Streep franchise to rival Marvel
Woodley told Vanity Fair that Meryl Streep is basically "a superhero." "Her power is being able to be real in every moment and situation. You forget that she is this incredible actress, and you get to know her as a person who is kind and empathetic. There's a reason why she's the best." She also went on Ellen and said Streep is simply "so good. She's so good," Woodley said. "It's like a master class in acting when you're working with her because you're trying to learn and be present at the same time."
On June 10, Woodley also went on Late Night With Jimmy Fallon and gushed over Streep again. She called her a "master woman at her craft." Meryl Streep, Master Woman, uses her acting superpowers and "disarms you with her generosity," according to Woodley. She also told "Page Six" that she knows everyone's lines down to the dog's bark. Woodley told Good Morning America that Streep is just "on another level." We should all be grateful she uses her powers for good TV and film like the benevolent queen she is.
Zoë Kravitz, who didn't know how amazing it would be to meet Streep
Kravitz told Entertainment Tonight that working with Streep "was even better than I could imagine," Kravitz shared. "[With] her love of storytelling and her love of the craft. It's inspiring to see someone who's been doing it for so long and so well still hungry to do more."
Adam Scott, crossed meeting Meryl Streep off of his acting bucket list
At the season-two premiere, Scott told Variety, "Everyone knows, as an actor, you're waiting your whole life to meet Meryl Streep, let alone work with Meryl Streep and be on a show with Meryl Streep," Scott said. "It was as incredible as you would imagine."
Kathryn Newton, just plain speechless
Newton, who plays Reese Witherspoon's daughter, was on Late Night With Seth Meyers earlier this month and admitted that she lost the ability to speak when Streep graced her with her presence at dinner.