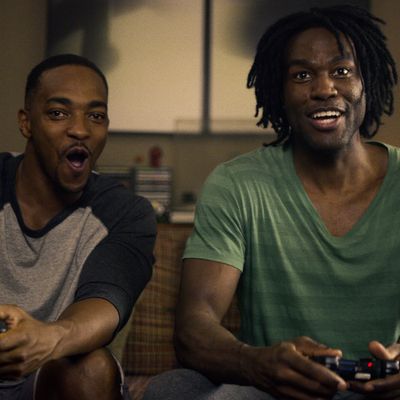 Once upon a time, Black Mirror told a story of tentative, unlikely queer love made possible through the mediating influence of technology. Representing one's self in an artificial reality provided a sense of digitized freedom that allowed characters to explore previously untouched impulses and find joys unlike any they'd ever known. That episode was called "San Junipero," and it handled the courtship between Gugu Mbatha-Raw and Mackenzie Davis in a computerized '80s realm with delicacy and respect. The episode ended gracefully, replacing the usual nightmarish twist with the establishment of a new romantic status quo bringing compassionate closure to the writer's creations.
"Striking Vipers," the first installment of Black Mirror's fifth season (excluding last year's interactive one-off, "Bandersnatch"), serves to illustrate how difficult it must have been to pull off "San Junipero." Everything that could have gone wrong the first time around does so here, from catastrophic tonal issues to an overall lack of the warmth that's supposed to render the central relationship worthy of our heart's investment. This episode turns the love between two men into another factor in a dunderheaded thought experiment, clinically analyzing emotional impulses and tendencies as if completely unfamiliar with how they'd actually play out between real people. It's hard to wrap one's head around Charlie Brooker writing these two episodes in the order he has, succeeding the functional model with its own buggy prototype.
Brooker starts by sketching character through juxtaposition between a pair of scenes. We meet two versions of Danny (Anthony Mackie), and with them come two contrasting moods for his relationship to Theo (Nicole Beharie). In the prelude taking place during their postcollege years, they're lean, mean sex machines, grinding on one another at the club and doing that sexy pretending-you-don't-know-each-other bit that Hannah and Adam couldn't quite nail on Girls. She's hot and chill, the paradoxical balance sought by all single guys, the kind of girl who responds to being woken up by a late-night video game sesh between her man and his buddy Karl (Yahya Abdul-Mateen II) by snatching their joint and slinking back to bed.
Jump ahead 11 years to Danny's 38th birthday party, and he's a shadow of his virile younger self. We know he's grown into a henpecked loser because he has the same pair of glasses that I have, and because he's reintroduced grilling burgers and dogs for a family cookout — the emasculated husband's last refuge of caveman machismo. Like so many dudes before him, he finds the sex-by-appointment mind-set of conceiving a child a major turnoff and would rather claim exemption from his marital duties on account of food-bloat than go through the motions. He doesn't like how birthday celebrations throw the passage of time into sharper focus; when a friend jokes that he's on his way to 40, he shoots back that the next stop is death.
The unexpected appearance of Karl at the backyard shindig jolts Danny out of his middle-class midlife ennui, reminding him of a time when they both had fewer responsibilities and more freedom. Karl underscores the gap between then and now with his gift, a copy of Striking Vipers X, the VR-enabled latest installment of the Mortal Kombat–style fighting game they play together in the first passage. It looks like Karl represents a return to that last gasp of late adolescence, the game their portal to a welcome taste of immaturity, until things take a turn and it becomes clear he represents a return to something else entirely.
They plug the module into their neural networks (first rule of Black Mirror: Never, ever stick the Mentos-looking thing to your temple!) and get sucked into a hyperrealistic fantasy world taken out of a graphic designer's file of cel sketches labeled "ASIATIC ORCHARD," their consciousness placed in the bodies of chiseled avatars played by Ludi Lin and Pom Klementieff. They briefly exchange fisticuffs, then with zero warning whatsoever begin furiously making out. That "zero warning whatsoever" is the beginning of the issue, leaving no foundation of desire in which to root this long-forbidden hookup. Brooker leaves bread-crumb-style clues hinting at the big twist that our leads can't wait to jump each other's bones; he opens with a roleplay scene, and shows Karl homoerotically jumping on top of Danny to mock-hump him after a good whupping. But these are more like Easter eggs than character-building, noticeable only upon a rewatch and doing little to actually prime the viewer for the big narrative pill they're expected to swallow.
From there, things play out like a brain-damaged parody of Brokeback Mountain, as these two semi-hetero men take refuge from wives and lives in their own private getaway. Intimidated by their own lust, they make excuses about having been drunk, yet they cannot resist the magnetic pull somehow drawing them together with zero demonstrated chemistry. The words "don't feel like a gay thing" are, inexorably, uttered. Just as in Ang Lee's tender queer romance, domestic conditions deteriorate as a consequence of both men marking time in the home until they can sneak away together once again. Theo can tell that something's not right, and of course her mind makes the immediate leap to affair. She's not completely off base.
This premise should raise lots of meaty questions about surrogacy and fetishism and male pathology. At the very least, it should recognize the inherent comedy of the notion that a man's dream woman would be his bro's personality copy-pasted into the body of a buxom Asian babe. (Crucially, we get the story from Danny's perspective and only snatches of dialogue to fill in Karl's much more experimental, searching vantage point. He mentions that he's tried other digitized dalliances, and it's never the same as with Danny.) Brooker sets such specific parameters for their mutual attraction, proving that the magic dissipates when they're smooching IRL, that he simplifies his own theoretical. It's not a story about latent homosexuality, or the whole notion of "trans-racial identity" floated by Rachel Dolezal a little while back. It's just a story about this guy who wishes his best friend was bangable. An episode that considers "So, you wax your ballsack" a serviceable substitute for witty flirtation can't muster much more than that.
Danny, Karl, and Theo all find their own happy ending, or so the writing would have us believe. Danny and Theo devise an arrangement that works for everyone: Once a year, he gets to have his fun with Karl while she goes out and has an anonymous one-night stand as an annual reminder that she's still got it. They've figured out the "open relationship" game on their own terms, Brooker insists, gracefully eliding what happens to their relationship the other 364 days of the year. Like everything else in this episode, it's been half-thought-through, leaving the writing developmentally stunted as a result. Brooker's left-brain writing style wants to figure out love like it's a factor in one particularly complex equation, but the thing about wanting is that it can't be gamed into submission. "San Junipero" ends with the romantic leads literally throwing their lives away to be together forever; "Striking Vipers" posits a fake affair, then wraps it up with an equally fake resolution. Brooker thinks in mathematical formulae, and here, he forces a word problem to match its solution without showing his work.