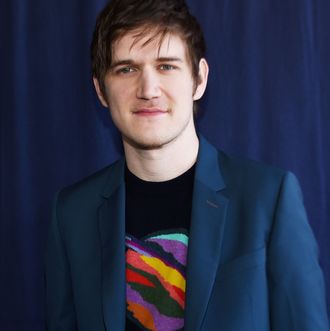 Photo: Amanda Edwards/Getty Images
Every day, Sesame Street teaches the world's children an untold number of valuable lessons. Bo Burnham can warn your kids about the dangers of Pringle cans and the anxiety-riddled life of a performer all in one little Auto-Tune. According to Variety, the Eighth Grade filmmaker will be contributing songs for the upcoming Warner Bros. live-action Sesame Street film, which will purportedly star Anne Hathaway as the film's human lead.
As reported earlier, Portlandia co-creator Jonathan Krisel will direct the feature adaptation of Jim Henson's TV classic. The movie reportedly follows Big Bird and the gang "after they are mysteriously expelled from their own neighborhood, forcing them to collaborate with history-show host Sally Hawthorne to prove that Sesame Street actually exists." All of which really contextualizes Burnham's participation, because who else can write a fun song about the Muppets getting evicted from their homes and erased from reality? The Sesame Street movie is scheduled to arrive in theaters on January 15, 2021.