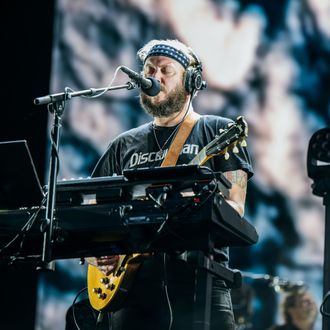 Photo: Michal Augustini/REX/Shutterstock
Brad Pitt's breakup music of choice has returned! Bon Iver has just released two new songs, "U (Man Like)" and "Hey, Ma" with their respective lyric videos. "Hey Ma" has adorable family home videos and just a friendly reminder/PSA that it's "tall time" to "Call your Ma." (Especially if, shame on you, you missed Mother's Day.) "U (Man Like)" features trippy visuals and artwork, including a lot of drawings of mushrooms and a clip of someone swinging from a tree. The new songs feature a host of contributions from Bruce Hornsby, Moses Sumney, Jenn Wasner, Elsa Jensen, Psymun, Phil Cook, the Brooklyn Youth Chorus, and others; Bon Iver first teased them following their set at All Points East festival in London on Sunday, playing the songs over the speakers as attendees exited. (They also directed fans to a new website.) The songs will reportedly appear on the band's forthcoming next album.
"Hey Ma" and "U (Man Like)" are the follow-up to the group's previous 2016 album 22, A Million. For that album, the group made their own synth and hardware package that artist Swamp Dog also used in his 2018 album Love, Loss, and Autotune. Justin Vernon also worked with Eminem last year for the rapper's surprise album Kamikaze (although he was not too happy about the resulting collaboration's messaging, tweeting that he'd asked Em to change it but his request went ignored).
The group has also expanded their fall North American tour, and are now playing 14 additional shows including New York's Barclays Center. For each show on the tour, they'll be performing with singer Sharon Van Etten, Indigo Girls, Feist, or Yo La Tengo (who are only playing at Barclays Center). The tour starts August 31 in Missoula, Montana, and ends October 19 in Raleigh, North Carolina. Presale tickets will be available on June 5 and general tickets will be available on June 7.