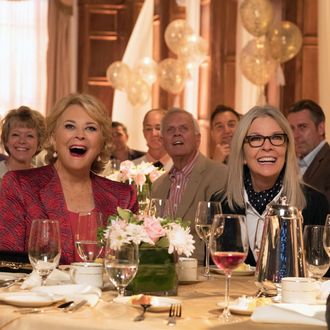 OMG!
Photo: Melinda Sue Gordon/Paramount Pictures
We're not being hyperbolic when we say this is on track to be the greatest sequel since The Godfather 2. As revealed by Mary Steenburgen, one-fourth of the Holy Quartet of Hollywood Dames (the others being Jane Fonda, Diane Keaton, and Candice Bergen, duh), Book Club 2 is currently in the works — and it's thanks, in no small part, to the loads of cash people spent to see it. "I love them and I guess we're doing Book Club 2, because the film was incredibly successful," she explained on today's Radio Andy. "It made so much money." (This writer saw it three times.) That detail is all Steenburgen would reveal about the sequel, which came up during a delightful anecdote about the ladies' recent potluck at Keaton's Pinterest-esque mansion. Why, yes, of course there are photos!
"We're kind of obsessed with each other, because none of us had ever worked together. There had been little meetings through the years between all of us," Steenburgen added. "Our stories are so incredible. And I love it because I'm the baby of the group." Vulture reached out to Paramount for additional comment, and hope to hear back that it's actually going to be a trilogy.