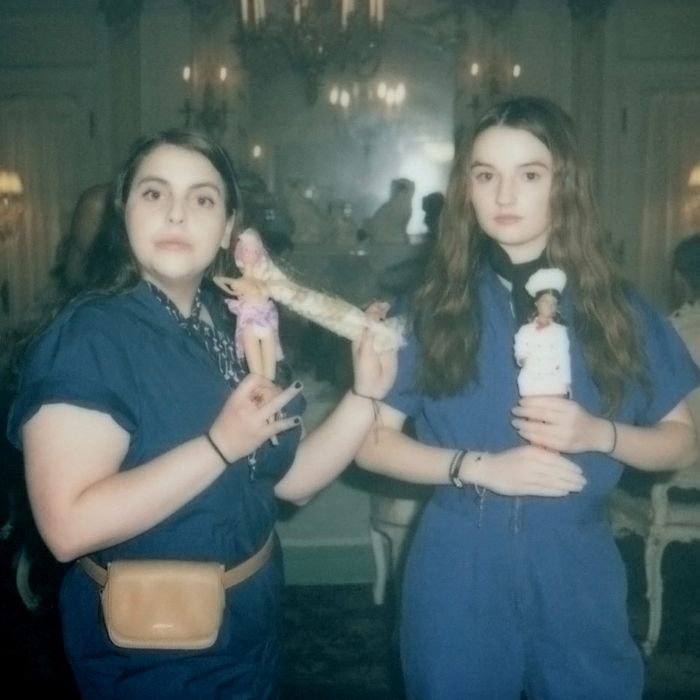 "You have to put my heel in your hole." It's a line destined to be enshrined in teen-movie history, filed somewhere between "She doesn't even go here" and "You're a virgin who can't drive." It rings absurd, and weirdly provocative, even though the hole in question isn't a vagina or an anus or a urethra. Instead, it's an indentation nestled in the palm of a Barbie-esque doll's hand.
The hole features in one of the most memorable scenes in Booksmart, Olivia Wilde's teen comedy about two Ivy-bound BFFs determined to shed their stick-in-the-mud reputations through a pre-grad bender. At a rich classmate's ruefully unoccupied yacht party, Amy (Kaitlyn Dever) and Molly (Beanie Feldstein) eat strawberries, not knowing they've been dosed with a potent (and fictional) drug described as Asian ayahuasca (or, Asian-huasca). Not until they've migrated to another location — a drama kid's melodramatic murder mystery dinner — do they realize the berries were in fact entheogenic.
Locked in a stranger's bedroom, Amy and Molly slowly transform into twisted, Barbie versions of themselves: Amy's a sexy farmer, Molly's a hot orthodontist. Think Broad City meets Toy Story, made possible by an animation team of 30 people working over the course of roughly five months.
Drug-trip scenes are staples of cinema, and Wilde, inspired by the stoned dance sequence of The Big Lebowski, knew she wanted to contribute to the canon with Booksmart. When the director reached out to the ShadowMachine animation studio — the studio responsible for Netflix's series Tuca & Bertie and BoJack Horseman, for which Wilde voices recurring character Charlotte Carson — she knew exactly what she wanted for her scene: dolls. Freaky dolls. Because "being trapped inside a Barbie doll's body is every feminist girl's worst nightmare," ShadowMachine animation supervisor Jed Hathaway (Robot Chicken, Moral Orel) explained. "Your legs are too long, your boobs are too heavy."
Indeed, Doll Amy and Doll Molly are initially appalled by their smooth-as-dolphin physiques and unbendable bodies. They maniacally scale a dresser to stare at their miniature forms in the bedroom's mirror. "These proportions are insane! Where is my chub?" Molly laments. But after admiring her "perfect, round, huge mounds" in the mirror, Amy has a change of heart. "My, my, my!" she coos, naked and spread eagle before her reflection, stroking the plasticine plane where her vagina should be.
To create the 12-inch dolls, ShadowMachine made drawings based off the actresses' likenesses, which were then turned into clay maquettes and later hard molds filled with silicone. The animators ended up with three different silicone bodies and four different heads, each representing a different clothed or unclothed, mellow or totally panicked, moment in the scene. As the animation makes apparent, the figures didn't have much give. "Their knees didn't bend, their arms didn't bend," Hathaway said, "we tried to make them as rigid as possible."
In the scene, the dolls move thanks to puppeteers who manipulated their every action in stop-motion fashion, each frame individually photographed to create the illusion of fluid activity. Filming on location would have taken too long, so ShadowMachine had to build the life-size girl's bedroom that would serve as their set. Together, the design and storyboard processes took around two and a half months. Production tacked on another two, as striking a balance between the realism and fantasy of two dolls walking about was a challenge. "We wanted the girls to have limited movement so they felt trapped inside these dolls," Hathaway said. "We didn't want it to be too slapstick or too realistic."
Barbie herself was the team's primary visual inspiration. Consequently, the animators spent plenty of time examining Mattel dolls' unclothed physiques. But, like, it wasn't weird or anything. "In animation we see a lot of naked puppets," executive producer Alex Bulkley (Tuca & Bertie, BoJack Horseman) said. "Most artists here quickly move past that moment of undressing a Barbie doll to see what it is we are trying to say." Neither Hathaway nor Bulkey partook in any illicit substances as part of their research, though Hathaway did pull from his "college experience in Boulder, Colorado, in the late '90s."
The backbone of the script for the scene was written before ShadowMachine signed on, but it changed quite a bit throughout the animation phases. In total, it was rewritten around 12 times. Sadly, some animated sequences — one involving the girls being chased around by a Roomba, and another showcasing the two vomiting pink glitter into a toilet — didn't make the final cut.
Devers and Feldstein had already wrapped the rest of their shoots by the time they started recording lines for the scene, so they did a lot of remote script improvising by creating voice notes on their phones, shouting things like "No, you're a fucking doll!" in the middle of the street. Eventually Devers, Feldstein, and Wilde met up at the ShadowMachine studio in Portland to riff together in person. This is how one of the most iconic lines in the movie came to be: "You have to put my heel in your hole." Doll Molly delivers the instruction to doll Amy as she dangles from the dresser drawer handle, on the verge of falling. Molly offers her stiletto as a life-saving device, coaching Amy to stick its heel into her hole — her corn cob hole, that is. The one that allows her, a sexy farmer, to carry her corn at all times.
Amy, heel in hole, survives the near-death experience, and after Molly persuades her to escape the room of their nightmares, they sober up outside. When probed about the effects of Asian-huasca and how the girls managed to free themselves of the grips of the drug so quickly, Hathaway and Bulkey stressed that Asian-huasca is not a real drug. Its effects, they said, probably depend on the headspace of the person who takes it. When asked what his own hypothetical Asian-huasca trip might entail, Bulkey imagined "probably lots of small puppets running around."
And as for the dolls, they currently live atop Hathaway's desk — "the ones with clothes on," he specified. "The others are all boxed up in a safe place in case they need to return to the big screen."