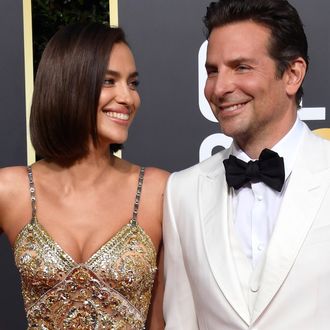 Photo: Frazer Harrison/Getty Images
Maybe it's time to let the old flames die. A Star Is Born impresario Bradley Cooper and model Irina Shayk have allegedly uncoupled, according to People. An "insider" (who is definitely not Lady Gaga, whatever gave you that idea?) told People that the couple are no more. The pair had been together since 2015, and rumors have been the leitmotif of their four-year relationship. In 2016, Shayk began wearing a ring on the finger that signifies marriage and/or engagement, which sparked rumors of wedding bells. Those bells, apparently, remain unrung. And rumors of a pending breakup have been circulating since A Star Is Born's awards season. "Page Six" even compiled a PDA-ometer of Shayk with Cooper and previous paramours, showing that she was more lovey-dovey in past relationships. So there's your smoking gun, I guess. Per People, Cooper and Shayk are working on a shared custody agreement for their daughter, Lea De Seine.
Update, June 7: Following reports of her breakup from Bradley Cooper, Irina Shayk — a free bitch, baby! — was spotted getting a pedicure on Thursday afternoon, and then took a flight out of LAX. Per Us Weekly, Irina "was spotted carrying luggage out of the home she shared with [Cooper]."
ET says that Shayk and Cooper had been unhappy for some time, but that it was "recommended" they delay a breakup until after the Star Is Born awards campaign ended. The pair was often spotted by "Page Six" spies looking "miserable" and "barely speaking." Maybe it's time to let the old ways die — and grab a drink at the drag bar Bleu Bleu!