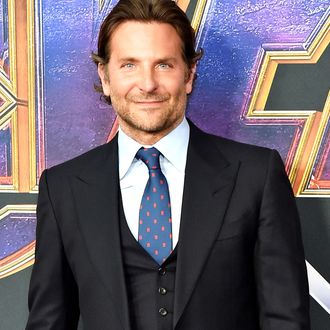 Bradley Cooper.
Photo: Axelle/Bauer-Griffin/FilmMagic/Getty Images
Two A-list actors are doing a discreet role swap. Bradley Cooper is now reportedly in talks for the lead role in Nightmare Alley, which previously had Leonardo DiCaprio attached. The situation is apparently pretty squishy, according to Variety, with Cooper having "recently received an offer and while it's currently unclear if a deal will close, sources indicate both sides have engaged in talks. Cooper would take the place of Leonardo DiCaprio, who ended up passing on the project after a deal could not be reached." So it's all very up in the air, but someone very famous seems likely to take the role in this Guillermo del Toro–directed adaptation of the William Lindsay Gresham novel of the same name. (It was previously adapted for film in 1947.)
If Cooper comes onboard he will play a con artist who teams up with a psychiatrist so they can run scams together. The psychiatrist, however, turns out to be an even more masterful manipulator than Cooper's possible character is, and she ends up scamming him too. Trust no one! While Rihanna would have been a great complement to Leo — at least in his hypothetical estimation — maybe someone should send Lady Gaga a script for the psychiatrist role if Cooper closes on the deal.