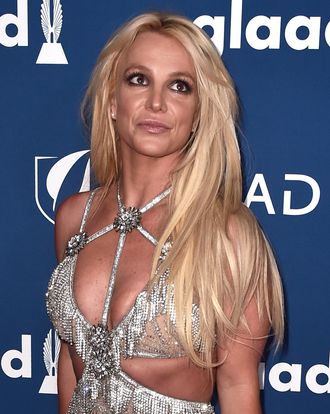 Photo: Alberto E. Rodriguez/Getty Images
A judge has extended a previously temporary restraining order against Sam Lutfi, Britney Spears's one-time manager. Jamie Spears, Britney's father, appeared in court as part of his duties as conservator. Britney did not appear. Jamie and his lawyers suggested in court, according to Billboard, "that Lutfi has attempted to incite fans who have used the social-media hashtag #FreeBritney to criticize the control James Spears and the court have had over the pop star for the past 11 years." Lutfi's Twitter account was the bulk of their evidence, though Lutfi's lawyers argued that the claims made against Jamie Spears were true and therefore protected as free speech.
Jamie Spears admitted under oath that his and Britney's relationship has been testy. "Me and my daughter's relationship has always been strained," James Spears said on cross-examination. Lutfi has made no direct contact with Britney, but did send Lynne Spears money that was subsequently returned. Lutfi's lawyer claimed tweets such as one that simply said "Raise hell" didn't constitute harassment because they were too vague. The judge disagreed. Lutfi is now barred for five years from contacting Britney, her family, or making disparaging statements about them online.