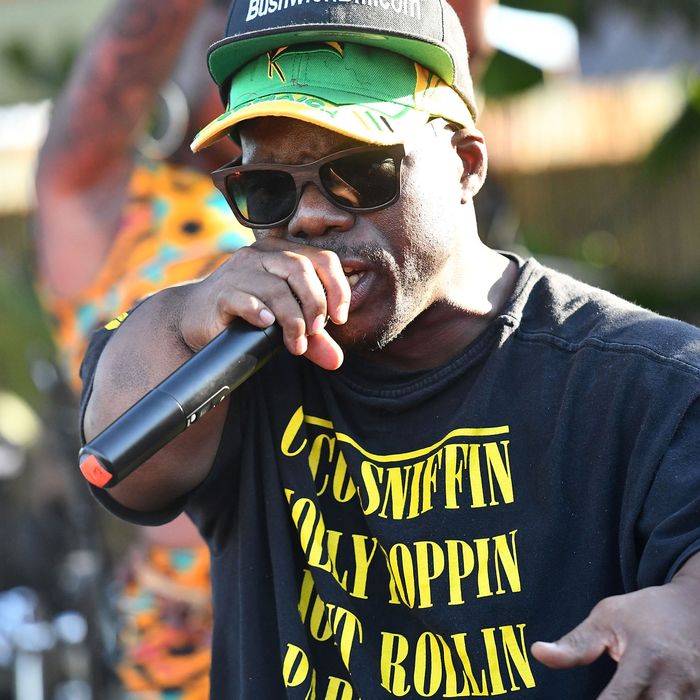 He'll be remembered as someone who fought against death the way he fought against his own demons and those of his adopted home.
Photo: Scott Dudelson/Getty Images
You'd be forgiven if the first thing that comes to mind is that album cover. There's Bill: bloodied and bandaged, stripped down to a hospital gown, phone to his ear and a 5th Ward Posse hat on his head. He's on a gurney, being pushed by his remaining group mates in Houston's seminal rap crew the Geto Boys, Willie D and Scarface. He's sedated. Just hours before, Bill, whose given name was Richard Stephen Shaw, was having a brutal fight with his girlfriend. He had tried repeatedly to get her to kill him; eventually, during the struggle, he shot himself in the right eye. In the picture, it's already gone. Underneath his slippered feet, in all-caps block letters: WE CAN'T BE STOPPED.
In the years between that photo, which was taken in the summer of 1991, and his death on Sunday night in Colorado at the age of 52, Bushwick Bill solidified himself as a pioneer in hip-hop, but also as one of its most conflicted figures. He wrote frequently about his suicidal impulses and presented his grisliest, pulpiest scenes of violence — he is in every sense a founding father of horrorcore — as an extension of or outlet for the mental anguish he truly faced. He detailed what seemed at times to be crippling dependencies on substances and he rapped about committing grim acts of violence against his loved ones. He could also be funny and free, adding levity to Geto Boys records and peppering his solo work with raucously absurd tangents. In February of this year, Bill was diagnosed with stage IV pancreatic cancer.
The story of his life is one of resilience. He was born in Kingston, Jamaica, with dwarfism (he eventually grew to be three feet and eight inches tall), which he addressed often in his music, sometimes for comic effect. But more often he used it as a point of everyday othering: On "Copper to Cash," from his 1992 debut solo album Little Big Man, he raps frankly about the way his height discouraged businesses from hiring him, which nudged Bill toward illegal means and, eventually, toward rapping. But it's also on this song where he raps joyfully about realizing his creative dreams. In interviews, he would talk about how he'd been used to people staring at him in public places; by the height of the Geto Boys fame in the early '90s, the stares were ones of awe. "Now it's not 'Look at the short guy,'" he told Pitchfork in 2015. "It's: 'It's Bushwick Bill!'"
When Bill was still young, he moved with his family from Kingston to the Bushwick section of Brooklyn, a fact that would later give him his stage name. (Bill would secure a green card but never American citizenship, which would complicate things later.) Shortly after that, he settled in his adopted Houston — hence the 5th Ward Posse hat — and, by the time he was a teenager, had fallen in with the now-storied record label Rap-A-Lot. What began as a gig hype-manning and break-dancing became a spot as a rapper in the Geto Boys, which until then had existed more as a name and branding exercise for the label than as a group with a static lineup. In 1989, the revamped group (then called the Ghetto Boys) released their first album with the roster of Bill, Willie D, Scarface, and DJ Ready Red. It was called Grip It! On That Other Level, and became a critical and — by Rap-A-Lot's standards at the time — commercial success, having cracked the Billboard 200.
But when Rick Rubin tapped the group as one of his first post–Def Jam rap projects, Bill and the Geto Boys ran into a morass of cultural conservatism that would become one of Bill's focuses. The record label Geffen refused to release their 1990 follow-up, Geto Boys, which mostly remixed songs from Grip It!, because of content it called "violent, sexist, racist, and indecent." While Scarface was the group's most visible and celebrated rapper — and while he boomed and genuflected where Bill creaked matter-of-factly — it was the latter who put the counterargument succinctly to Spin in 1990: "People want to hear what's going on around them in everyday life — war, blood, violence. It's okay for the president to start a war in Iraq, but it's not okay for me to talk about what I see around me in the ghetto."
Bill would explore this theme at length throughout his career — as part of the group and on Little Big Man, but to particularly effective ends on his minor solo masterpiece from 1995, Phantom of the Rapra. That album, full of booming, hypnotic production by Mike Dean and others, often brings to the foreground the way American ideas about what is improper to think or say are simply structures to ignore or further marginalize its most vulnerable populations. This argument became a nexus point for the over-the-top violence he could render so well: Not only did the murder fantasies that woke him up at night haunt Bill but they also provoked those in Clinton-era mainstream America who felt that rap was garish and dangerous.
Ultimately, it was that internal war, though, that fixated Bill more than anything happening in Iraq. "It'd be hard for anyone to get into your life one hundred percent," he said in 2015, "because a majority of your life is in your mind and your heart — the things you refuse not to say or do. It's hard for a camera to capture what's going on, on the inside." His verse serves as the chilling coda on "Mind Playing Tricks on Me," the Geto Boys song that stands as one of the totems in the history of the genre. Few songs before or since are more wrenching in their portrayal of a psyche on the brink of total breakdown. (Scarface's lines might be the most effective, but it's Bill's finale — a detailed tale of a tussle with a cop that's revealed to have all been a hallucination — that's most remembered as the emotional kicker.)
The records from the Geto Boys' most productive period — the creative high-water mark coming with 1991's We Can't Be Stopped, featuring that infamous album cover — are some of the most rewarding and essential from the early '90s, especially when you consider their influence over rap in the South for the next several decades and on the digital-native rappers of the 2010s. But by the turn of the century, the group had splintered for the second time, and of the three albums Bill released in the aughts, only 2009's My Testimony of Redemption charted (at No. 66 on the R&B/Hip-Hop list).
The last decade of Bill's life was as trying as any. He got clean and sober and rededicated himself to Christianity; then he relapsed and narrowly avoided deportation after an arrest for drug possession. Even the outpouring of love and support that followed his cancer diagnosis was complicated. A Geto Boys tour was thrown together, but Bill pulled out, saying that he felt his illness was being exploited, and that he resented the implication that he was on his deathbed. But Bushwick Bill will be remembered as someone who fought against death the way he fought against his own demons and those of his adopted home, and as someone who made absolutely indelible rap music in the process.