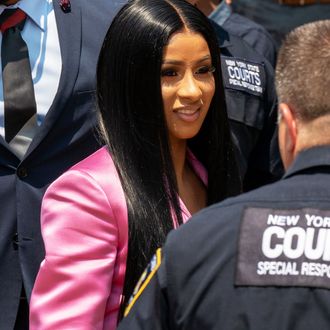 Cardi B.
Photo: David Dee Delgado/Getty Images
Cardi B has been indicted by a grand jury in relation to her alleged participation in a Queens strip club scrape last fall, a source familiar with the case confirmed to Vulture.
It's not clear what the charges will be against the rapper, whose legal name is Belcalis Almanzar. The source said the charges won't be revealed until Almanzar appears in court for her arraignment on Tuesday. The indictment will be unsealed at that time.
The indictment doesn't come as a surprise, as prosecutors mentioned grand jury involvement in Almanzar's case during her last court appearance. At the time, the Queens district attorney's office didn't offer much in the way of clarification, saying only that "further investigation necessitated presentation before the grand jury."
The indictment also comes several months after Almanzar rejected a plea deal in this case.
Almanzar stands accused of throwing a glass bottle and booze during an alleged melee at Angels NYC Strip Club early on August 29.
Sisters Sarah and Rachel Wattley, who were tending bar at Angels that morning, claimed that a fight had broken out after someone in Almanzar's entourage tossed a drink at them.
Almanzar purportedly thought that her husband, Offset, had hooked up with one of the sisters.
Update: Almanzar now faces two counts of felony attempted assault, as well as lesser counts such as reckless endangerment and harassment.