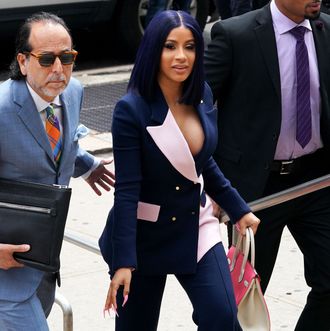 Photo: Timothy A. Clary/AFP/Getty Images
A somber Cardi B pleaded not guilty Tuesday afternoon to two felony counts, as well as a handful of lesser counts, stemming from her alleged involvement in two Queens strip club altercations last August.
"Not guilty, sir, honor," said the rapper. This appearance by Cardi B, whose legal name is Belcalis Almanzar, marks her legal drama's shift into far more serious territory.
On Friday, a grand jury indicted Almanzar on felony attempted assault and lower-level counts such as harassment, conspiracy, and reckless endangerment.
Before the indictment, Almanzar had been facing misdemeanor assault and reckless-endangerment charges. She previously said no to a plea deal that could have kept her out of jail.
Initially, the rapper had been accused of hurling a glass bottle and alcohol during an alleged altercation at Angels NYC Strip Club in the early hours of August 29. According to prior court documents, sisters Sarah and Rachel Wattley were working as bartenders at the club that evening. The initial allegation was that a brawl had broken out after someone in Almanzar's party threw a drink at them.
Almanzar was rumored to have thought that her husband, rapper Offset, had hooked up with one of the Wattleys.
Two other people accused of being involved in the incident, Tawana "RemyRojaLaPerla" Jackson-Morel and Jeffrey "AstonMartinChuck" Bush, also pleaded not guilty.
The 12-count indictment against this trio, newly released by the Queens District Attorney's Office, paints a more complicated picture involving a second alleged assault.
Prosecutors now claim that Bush was at Angels on August 15 and that he and a woman made an order at the bar "with a female bartender," identified in the indictment as Rachel Wattley. While Rachel Wattley was serving them, the woman with Bush allegedly "grabbed the victim by her hair, slammed her head into the bar and began punching her repeatedly."
"Three additional unapprehended females allegedly joined in and also struck the victim repeatedly. Defendant Bush is alleged to have video recorded the attack and used his body to attempt to block anyone from intervening in the attack on the bartender," prosecutors said in a statement.
Prosecutors also said in their statement that before this alleged attack, Almanzar and Jackson-Morel "chatted on a social media platform and allegedly coordinated the day, time and location the attack would take place, as well as whom they were targeting. Jackson-Morel and Almanzar allegedly discussed money being exchanged for carrying out the alleged assault."
In their statement and indictment, prosecutors provided more details about the alleged August 29 incident. Almanzar, Bush, and Jackson-Morel "again patronized the gentlemen's club in College Point," and Sarah Wattley was bartending, prosecutors said.
Around 3:30 a.m., Jackson-Morel allegedly tossed a drink into Sarah Wattley's face while "Bush and Almanzar, as well as several unapprehended others, also threw drinks, glass bottles and various objects at the bartender."
These bottles shattered on the floor and Sarah Wattley suffered from "lacerations to her legs, bruising to her feet and the alcohol thrown in her face irritated her eyes," prosecutors claim.   
They also planned this alleged attack with "social media chats," prosecutors said.
This post has been updated throughout.