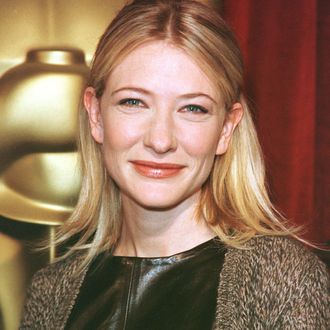 The face behind the voice!
Photo: Vince Bucci/AFP/Getty Images
For its big ole orgy scene, Eyes Wide Shut needed an American accent. When a masked and befuddled Tom Cruise invites himself to a cloaked free-for-all, a "Mysterious Woman" — played by actress Abigail Good — leads him through the cavernous mansion, and warns him that he's into some risky business. According to our just-published oral history of the famous scene, Good didn't have an American accent, but the scene needed one: "Stanley died before the dubbing was done," Good said. "And I always wondered before the film came out whether they were going to dub me, because I didn't have an American accent." Of all the women in all the world, who could Eyes Wide Shut get to dub the voice of its guide through its sexy underworld?
"It was Cate Blanchett! That was her voice," Leon Vitali, Kubrick's assistant, said. "We wanted something warm and sensual but that at the same time could be a part of a ritual. Stanley had talked about finding this voice and this quality that we needed. After he'd died, I was looking for someone. It was actually Tom and Nicole who came up with the idea of Cate. She was in England at the time, so she came into Pinewood and recorded the lines." Read Vulture's full orgy oral history here, and if you need a refresher on the scene and voice in question there's an (extremely NSFW, via PornHub) refresher here.