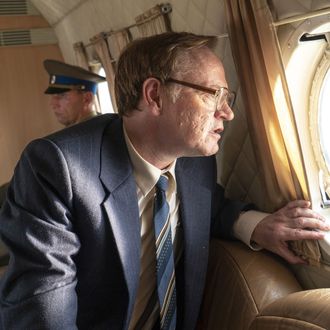 Jared Harris in
Chernobyl.
Photo: HBO
A miniseries about a 1980s nuclear disaster could easily have proved radioactive to viewers. Instead, HBO's Chernobyl has turned into an unlikely ratings hit. The network says its five-part miniseries, which wrapped Monday night, has to date attracted a cumulative audience of more than 6 million viewers across all HBO platforms. In a sign of strong word-of-mouth, the critically lauded series also saw its linear ratings tick up between each of its broadcasts last month, an exceedingly rare occurrence in the current TV environment. Once final streaming and on-demand numbers get tallied later this month, Chernobyl could even end up reaching roughly as many viewers as last year's Amy Adams–led Sharp Objects.
What makes Chernobyl's strong performance all the more impressive is that its five episodes premiered on Monday evenings rather than on Sundays, the night HBO historically has aired its most-high-profile originals. The pay-cable pioneer earlier this year announced plans to start filling Monday nights with first-run series and movies, a shift necessitated by HBO's decision to ramp up its original offerings in response to competition from Netflix and other rivals. Chernobyl and Sally Wainwright's new drama, Gentleman Jack, are the first two projects to get Monday berths under the new strategy, and the early results suggest audiences will find shows outside the Sunday cocoon. "I'm really happy with the performance of both," HBO Entertainment president Casey Bloys told Vulture on Monday.
The Chernobyl numbers are impressive on multiple levels. Its same-day linear audience has nearly doubled over its five-week run, jumping from 1.2 million viewers on May 6 to 1.9 million last week. (Ratings for the finale are expected by Tuesday afternoon.) As for the 6 million-plus cumulative audience for Chernobyl, that number puts the show's audience ahead of several established HBO regular series, including Barry and the just-wrapped Veep, which this past season averaged between 4 million and 5 million cumulative viewers per episode. It also outrates the 2017 buzz hit The Young Pope, which drew just under 5 million viewers (and aired episodes on Sunday and Monday nights). As far as other mini- and limited series, Chernobyl is within spitting distance of Sharp Objects, which notched 7.3 million viewers last summer, but not quite at the same level as Big Little Lies (8.5 million) or the 2019 edition of True Detective (8.1 million). HBO's cumulative ratings number includes all viewing that takes place within a month of the show's finale, so whether Chernobyl matches (or surpasses) Sharp Objects depends on how many viewers decide to catch up on the project over the next few weeks. As for Gentleman Jack, it hasn't been as big a hit as Chernobyl, but it's still aggregating an average audience of 2.6 million viewers. That's a decent number for a period drama, particularly one that is co-produced with the BBC and thus likely carries a lower price tag than a typical HBO original.
The strong growth trajectory for Chernobyl underscores an advantage HBO and other linear cable networks have over a Netflix: weekly episodic releases. Because Netflix almost always drops full seasons all at once, its programs often have a pop culture half-life of just two or three weeks before the buzz shifts to something new. By contrast, new episodes of Chernobyl have been debuting every Monday for a month, allowing the conversation about the project to grow and expand as new audiences discover it and entertainment-news outlets find new ways to write about it. (Monday's New York Times' print edition featured an essay about the show on the cover of the "Arts" section.) "It's crazy not to take advantage of this entire industry of people who write about television, who obsess about television, [by using] this weekly model," Bloys says, adding Succession and Big Little Lies similarly benefited from the slow burn of buzz. People who prefer to binge can still do that now that all episodes have aired, he says, "but you can have it both ways. And in this very crowded ecosystem, it's to our advantage" to offer audiences both options.
It's worth noting HBO has premiered shows on Mondays in past years, but the night was often something of a dumping ground for orphaned projects the network felt didn't fit on Sundays. This time, HBO has said it will put some of its best shows on Mondays and give those programs the same marketing and promotional push as Sunday fare. "It's not just, 'Let's burn some shows off on Mondays,'" Bloys says. "They're high-quality shows, and there's marketing behind them. This is not something we're experimenting with." Indeed, HBO's Monday slate over the next few months includes the high-profile fantasy series His Dark Materials, the third (and final) season of The Deuce, and the Brexit miniseries Years and Years. Bloys hints even more big shows will likely get launched on Mondays as HBO keeps expanding its roster and as nonlinear platforms become even more important than they are already. "I think in the very near future, whether you put [a show] on a Monday or Tuesday or Wednesday — it's becoming less and less relevant," he says.