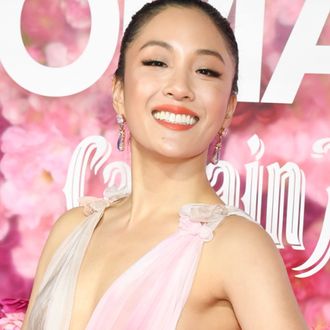 Photo: Amy Sussman/Getty Images
Ooo, if any successful ABC sitcoms get in the way of this movie happening, so help us… While starring in Fresh Off the Boat may have gotten in the way of at least one of Constance Wu's dream roles, with any luck the Crazy Rich Asians actress will successfully star in the movie version of Rachel Khong's 2017 novel Goodbye, Vitamin, as reported Monday by Variety.
According to Variety, Universal Pictures has optioned the book with Wu attached to star as Ruth Young, a recently single woman who moves home for a year after discovering her history professor father has been diagnosed with Alzheimer's disease. Khong's debut novel explores the relationship between family, identity and memory, and at one point in the book, Ruth decides to "work with her father's former student to stage a fake class so he can continue to teach," the idea of which will tear your heart right out. If they can work around Constance Wu's FotB schedule to make Hustlers, surely they can work around this movie? Or, worse comes to worse, combine them into some kind of super movie?