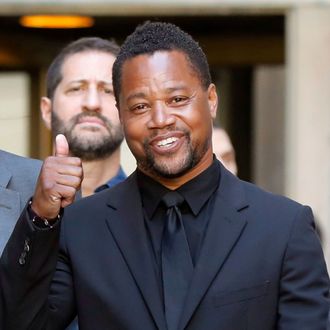 Cuba Gooding Jr. outside a Manhattan courthouse on Wednesday.
Photo: Richard Drew/AP/Shutterstock
The charges against Cuba Gooding Jr. for allegedly groping a woman have significantly impacted the actor "financially and professionally," one of his lawyers complained during a Manhattan court proceeding Wednesday morning.
"Mr. Gooding's life is put on hold, is on the pause button," said Mark Heller, one of the lawyers repping him, in his push to speed up the court case.
The actor is accused of grabbing a woman's breast at the Magic Hour Rooftop Bar earlier this June.
Gooding was subsequently charged with misdemeanor forcible touching and sexual abuse in the third degree, and has pleaded not guilty.
Gooding didn't seem all that worried about the allegations against him as he left the courthouse. Trailed by reporters and photographers, Gooding was initially mum, with a slight curl to his lips, sometimes grinning.
After being repeatedly pressed for comment, however, Gooding said that it was "beautiful weather" in response to a question about what was going through his head.
Asked if he might go to Central Park, he said "maybe," his smile widening. He also said, "God is good."
Heller said in court, as well as in an impromptu press conference, that he wants the accuser's statement to be prepared in such a way that she could be prosecuted if it proves false, as Heller insists it will be.
Heller also claimed to reporters that blog posts attributed to the accuser undermine her credibility.
He said one post in which she purportedly writes "a world of fake boobs … makes me feel invisible, I am starving to be seen" sends red flags.
"Is that the kind of a person that the prosecutor can rely upon to create a credible case against a world-renowned individual who has never had any criminal convictions?" Heller asked rhetorically.
The next proceeding in Gooding's case is scheduled for August 14. The judge is expected to issue a decision on whether to dismiss the case on that date.