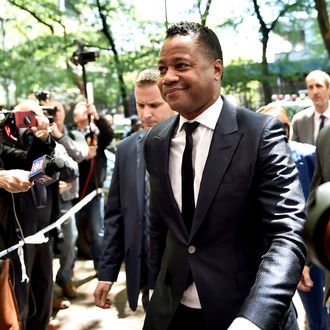 Cuba Gooding Jr.
Photo: Steven Ferdman/Shutterstock
Cuba Gooding Jr. pleaded not guilty after he was accused of forcibly touching a woman at a Manhattan night club. On Thursday, Gooding was arraigned on two misdemeanor charges: one count of forcible touching and one count of sexual abuse in the third degree; he pleaded not guilty to both, according to the Manhattan district attorney's office. Judge Herb Moses released the actor without bail.
A surveillance video posted by TMZ appeared to show the alleged assault. In the video, Gooding and his girlfriend, Claudine De Niro, are seen talking to a fan at the Magic Hour Rooftop Lounge. Gooding's attorney Mark Heller previously told TMZ that he'd seen the surveillance footage, and that it showed "no criminality."
Gooding is due back in court June 26.