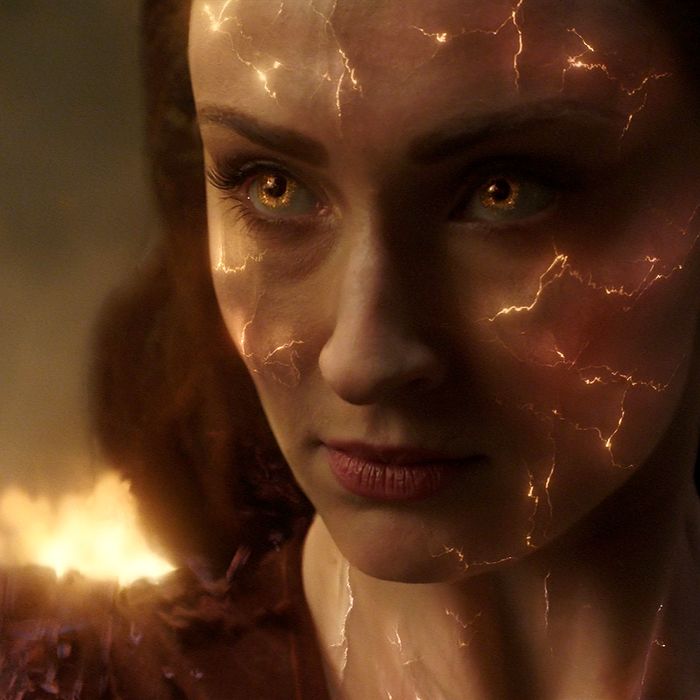 Photo: Twentieth Century Fox
Just hours after the lifting of a studio-imposed review embargo, Dark Phoenix was savaged by critics, receiving the worst Rotten Tomatoes score of any movie in the 19-year-old, multibillion-dollar-grossing X-Men franchise. By the Sunday after it debuted in theaters, box-office analysts were predicting that the $200 million film is on track to lose between $100 million and $120 million over its theatrical run. So what, uh, happened?
The superhero flick is the second installment to follow the Dark Phoenix character arc of Jean Grey (Game of Thrones' Sophie Turner). She's a powerful telepath barely in control of her supernatural abilities who consumes a kind of cosmic flare while on a mission in space that imbues her with virtually limitless powers — and an alternate personality. From there, a power struggle pits the newly minted Phoenix against her mutant brethren (returning cast members James McAvoy, Jennifer Lawrence, and Michael Fassbender among them), thanks in part to a mysterious alien puppeteer named Vuk (Jessica Chastain). Reviewers generally agreed that Dark Phoenix fails to rise above its leaden pacing, schlocky dialogue, shoddy production values, and general preposterousness. "Dark Phoenix doesn't just suck big time," critic Peter Travers opined in Rolling Stone. "It's the worst movie ever in the X-Men series." (Our own critic David Edelstein's assessment of the film could be summarized in one word: middling.)
So far, most of the blame has fallen at the feet of writer-director-producer Simon Kinberg, an old X-Men hand who has written three and produced four other franchise pieces and who is making his directorial debut with Dark Phoenix. But with its well-publicized production delays and expensive reshoots, this purported conclusion to the X-Men saga (at least until Disney figures out how to reboot the series) has been viewed as an impending disaster by Hollywood industry watchers for well over a year. Here is a timeline of Dark Phoenix's production chaos and rollout woes:
November 2016: After the lackluster box-office performance of X-Men: Apocalypse (which earned $544 million globally, a precipitous drop from X-Men: Days of Future Past's $748 million haul in 2014), Fox, the films' distributor, presses a "reset button" on the flagship franchise, indicating a kind of crisis of faith. With Fassbender (who has portrayed Magneto in the films since 2014), Lawrence (Raven/Mystique), McAvoy (Charles Xavier), and Nicolas Hoult (Hank McCoy/Beast) at the end of their original, three-picture contracts, Kinberg is named the new series overseer. (He was already rumored to have been brought on to manage parts of the Apocalypse set shortly before Bryan Singer left the franchise.) He sets to work on a script that will reunite those stars one last time, specifically intending to relaunch the brand with Dark Phoenix, the first X-Men movie to omit the word X-Men from its title.
June 2017: Principal photography begins in and around Montreal and extends to October. In December, Kinberg begins a postproduction process that will stretch out over the next year and a half, an eternity by normal movie-editing standards.
March 2018: Triggering mass confusion in fanboy circles, Fox pushes back Dark Phoenix's release date from November 2018 to February 14, 2019 — a move the studio spins as a positive development by pointing out that both Black Panther and Deadpool cleaned up at the box office on previous Presidents Day weekends. Not coincidentally, also that month, the studio reportedly holds a test screening of the film. A source tells Collider that the film "needs additional photography." But the soonest its A-list cast can reassemble will be August or September — hence the necessity of a calendar shift.
March 2018, Part II: Kinberg announces the mutant film will undergo significant reshoots and rework its third act. An insider speaking to the Hollywood Reporter ballparks those overages at less than $10 million. In terms of public perception, all isn't doom and gloom yet — "pickups," additional photography, and reshoots are standard operating procedure on any Hollywood production with a nine-figure budget. But that perception will soon change.
August 2018: Movie Twitter explodes with the news out of Canada that Dark Phoenix will require three months of reshoots, the type of time commitment typically allotted for an entire film shoot. Although a source close to the film later reveals that the production is, in fact, scheduled for only two and a half more weeks of reshoots in Montreal, the damage to the film's reputation is done. Movie reporters start calling Dark Phoenix a "troubled production," and industry observers begin to wonder whether the film could be "Fant4stic level bad."
September 2018: More disastrous test screenings are reported. One fan takes to Reddit to vent about the cut he's supposedly seen. "What can't change is the movie being really underwhelming. Really lower your expectations because this one is not good," the person writes. "They repeat moments from X3 I kid you not." Fox also decides to punt again, shifting the release date from February to June — purportedly in a bid to maximize Chinese box office. "[We] felt like that June date was a bigger opportunity for us globally," Kinberg tells IndieWire. Fans, of course, interpret the rescheduling as a harbinger of postproduction chaos.
Some unknown insiders later tell The Hollywood Reporter that the film was rescheduled in order to make room for James Cameron's Alita: Battle Angel, which at the time was facing a December opening weekend against Aquaman, Bumblebee, and Mary Poppins Returns.
January 2019: The report of yet another round of craptacular test screenings provokes even more hand-wringing in Marvel-fan circles. Thanks to the reshoots, the movie's budget balloons to $200 million.
May 2019: In an interview with Yahoo Movies UK, McAvoy and Fassbender reveal the true cause for Dark Phoenix's third-act revision, involving an action set piece that takes place in a military train: The reshoots came about because of a perceived similarity to the climax of another recent comic-book movie adaptation (Captain Marvel, in all likelihood). "The finale had to change," McAvoy says in the interview. "There was a lot of overlap with another superhero movie that came out … a while ago. And we had no idea that we were …" "That they had spies on the set," Fassbender jokingly interjects.
June 2019: Following a disappointing opening weekend at the box office, former X-Men franchise producer Lauren Shuler Donner tweets and then deletes the following: "Save your condolences. I had zero, nothing to do with Dark Phoenix. Or Apocalypse, or New Mutants."
"There is no rush to bring the X-Men to the marketplace after this," a producer tells The Hollywood Reporter after Dark Phoenix's debut results come in. "And when they come back, it's going to extend Marvel's run another 10 years."