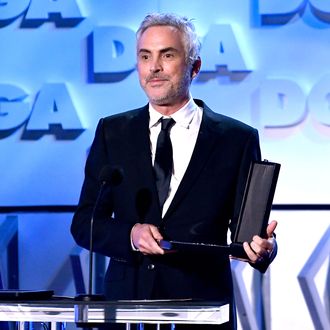 Alfonso Cuarón accepting his DGA trophy.
Photo: Kevork Djansezian/Getty Images for DGA
The Directors Guild of America is locking down awards eligibility with regard to streaming films. Going forward, movies that stream online without an exclusive theatrical window first — otherwise known as "day and date" releases — will no longer be eligible for the Guild's top prize. The change is reflected in the award's new title: Outstanding Directorial Achievement in Theatrical Feature Film. Previously designated as Outstanding Directorial Achievement in Feature Film, the prize was last won by Alfonso Cuarón for Roma, which would still have qualified under the new rules thanks to its limited release. However, the move would seem to lock out from competition many efforts from Netflix and Amazon, even though the latter recently announced plans to give more of its films day-and-date releases. The Guild board voted unanimously to approve the change, citing "the unique cultural importance of the theatrical experience to audiences and filmmakers alike" as support for its decision.
"The DGA proudly affirms that a first-run theatrical release is a distinctive element of our feature film award," said DGA president Thomas Schlamme in a statement that was relayed by The Hollywood Reporter. "We celebrate the important role that theatrical cinema has played in bringing together audiences as they collectively experience films as the filmmakers intended them to be viewed. We also take great pride in recognizing all of the work created by our members through the many categories and formats that are part of the DGA Awards." Day-and-date releases will still be eligible for the Outstanding First-Time Feature Film Award, and the rest of the DGA's rules remain the same as last year's. Despite much discussion on the subject, the Academy has not yet placed similar restrictions on which films can compete for top honors at the Oscars.