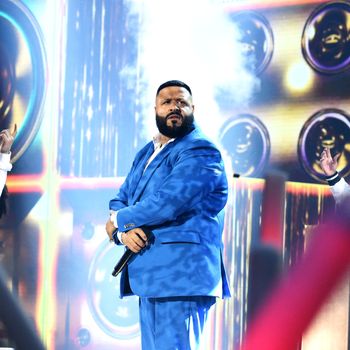 Khaled is an imperfect messenger delivering a valid message.
Photo: Kevin Mazur/KCA2019/Getty Images for Nickelodeon
Chart-watchers noticed in late May when music-business bible Billboard took four extra days to make their album chart, the Billboard 200, official for the week. The smart money was that Billboard was refereeing a fight between the two acts battling for that week's No. 1, each from a different corner of hip-hop: quirky former Odd Future member Tyler, the Creator, and relentlessly self-promotional emcee DJ Khaled. Especially after Khaled performed on the season finale of Saturday Night Live, accompanied by a skybox's worth of rap luminaries, he wasn't going down without a fight.
That fight may be far from over. Two weeks after Billboard gave the week's title to Tyler's Igor over Khaled's Father of Asahd, Khaled is rumored to be planning a lawsuit against the magazine on the premise that he was robbed of a No. 1 album. The charge? Billboard reportedly disallowed from the chart some 100,000 merchandise or "merch" bundles Khaled sold the week his album dropped, connecting a Father of Asahd download to the purchase of a Khaled-branded energy drink.
Hang on … you may be asking: The Billboard 200 is an album chart; how does the purchase of an energy drink count? Complicating matters further, Tyler managed to take the chart's top slot by also tying an Igor download to the purchase of merch — everything from T-shirts and stickers to lawn signs. How did the country's flagship album chart turn into a playpen for merchandise tie-ins where the album is an afterthought?
Bundled album sales are essentially a 21st-century phenomenon — and the late Prince was both the inventor of the gimmick and the first to earn industry scorn for it. A decade and a half ago, CDs of his album Musicology were given away free with tickets to his 2004 tour of the same name. Prince successfully lobbied Billboard to count the giveaways for the album chart, but the magazine came to regret the decision when Musicology rode the Top 10 an unusually long time, despite not generating all that many traditional CD sales. Later that year, Billboard announced a new bundled-album rule: Any such offer had to give the consumer a way to opt into the album, an indication of intent to actually consume the disc. At the time, Billboard suggested that the album should be optional to the ticket-buyer and be priced as an add-on, not a freebie.
What then happened over the next 15 years was a gradual shifting of the goalposts — first in the perceived value of the album, then what could be attached to it. In the early 2010s, the concert-plus-album bundle took off. It was an especially good chart-juicing tactic for road warhorses: Madonna's 2012 chart-topper MDNA saw a one-week burst of rocket fuel tied to the launch of her tour before plummeting on the chart; veterans James Taylor and Tom Petty scored their first-ever No. 1 albums thanks to concert bundles. However, as these tour appendages moved from physical goods to an album-download code, consumer "intent" became murky. Billboard, trying to hold the line on its charts, would only count concertgoers who actually downloaded the album, but concert tickets cost the same whether you downloaded the album or didn't. It became debatable whether the album download was worth anything.
This concert-driven era of bundles seems downright ascetic compared with the anything-goes era of the late 2010s, in which album downloads are tied to all manner of gewgaws — from Ariana Grande's cloud keychain–cum–tour presale pass, to Tyler, the Creator's "Vote Igor" lawn sign. These trinkets are preorderable for weeks before an album's release and scheduled to deliver the week the album drops, so they count for launch week according to Billboard's chart rules. Last summer, Travis Scott and Nicki Minaj got into a nasty media beef over whose merch sales were shadier, after Minaj's Queen album (itself tied to merch) was denied the No. 1 spot against Scott's weeks-long series of clothing releases–cum–album downloads, which kept his Astroworld album on top for multiple weeks. (Long story short: Minaj claimed her merch required an album opt-in; Scott's didn't. She may have had a point.)
This summer's battle, between Khaled and Tyler, is essentially a replay of the Minaj–Scott your-merch-is-dirtier-than-my-merch spat. Khaled's complaint— and potential lawsuit — reportedly hinges on Billboard disallowing his energy drink–cum-album sales, due to a shady promotional effort by the drink supplier encouraging fans to buy multiple cases of the elixir. (Billboard has long had rules on throwing out anomalous album sales that appear artificially inflated.) In essence, a player is calling out Billboard for hating the game.
And it is a game. Bundles are the last taboo in chartland — an equal-opportunity gimmick no one wants to discuss too openly, even though virtually everybody uses bundles to boost album-chart position: from Pink to Bon Jovi to LCD Soundsystem to Andrea Bocelli. In its weekly announcement of a new album chart, Billboard will inform readers if a top-charting album was fueled by a ticket-or-merchandise tie-in. But neither the magazine nor data-collector Nielsen will break down, numerically, how big a factor that bundle is in that week's chart total. This is only remarkable because the magazine is pretty transparent about all of the other data going into the Billboard 200 — it provides weekly breakdowns of streams versus sales, down to the last 1,000 pieces. Billboard even maintains a less-heralded but still-weekly Top Album Sales chart that uses the old, pre-2015 methodology to tally the best-selling albums each week, so chart-watchers can compare the top-selling albums ranking to the Billboard 200's mix of sales and streams. However, both this album-sales chart and the sales component of the flagship Billboard 200 chart use the same aggregated "sales" figures combining traditional, old-school purchases with album redemptions that came bundled with tickets and merch. And again, these bundled "sales" are not broken out, even to Nielsen data recipients and journalists.
Of course, the real reason we're in kind of a Wild West period is everyone is confounded by what an album chart even means anymore. The industry's shift to streaming has a lot to do with it. Five years after Billboard modified its charts to factor in streaming — turning them from pure sales charts into album "consumption" charts — and three years after Kanye West irked some chart-watchers with a No. 1 album, The Life of Pablo, that was streamed more than it was sold, no one bats an eye anymore at the idea that streams dominate the album chart. In Billboard chart math, a traditional sale still counts far more than a stream — it takes more than a thousand track streams to equal one album sale. But the CD has cratered. Best Buy, Target, and Walmart have all pulled floor space from the format, making it difficult to buy a physical album even if you want to. Albums in the late 2010s routinely top the charts with the bulk of their data from streaming. It is now common for No. 1 albums to have tens of thousands in "stream equivalents" and anemic, four-figure album sales (a few chart-toppers have even sold fewer than 1,000 copies).
Because a sale still counts for more in chart math than a stream, those albums that do manage to rack up sales generally dominate the chart — even if their "sales" are only occasionally actual sales anymore. To get a handle on what these sales figures mean, I reviewed the last 52 weeks of Billboard chart announcements — not just the chart itself, but the weekly article in which the magazine breaks down its data. Even though Billboard is loath to reveal the math behind each week's "sales" figure, they do openly state when merch-and-tour bundles were a factor that week, and they indicate, almost in code, how big a factor they were. For example, check out the "sales" report for Backstreet Boys' recent No. 1 album: DNA's first week, according to Billboard, was "powered strongly by … a concert ticket/album sale redemption offer with the act's upcoming U.S. arena tour." Translation: That "sales" figure was overwhelmingly downloads from a tour bundle, not actual album purchases. (The industry rumor mill pegs the Backstreet bundle at more than 80 percent of "sales" that week.)
Reviewing the last 12 months of these album charts, the No. 1 album was powered by streaming, not sales, more than half the time — 29 out of 52 weeks — no surprise, now that streaming dominates the album chart. That leaves 23 weeks where sales (or "sales") were a bigger factor in the No. 1 album than streams, and out of those 23, Billboard stated that a bundle was involved 16 times, or 70 percent of the time. And the bundle was virtually always the major factor. In only one of those 16 weeks — the chart last September commanded by Carrie Underwood's Cry Pretty — does Billboard take pains to note that traditional retailers like Target and Walmart contributed "sturdy sales."
Of the seven remaining weeks where sales dominated the chart and were not driven by a bundle, in four of those weeks, the chart was commanded by the blockbuster A Star Is Born soundtrack — hard to bundle that album, unless Interscope Records sends Lady Gaga and Bradley Cooper on a real (not cinematic) concert tour. For two more of those weeks, the chart was commanded by K-pop boy band giants BTS. But even BTS found ways to juice their sales: Both their Love Yourself and Map of the Soul album series were powered by sets of four collectible CD packages, each with a different cover and swoon-worthy poster. This spurred fans to buy multiple copies — gimmicky, but charmingly old-school.
Maybe DJ Khaled should've tried going the BTS multi-CD route, rather than pushing fans to buy multipacks of his energy drink. Then he wouldn't be consulting with lawyers. But in their respective fights with Billboard, Khaled and Nicki Minaj are imperfect messengers delivering a valid message: Bundles have become a chart scam ripe for gaming, and the playing field needs to be better defined. According to a New York Times report, the industry — even as it continues to supersize its bundling schemes — is begging the referees to tighten the rules, and Billboard says it will produce new, more stringent rules for bundling and its charts by 2020.
In the meantime, the bottom line is it has become near-impossible to sell albums in any kind of old-fashioned way, which makes the very idea of an album chart increasingly anachronistic. In my chart analysis, I have long supported Billboard's postmodern, post-streaming album chart methodology, for the simple reason that streaming is the way a sizable proportion of Americans consume music now. But the decimation of CD sales and the rise of the merch-bundled album threatens to make the album chart moot. It's pretty ironic: What might kill the album, ultimately, isn't Spotify — it's Travis Scott and his hoodies.
Note how much bigger streaming has gotten on the album chart just in the last three years. When I did a similar album-chart data study for Vulture in the spring of 2016 — analyzing streaming's impact on the Billboard 200 about a year and a half after the chart's conversion to sales-plus-streams — streams overpowered sales in just eight weeks out of 17 months. Now, streams top sales in 29 weeks out of 52.
Country is perhaps the last genre that sells decently at brick-and-mortar stores. But even with her might at Walmart, Underwood left nothing to chance, employing a tour bundle for her album release. Billboard's language suggests the breakdown of bundle versus actual sales of Cry Pretty was probably closer to even.