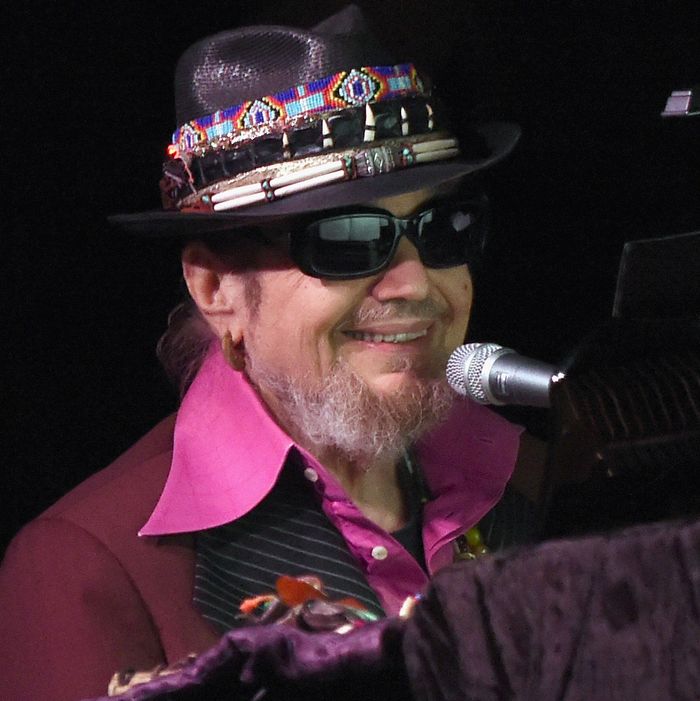 Rebennack was steeped in New Orleans music from birth and always sought to mingle it together.
Photo: Rick Diamond/2016 Getty Images
It was announced on Thursday that Malcolm John Rebennack passed away "toward the break of day" at the age of 77. And while Mac Rebennack was not the first Dr. John of record, nor even the second, it was when he himself assumed the mantle of Dr. John that he became legend, New Orleans's greatest musical ambassador next to Louis Armstrong and Allen Toussaint. Even if your knowledge of the Big Easy extends only to "Love That Chicken From Popeye's" (the jingle that Rebennack himself recorded) or the Muppets' bandleader, Dr. Teeth (who is based on him), it's almost impossible to conceive of that city and its musical, culinary, cultural heritage in your mind without hearing Rebennack's gravelly, syrupy draaawwwl accompanying it.
"In New Orleans, in religion, as in food or race or music, you can't separate nothing from nothing." So Rebennack wrote in his autobiography, Dr. John: Under a Hoodoo Moon. "Everything mingles each into the other — Catholic saint worship with gris-gris spirits, evangelical tent meetings with spiritual church ceremonies — until nothing is purely itself but becomes part of one fonky gumbo." Like a mangrove in bayou waters, Rebennack was steeped in New Orleans music from birth and always sought to mingle it together. Growing up in the fecund Third Ward (also home to the likes of Satchmo, Master P, and Big Freedia), his father ran an appliance store and record shop, and his grandfather and aunts and uncles sang minstrel songs at the parlor piano. There, the young Mac had his mind blown by the shellac sides of King Oliver and Louis Armstrong. The shop also gave him proximity to recording sessions by the likes of Little Richard and Guitar Slim, and as a 13-year-old guitarist, he soon came under the tutelage of the masterful rumba-boogie pianist Professor Longhair.
Such flamboyance informed Rebennack's own stage presence in later years. As a teen, he soon found himself dropping out of school and frequenting "bucket of blood" joints, strip clubs, and brothels as a working guitarist. One night in Jackson, Mississippi, he stepped in to prevent his friend and vocalist, Ronnie Barron, from getting pistol-whipped. Rebennack wound up with a gunshot to his ring finger in the scuffle; it was reattached, but "it never did work right." He would soon pivot to the piano (though he could still show off his skills as a "guitar strangler" when necessary).
He also developed a nasty heroin habit, which would shadow Rebennack for decades. After serving time for a drug charge, he left New Orleans for Los Angeles in 1965, where he became a member of the famous "Wrecking Crew" as a crack session man who wound up backing everyone from Sonny and Cher to the Mothers of Invention. But as the '60s wore on, Rebennack itched to wed his R&B roots to psychedelic rock. Barron told him about the historical Dr. John, a colorful figure in 19th-century New Orleans. A Senegalese prince who came to the port city via Haiti, he was a free man who claimed to have 15 wives and was also known as a gris-gris man, providing voodoo talismans and potions for his clientele. Perhaps not quite the right fit for a white boy, Rebennack initially crafted the persona for Barron, but the singer was under contract elsewhere.
And so Rebennack donned the plumed headdress of the Mardi Gras Indian and reinvented himself as Dr. John, the Night Tripper, an act of white hipster "turning" African-American that wouldn't scan in the modern age (the music journalist Robert Christgau often called him out on it). Despite the thick, affected patois and gibberish chants he deployed on his 1968 debut album, Gris-Gris, it remains one of the eeriest, hackles-raising, psychedelic albums of the era. Cut at Gold Star Studios during the off hours on a Sonny and Cher session, Gris-Gris is a beguiling combination of wee-hours jamming and voodoo ritual, heroin nod and zombie walk, L.A. smog and swamp humidity. But rather than hokum, it's a musical act of transubstantiation, wherein — as Dr. John stated — "everything mingles each into the other." Across subsequent albums, Dr. John would melt together rock, R&B, Dixieland jazz, blues, gospel, prison work songs, and more, even getting the likes of Eric Clapton and Mick Jagger to dissolve into his woozy, drugged haze. Onstage, he was festooned in feather boas, gems, bones, and amulets, appearing in a puff of smoke. It might not have been voodoo as the Dr. John from whom he took his moniker intended, but it was great showmanship as his forebears had taught him. But such gumbo slowly began to lose its zest in the studio and he dropped "the Night Tripper" shtick, eased off the accent, and acted more like himself.
It was when Dr. John turned his attentions back towards New Orleans that he did his most iconic work. While cut in California, 1972's Gumbo is as crackling an album of New Orleans R&B standards as you can find, with peppery takes on "Iko Iko," "Big Chief," and "Junko Partner." He then convened the Meters and Allen Toussaint in 1973 to storm the charts with In the Right Place, giving him his biggest pop hit with the raucous "Right Place, Wrong Time." Its follow-up, Desitively Bonnaroo, didn't fare quite as well, but it did give a certain music festival its namesake. And Dr. John's subsequent 20-year partnership with songwriter Doc Pomus slyly added to the New Orleans canon with drunken delights like "Dance the Night Away with You" and "City Lights."
There would be innumerable left turns, like his odes to Tin Pan Alley, Duke Ellington, or an Ethiopian-inspired late album cut with the Black Keys' Dan Auerbach. But Dr. John returned time and again to New Orleans. In spreading worldwide the festive-yet-calamitous music of New Orleans, Dr. John embodied all of its contrasts. As writer Ted Goia noted in his take on the iconic classic, "Iko Iko," Rebennack "brings out all of the contradictions submerged in this style of performance … loose and tight, on the beat and off, hot and cool." "Iko Iko" is one of the quintessential New Orleans songs, even though its composer just imitated phrases overheard from Mardi Gras Indians. A 20th-century white man taking his handle from a 19th-century free man of color, Dr. John figured in the end that the music — like the best fêtes in New Orleans — blurs such distinctions, everything coalescing until it's "one fonky gumbo."