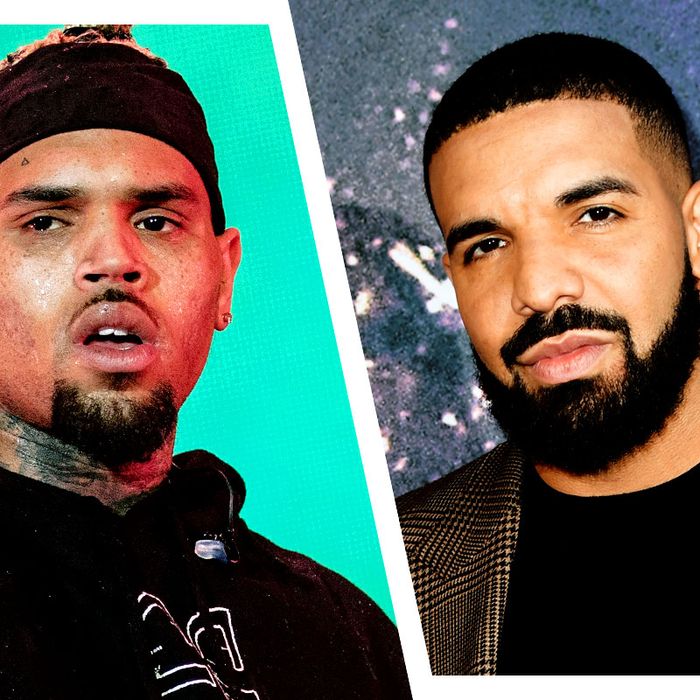 "No Guidance" is a total snooze.
Photo: Getty Images
Drake and Chris Brown have a new song out. It's called "No Guidance." It'll be a huge hit. Everything Drake does hits now. Chris Brown is curiously unsinkable. The Canadian rapper and singer and the Virginian singer and rapper have shared dramatic ups and downs. In the span of a year once, they went from trading verses — on Brown's A-list "Deuces" remix package — to trading bottles in a nightclub battle royal over Rihanna that left Brown with a gash on his chin. Not two years later, they reunited, guesting on Nicki Minaj's "Only." Making music is more like construction than people think. The parties don't have to like each other. Sure, this guy tried to punch me at a party, but he runs a world-class shellacking business, and this siding needs to glow.
"No Guidance," their first proper one-on-one collaboration, sparks but never exactly glows. It's too familiar, a quick trip around a lot of places we've already been before. We've heard the Drake song complimenting women on their financial independence. (See Scorpion side B, which recklessly slots four of these in a row in "Nice for What," "Finesse," "Ratchet Happy Birthday," and "That's How You Feel," and gets away with it.) We've all heard the mid-tempo urban contemporary Chris Brown thirst anthem. (Drake's name-checking an old one when he sings, "Poppin' shit but only 'cause you know you're poppin'" here, right?) We've heard Drake go off-script after the last chorus like an old-school R&B guy pouring out his feelings. ("Days in the East" is the best of these, for my money, but the second half of "Diamonds Dancing" hits differently after getting ghosted.)
The song feels older than what seems possible, but the sample of Los Angeles singer Che Ecru's 2018 gem "Before I Die" (and the fact that Drake and Chris Brown have only been back on speaking terms for about a year) dates the new single somewhere in the last handful of months. Timeline notwithstanding, "No Guidance" shifts through familiar styles like a fighting-game end boss, which is to say that I wish it brought more to the table, but I realize I'll be stuck on it for the next few days either way.