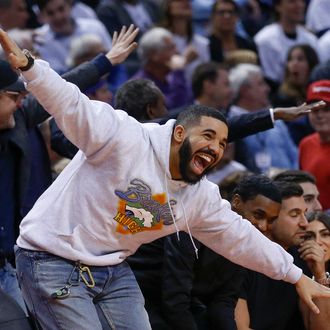 This will never end.
Photo: Rick Madonik/Toronto Star via Getty Images
Settle in for Drake's long, loud victory lap. In further celebration of his beloved Toronto Raptors' NBA Championship win, Drake has (as promised) dropped two brand new songs, just in case his undying support wasn't somehow clear yet. (A day late, but who's counting?) And, you know, because the man already prematurely made songs with the titles "Trophies" and "Big Rings," he had to go back to the drawing board for the team. The two songs, "Omertà" and "Money in the Grave," appear on a new mini-EP very humbly titled The Best in the World Pack.
On "Omertà" (a reference to the old Mafia code of silence), Drake refers to LeBron James as "Bronny" (as will we all from now on, sorry!), shrugs off Pusha-T blowing his baby-daddy cover last summer ("Last year, niggas got hot 'cause they told on me"), and explains why rap, if you really think about it, is kind of its own sport and how he's obviously its repeat champion. (Sure.) On "Money in the Grave," he reunites with Rick Ross and brags about how he might just tat "Realest Nigga" on his face — don't tempt him! The EP's cover art is, of course, Drake's signature over the NBA's Larry O'Brien Championship Trophy, because there is no telling this man that he's not actually on this team and that side-line heckling and off-court trolling just doesn't quite count.