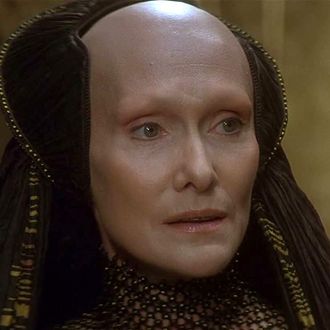 Reverend Mother Mohiam, a member of the Bene Gesserit.
Photo: Universal Studios
Legendary has ambitious plans for Dune. Since green-lighting a new feature adaptation of the Frank Herbert novel, the company has announced plans for video games, "digital content packages," and comic books, and now it is announcing the first confirmed spinoff series. Dune: The Sisterhood is a go and will live on WarnerMedia's forthcoming streaming service. The feature film's director, Denis Villeneuve, will helm the pilot with a script from Jon Spaihts, and it will focus on the women of the Bene Gesserit. (The most recognizable member of the collective is the Reverend Mother Mohiam, who will be played by Charlotte Rampling in the new film.)
The Bene Gesserit are dedicated to amassing more power and influence to guide humanity along a more enlightened path, and they also can exercise power over the mind. As The Hollywood Reporter says, "Given abilities by their mastery of the body and the mind, the Bene Gesserit expertly weave through the feudal politics and intrigue of the Imperium, pursuing plans of their own that will ultimately lead them to the enigmatic planet Arrakis — known to its inhabitants as Dune." If The Sisterhood takes place in a nearby timeline to the feature film, maybe some Bene Gesserit can bump into Zendaya and Timothée Chalamet on Arrakis for a big spice party with some Fremen.