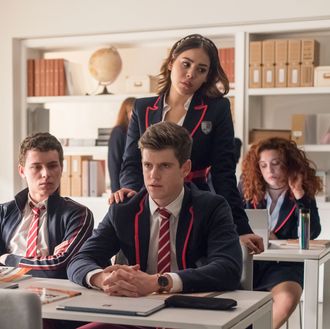 There's more scheming to do.
Photo: Manuel Fernandez-Valdes/Netflix
Slip on your blazer, and take out your summer reading, your homework, and your healthy appetite for horny teens telling secrets and maybe doing some crimes. Netflix's Spanish-language teen drama Élite — Big Little Lies meets Gossip Girl — is returning for its second season this September. In a message from Guzmán (Miguel Bernardeau) and Lucrecia (Danna Paola), the series confirmed its return. (But of course, because they're teens who don't charge their phones, their battery died before they could give us a specific date.) See the announcement below:
Élite's first season, which premiered in October 2018, won our hearts with its coterie of rich, ambitious teens in illicit romances, secret drug deals, and the competition for a class trophy at the center of a murder mystery. Class is back in session!