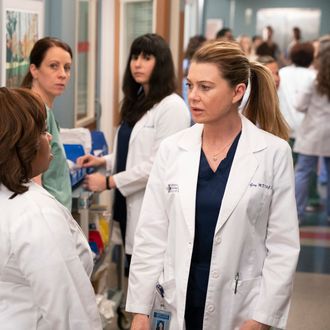 Don't cross Meredith.
Photo: Mitch Haaseth/ABC
At this point, Ellen Pompeo never likes to miss an opportunity to make her thoughts about the world known as clearly as possible, so it's no surprise that she got very frank in a Variety Emmy-season video with Taraji P. Henson. Specifically, she admitted that "there were many moments when I wanted off the bus" in the early seasons of Grey's Anatomy because it had a "serious, serious culture problem." In the first ten years of the show, Pompeo says there was "very bad behavior" and a "really toxic work environment," and she stuck with it primarily because she had her daughter during the sixth season and she knew that she would need the money: "That's when things really started to change for me because I had someone other than myself to think about."
After the tenth season, Pompeo says, "we had some big shifts, in front of the camera, behind the camera. Then it became my goal to turn that set around." She doesn't specify what exactly those shifts involved (Patrick Dempsey left the series after season 11, though you can speculate about what other changes may have been occurring around then). "Shonda Rhimes and I decided that we want to rewrite the ending of this story, and we want to turn the page and start a new chapter and turn the culture around behind the curtain," Pompeo adds. "We brought in Debbie Allen as our EP, and we made some changes, and we had to reimagine what behind the scenes at Grey's Anatomy looked like." Pompeo also notes that after Dempsey left the series, the studio and network believed that the "show could not possibly go on without the male lead, so I had a mission to prove that it could."
Last January, Pompeo extended her contract with Grey's for two more years, becoming TV's highest-paid dramatic actress and also given an unfettered interview in which she somehow brought up that Faye Dunaway is driving a Prius. Now, perhaps because she's become more comfortable with her power, she's also given plenty of other quotes about pay and representation. At this point, she should just also host a Grey's aftershow talk show where she dishes about all its past drama each week.