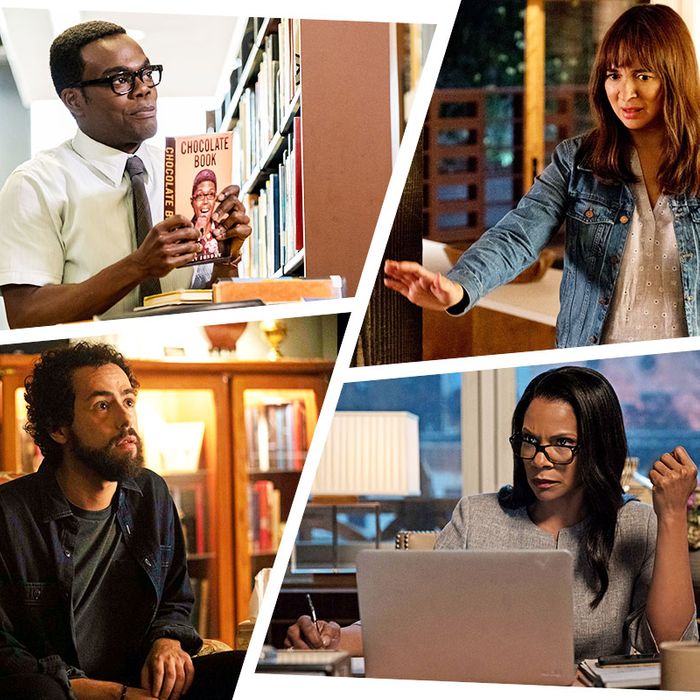 Photo: Vulture, Justin Lubin/NBC, Colleen Hayes/Amazon Studios, Craig Blankenhorn/Hulu and Elizabeth Fisher/CBS
Emmy ballots for the 2018–2019 TV season are due Monday, June 24, so there's still time to do what's right. Sure, we know there will be dozens of nominations for heavy-hitters like Game of Thrones and Veep, and there are certain to be some deserving familiar faces on nomination morning — hello, Bill Hader and Julia Louis-Dreyfus — but there's more room than usual for change this year.
With a large number of shows missing the eligibility window (Westworld, The Crown, The Handmaid's Tale) and some highly acclaimed new shows on everyone's radar, it feels like a year in which Emmy voters can really shake things up, giving voters and viewers some new names and faces. We found 15 people who absolutely deserve a nomination, an eclectic mix of talented newcomers and living legends, most of whom have never been nominated for an Emmy but definitely should be.
America Ferrera for Superstore
NBC's Superstore has quietly developed into one of the best comedies on TV, and it's largely due to its sharp writing and talented ensemble, both of which are held together by the deeply underrated work of America Ferrera. The star of Ugly Betty has turned Amy Sosa into one of the most consistent characters on TV, and the show's fifth season allowed her an incredible arc — charting her trajectory from an employee who can't afford decent health care to the manager of her former colleagues. Through it all, she maintained pitch-perfect comic timing while always grounding this character in a way that allowed the larger personalities in the supporting cast to play.
Sissy Spacek for Castle Rock
This one is going to come down to exposure because it feels like anyone who saw "The Queen," the seventh episode of last summer's Hulu series Castle Rock, is going to nominate one of the best actresses of her generation for an Emmy. Yes, the Limited Series categories in which she's eligible are insanely crowded, but this is what's called an undeniable performance, a tour de force that stands as one of the best pieces of work in a legendary career. Capturing the emotional tumult that comes with dementia and memory loss, Spacek gives a heartbreaking, unforgettable turn. There will be a lot of places on your ballot this year to highlight incredible limited series — the year gave us Chernobyl, When They See Us, and Sharp Objects, just to start — but Spacek should be in the mix.
Ramy Youssef for Ramy
In the past decade, the Academy of Television Arts and Sciences has been quick to welcome other creator-driven comedies about the minority experience in America, like Master of None and Atlanta, but it feels like both those shows had a higher profile than Hulu's critical darling Ramy, one of the best new series of 2019 so far. Youssef's semi-autobiographical dramedy is about the difficulties of being a first-generation immigrant from a culture that reinforces abstinence and sobriety when you're living in the era of Tinder and legal weed. It's an incredibly smart show in the way it balances comedy se=ups with genuine insight and Youssef's performance keeps both sides balanced, allowing for laugh-out-loud humor without ever losing the truth of his unique experience to feel corrupted.
Christina Applegate for Dead to Me
The star of Anchorman and Married … With Children has been an underrated comedian for years. Now she's doing some of her career-best work in the recent Netflix hit Dead to Me, a show that feels like it's just one tier below what Emmy voters are likely to consider this year. One could argue that the series should pop up in multiple places on your ballot, but no more so than Applegate's finely tuned work as a widow dealing with a fascinating blend of anger and grief after the hit-and-run death of her husband. Applegate understands that Jen Harding may cynically dismiss things like grief support and the outward generosity of her new friend, Judy, but that she's desperately looking for something to hold onto as her life spirals. It's a sight to behold.
Timothy Simons for Veep
HBO is at one of the biggest turning points in its history with the departures of Game of Thrones and Veep, two shows that are almost certainly going to be high on every Emmy voter's ballot, but the wealth for one of their best comedies has been largely limited to two people: Julia Louis-Dreyfus and Tony Hale. Sure, Anna Chlumsky gets a nod most years, and maybe Matt Walsh, but do you know who has never been nominated before? Timothy Simons. Go ahead and try to name a funnier supporting character of the '10s than Jonah Ryan. We'll wait. Take this final chance to nominate one of the most consistently hysterical supporting performances of not just the last TV year, but the decade.
Florence Pugh for The Little Drummer Girl
Florence Pugh's career has rocketed since her festival debut in Lady Macbeth. Before anyone could finish saying "Who is that?" she had gone on to co-star in Outlaw King, Fighting With My Family, and this summer's Midsommar. And it still feels like she's just getting started. She's going to be everywhere. She's eligible for two Emmys this year, for Amazon's King Lear, in which she held her own opposite powerhouses like Sir Anthony Hopkins and Emma Thompson, and her criminally overlooked performance in 2018's The Little Drummer Girl, a project that she completely stole from Michael Shannon and Alexander Skarsgård. That's no easy feat, but maybe it's something we should start to expect from Florence Pugh.
Stephen Root for Barry
Is there a better TV character actor than Stephen Root? The man has segued seamlessly from network to network and genre to genre for decades, feeling just right in everything he does and stealing scenes from the kind of people that Emmy voters typically crown King and Queen of the dance. He has always done so much with what is often very little, but arguably his juiciest role yet has been as Monroe Fuches on HBO's critically adored comedy. Bill Hader and Henry Winkler are almost certainly on your ballot, but make some room for Root, who totally nailed the final arc of the second season as Fuches refused to let Barry go, and may have possibly destroyed any final chance he had at happiness.
Audra McDonald for The Good Fight
Broadway fans have known about Audra McDonald's talents for years — she's won more Tonys than anyone, with a whopping six across all four acting categories — but she's still relatively unknown to film and TV fans. Her work on the third season of The Good Fight should have changed that, but CBS All Access is still a largely unknown commodity to most people. If this show was on FX or HBO, it would almost certainly be more involved in the Emmy conversation, and that just doesn't seem fair. As Liz Lawrence, McDonald got some meaty plot developments in season three, including dealing with the fact that her deceased father was a monster and handling a contentious divorce, and she bit right into them, proving why she's become such a beloved performer on the stage.
Aya Cash for You're the Worst
Listen up, Emmy voters. It's time to make up for past sins. Aya Cash should have been nominated two or three times already for You're the Worst, especially for her incredible work in the second season. And while there's no use lamenting your previous failures, this is the last chance you have to recognize one of TV's most consistently fascinating comedy performances. Not only does she have deeply underrated comic timing, but Cash dug deep as this show progressed, finding the kind of truthful depiction of depression that we don't usually see on TV. And the show, after a bumpy previous season, ended on a high with one of the best multi-episode runs in its history.
Shea Whigham for Homecoming
It seems likely that Amazon's hit mystery drama is going to be all over the Emmys with probable nods for series, Julia Roberts, and Bobby Cannavale. While most of this feature has been about spreading the wealth to other shows, this entry is a plea to remember one of the key elements of a show you're probably already nominating. Shea Whigham has been an anchor for great TV in the past, including Boardwalk Empire and Fargo, but he never gets the credit he deserves. In many ways, Whigham's Thomas Carrasco was our surrogate into the trippy, dreamy mystery of Homecoming, and the character actor grounded him in a way that makes us wish someone would write a true thriller for him as the leading man he long ago proved he could be.
Maya Rudolph for Forever
September 2018 feels so long ago that you probably forgot all about Amazon's critically acclaimed dramedy that gave Maya Rudolph her best platform in years. The SNL alum co-starred with Fred Armisen in this series about — spoilers — being stuck with the same person for the rest of eternity. Imagine the slightly annoying quirks of your partner going on forever. The writing on Forever was razor-sharp (and nominated for a WGA Award), but it's a show that wouldn't have worked at all without Rudolph's brilliant take on the quiet desperation that comes when one realizes they are stuck.
William Jackson Harper for The Good Place
With the announcement that the fourth season of network TV's best show would be its last, Emmy voters are running out of time to do what's right when it comes to nominating The Good Place. Ted Danson and Maya Rudolph (for guest) have been nominated, but it has missed out in every other category. It's time to change that. Not only should it appear in series, but take a look deep inside and you'll realize how great William Jackson Harper has been over all three seasons as the wonderfully neurotic Chidi Anagonye. His third-season arc was a great display of his acting skills as Chidi essentially started over, but Harper was still allowed to build on many of the quirks and charms of the character we knew from the first two seasons. Honestly, you should probably nominate all six of the major players on this show, but we'll be happy if you start with Harper.
Sian Clifford for Fleabag
The runaway train of buzz for Amazon's brilliant Fleabag feels like it has the momentum to push one of the best shows on television into a few categories, including Best Comedy Series and Best Actress. So while you're still reeling from that brilliant second season, take a moment to consider a performance that is often the straight man to the chaos that surrounds it — Sian Clifford as Claire. Clifford's character opens the season in a tough place for an actress — choosing her awful husband over her sister — but takes a turn at the end of the season premiere that unites Claire and her sis in an unexpected way. It's the subtle, graceful way that Clifford balances some of the more extreme narrative turns of the show that really grounds Fleabag. We love Phoebe Waller-Bridge, Olivia Colman, and Andrew Scott as much as the next person, but Clifford ties them all together.
Tracy Morgan for The Last O.G.
This spot could have gone to Tiffany Haddish too, equally great on this TBS hit, but the truth is that Best Actress is way more crowded than Actor, and we're realistic. The Last O.G. has been a wonderful vehicle for both performers, who are perfect at balancing the sometimes-sitcomish setups for this show with something that feels insightful about race and class in the late '10s. Most of all, Haddish and Morgan are simply very funny performers, and it's been fun to watch Morgan find a deeper emotional core than he was allowed on 30 Rock. His Tray Barker is like so many men — trying to make up for past mistakes and carve a way to a brighter future.
Rita Moreno for One Day at a Time
There's an absolute legend right there on your Emmy ballot, continuing to do remarkable work into her sixth decade in entertainment. She's a legitimate EGOT (and there are only 15 of those ever), but what's more stunning is how much Rita Moreno has never once coasted on her past acclaim or success. She challenged herself on this Netflix comedy in ways that always felt underrated, and then the streaming giant went and axed the show, breaking the hearts of legions of fans. Show them that they made a mistake. And do it in grand, headline-grabbing style by nominating one of the best pure entertainers who ever lived.