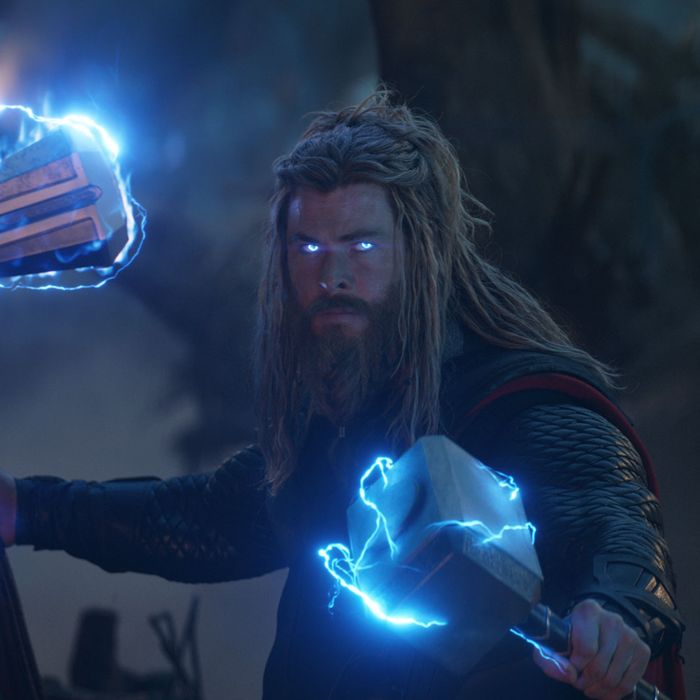 Fat Thor is headed back to theaters to kick
Avatar
's ass
Photo: Film Frame/Marvel Studios 2019
On Tuesday, Walt Disney Studios announced perhaps its grandest promotional gesture of the year. The House of Mouse declared that Avengers: Endgame would make a triumphant return to the multiplex this Friday via something called a "Bring Back Event," offering fans a chance to see the Marvel Studios blockbuster — which first came out on April 26 — "one more time on the big screen before it finishes its theatrical run." As enticement, ticket buyers were promised a piece of "exclusive" Avengers artwork (a poster of Thanos's Infinity be-Stoned gauntlet floating above the meme-inspired tagline, "We love you 3000"), a video introduction by co-director Anthony Russo, and, best of all, an unfinished deleted scene.
But for anyone who's kept their eye on the progressive uptick of Endgame's box-office tallies, the ulterior motive for theatrically redistributing the conclusion to the Avengers' saga a mere eight weeks after its initial release was crystal clear. Global ticket sales of $2.749 billion have already made it the most successful movie of the year by a wide margin, but Endgame is still just shy of the all-time box-office record set by writer-director James Cameron's Na'vi space fantasy Avatar in 2009: $2.789 billion. This year's "Bring Back Event" is Disney's last-ditch effort to make the tens of millions of dollars it needs to best Cameron's effort — an unprecedented attempt at securing "bragging rights," as one executive at a rival studio put it in conversation with Vulture.
"Disney has the wherewithal. They can put pressure on theater chains to put the movie back in theaters," a Hollywood executive with significant ties to Marvel Studios, the Disney studio division responsible for Avengers movies, says of Disney's rerelease strategy. And that strategy, the executive explains, isn't exactly being met with pushback — in this case, at least. "There isn't a lot of love for Cameron within the industry. People have been gunning to take him out of the top spot for a long time." (Disney declined Vulture's request for comment.)
Of course, ask an industry observer and they're likely to let you know that even if Endgame manages to surpass Avatar's total this weekend, its record-busting at the box office will go down in history as a technicality. Many have cited the fact that movie tickets now cost 20 percent more in the United States than they did a decade ago and, adjusted for inflation, Endgame would need to take in something closer to $3 billion to effectively knock Cameron's sci-fi epic out of the top spot. Several people who spoke to Vulture cited one primary abiding factor for why they're adding an asterisk to Endgame's success: China. In 2009, the country had a mere 5,000 movie screens, and Avatar earned a relatively paltry $204 million on them. Nowadays, Mainland China boasts some 60,000 movie screens and not coincidentally, Endgame grossed a staggering $576 million over its theatrical run there. All arguments boil down to the same premise: The theater industry doesn't operate the same way that it used to, and drawing a line between the two moments in cinema history just creates a false range.
Disney has other incentives to reinject Endgame into the movie marketplace on this last June weekend. With Toy Story 4 expected to remain the top-grossing movie for a second consecutive week, Endgame faces off with a batch of weak contenders including director Danny Boyle's jukebox musical Yesterday, the Daisy Ridley-starring Hamlet reboot Ophelia, and the Mormon missionary biopic The Other Side of Heaven 2: Fire of Faith. (By mid-week, Endgame already ranked in Fandango's top-five for ticket pre-sales, which includes Annabelle Comes Home, the seventh entry in the Conjuring universe.) More strategically, however, the fourth Avengers film also serves to tee up the final edition to the Marvel Cinematic Universe's so-called Phase Three — Spider-Man: Far From Home — which arrives in theaters July 2. The Tom Holland-starring movie picks up after Avengers: Endgame and recounts how the world reacted to the return of half of its population, previously snapped into oblivion for five years by Thanos. (That period is referred to as "The Blip" in the new film.)
Keeping in mind that Avatar was also theatrically rereleased in August 2010 — with an additional nine minutes of new footage, raking in an additional $10.5 million domestically — the question is: Should the casual moviegoer view Disney's trotting out of Avengers: Endgame so soon after its initial bow as the harbinger of a new Hollywood trend? Is every upcoming Star Wars installment going to hit theaters two times quick until the end of time? And what does that potential trend mean for smaller, indie films, which might now be forced to compete in an already cutthroat theatrical environment with an unforeseen "Bring Back Event?" (Independent films are in a dismal slump with ticket sales down 25 percent from last year.)
According to Erik Davis, managing editor of Fandango, such theatrical redistribution is definitely on the rise, especially with films vying for awards attention. But he feels it's hardly a sweeping trend or an unfair move on Disney's part that will edge out smaller films — it's more a symptom of increasingly nimble marketing and distribution choices by studio executives. "I'm sure there's an aspect of this decision that Disney wants to hold that 'highest-grossing film of all time' distinction. This is Hollywood, of course there are executives who are champing at the bit to get that notch on their belt," Davis says. "But this is not something new. The Greatest Showman did something like that where [Fox] brought it back into theaters as a sing-along version. A Star is Born did that; Warner Bros. saw fan demand, people going crazy for the music. The execs said, 'Let's add some more music, add some more footage and put it back in theaters.'"
"I don't think this stuff is going to be planned out in advance," he adds. "It's going to be in the moment: a wait-and-see thing. They'll say, 'Fans are demanding an additional experience to this film.'"
With just one more weekend in theaters, Endgame will be playing on nearly 2,000 screens in North America. It certainly has the potential to dethrone Avatar, but that outcome is hardly guaranteed. "Forty million dollars is a tough number to get to at this point," says Paul Dergarabedian, senior media analyst for Comscore. "It's possible. The potential is there if there are international theaters in play." (And Disney isn't saying either way.)