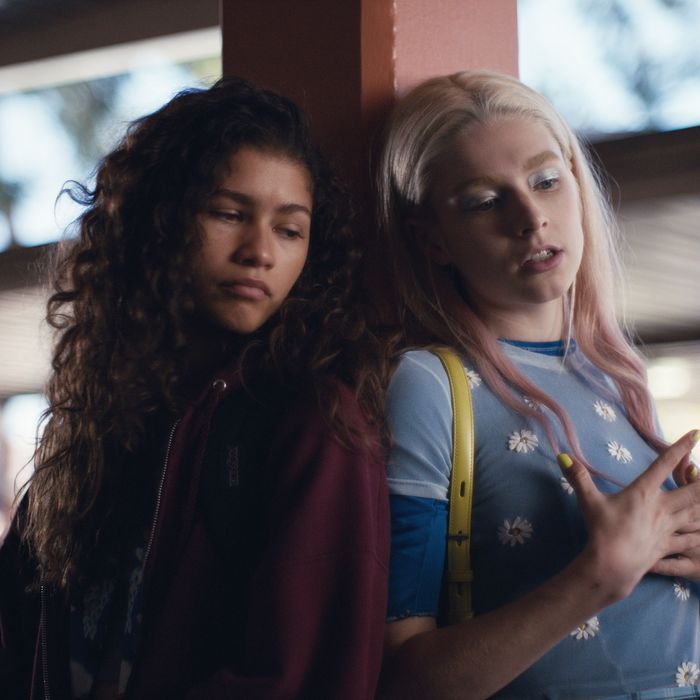 Euphoria
Pilot & Stuntin' Like My Daddy
Season 1
Episodes 1 and 2
Two hours into HBO's new teen drama, Euphoria, I'm still not really sure who it's for. Is it meant to be relatable content for a generation of teens raised on financial anxiety and active-shooter drills — despite the fact that those shocks have made them less, not more, likely to seek out sex, drugs, and booze? Is it a terrifying "lock up your kids" cautionary tale for a generation of parents who've already got their kids pretty well locked up? Is it a fun, sexy fantasy for those who dream of reliving their long-gone adolescence with the rocket-booster of a smartphone?
The closest I've gotten to an answer is a clip that appears in the second episode — Mark Wahlberg hitting himself in the chest in the '90s camp classic, Fear. It's a hint at the kind of formula Euphoria's trying to update: slinky, sexy bad-teen erotic thrillers like Cruel Intentions and Wild Things. But while those films could coast on the frisson of a few lines of blow and a well-placed threesome, Euphoria is in the uncomfortable position of having to throw everything at the wall to shock jaded viewers — then chastise them for enjoying what they just saw.
That means 10-year-old drug dealers. An adult raping a teen they met on Tinder. Fentanyl. Watching porn, making porn, reenacting porn, revenge porn. MS-13. More dick than even The Deuce has managed to get onscreen. A teen breaking a framed picture, then threatening to stab their mom with the shards. Self-harm. Quarts of vodka and lines of designer drugs. If Chernobyl hadn't already cornered the market on shooting puppies this season, I'm sure I'd be listing that as well.
Though it's an ensemble show about a junior class (and a smattering of their parents), Euphoria is unreliably narrated, Fight Club-style, by the jaded Rue (Zendaya), a 17-year-old addict who's fresh out of rehab. Born three days after 9/11 and diagnosed with OCD, bipolar, and anxiety before graduating elementary school, she spiraled after losing her father to cancer and her mother to the two jobs needed to pay the medical bills. She's traumatized her mom and little sister, who watched her OD, but she still has no plans to stay clean.
Rue's lust for drugs is no match for the earthly constraints of piss tests, Narcotics Anonymous attendance forms, or a lack of funds. She'll turn on exactly as much sociopathic charm as needed to score, then resume her flat affect the second the transaction's over. The character only works by the grace of Zendaya, who manages to bring an understated quality to material that's anything but.
While Rue's definitely the druggiest member of her social circle, the rest act out in their own ways. The second episode focuses heavily on Nate (Jacob Elordi), a hunky football player and violent misogynist still reeling from a tween-age encounter with his dad's homegrown porn collection, in which he sexually dominates an array of young gay men and trans women. Having developed a women-as-objects worldview that's pure Reddit red-pill trash, Nate's biggest fantasy is protecting the perceived sexual purity of his cheerleader girlfriend, Maddy (Alexa Demie). When she hooks up with an older guy at a party while they're "on a break," Nate retaliates by stalking him, beating him to a pulp and threatening to call the cops on him for statutory rape. Then, he gets off on the humiliation while fucking Maddy in the back of a bowling alley.
A lot of the show leans into this trope of sweet, innocent girls being heartlessly manipulated by toxic, misogynistic teen boys. Eager Cassie (Sydney Sweeney) gets mercilessly slut-shamed by her classmates, including her new love interest, McKay (Algee Smith), who chokes her without warning during sex. Insecure about her virginity, Kat (Barbie Ferreira) screws around with three of her male classmates — who then turn the encounter into publicly available porn. And after finding Nate's dad on an app, sweet-natured new kid Jules sneaks out to a seedy motel room to sleep with him.
For a generation of kids that's far more queer and far more engaged with issues of consent than previous ones, these are the aspects of Euphoria that ring most false. None of the Euphoria kids, at least so far, are explicitly gay or bi; Jules is played by Hunter Schafer, a trans actress, but it's unclear at this stage if the character herself is trans. The show most accurately reflects Gen Z in its racial diversity, but only at a surface level — there's zero discussion of identity, and Rue could easily be played by a white boy with hardly any tweaks to the script.
[ETA: Some readers have flagged subtle indicators in these episodes that characters are queer or trans, such as Jules injecting herself with an unknown medication that may be hormones, or Nate using a dating app that looks like, but does not specifically declare itself as, Grindr. Since I felt these indicators are at this point are still ambiguous, I wanted to avoid assigning any identities to characters that they did not specifically assign to themselves. It's certainly not my intention to "straightwash" LGBTQ+ characters, and I hope to discuss these characters' identities more fully as the show makes them more clear.]
Euphoria's biggest asset is its stylish, neon-bathed visuals, which borrow heavily from the filmographies of David Fincher and Gaspar Noé. Scenes move at the speed of an Instagram scroll, quick-cutting to match Rue's anxious inner monologue, then fading with her into a slow-motion, narcotized haze accented by well-chosen hip-hop and chillwave. Even when it's overwrought, the show's music video-like pace means it's rarely boring.
But a little more boring might be good for Euphoria, which is churning through its quota of shock value so quickly that I worry it'll burn out by episode four. Characters barely get to take a breath before tearing into another variant of teen trauma, as unstable Nate seduces Jules via the same hookup app as his dad and Kat decides to turn her revenge-porn lemons into the lemonade of camming.
This sheer quantity of go-for-broke licentiousness could be fun, were the show not so dead set on reminding viewers that it's all symptomatic of our broken culture, and that they're monsters for enjoying any of it. But perhaps that's the intended takeaway: If we've created a world where even gorgeous, rebellious teens can't enjoy being young and partying hard, what hope do the rest of us have?