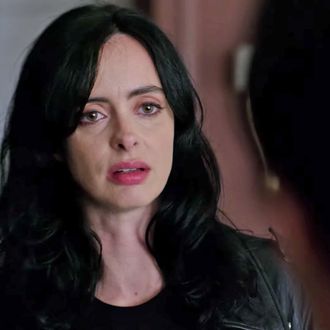 In the new trailer for the upcoming third and final season of Jessica Jones, everyone's favorite whiskey-drinking, leather-jacket-wearing private investigator (Krysten Ritter) and her jeans enter her apartment only to get a mysterious phone call. What does the caller want? Maybe for Jones to solve a case? "I want you to die," he says. Ouch. After an ominous date-announcement clip, there's finally more information about the brand-new villain Jessica will face. His name is George Salinger, and he's absolutely obsessed with her. He's determined to convince the already very sad superhero that she is not, in fact, a good person and that she deserves to die.
According to Jessica, he's relentless and smarter than both her and her sister/best friend, Trish (Rachael Taylor), combined. Jessica and Trish also argue about being a hero, since Trish probably has powers now. Jessica gets a visit from her frenemies Malcolm (Eka Darville) and Jeri (Carrie-Anne Moss), neither of whom looks very happy to see her. After Jeri decides to defend Salinger in court (for some reason), Jessica warns her, "When you cozy up to maniacs, people around you get hurt." She probably won't listen to her, but it's the thought that counts.
The main cast for season three also includes Benjamin Walker, Jeremy Bobb, Sarita Choudhury, Tiffany Mack, Jessica Frances Dukes, Aneesh Sheth, and Rebecca De Mornay. The final season of Jessica Jones premieres on June 14 on Netflix.