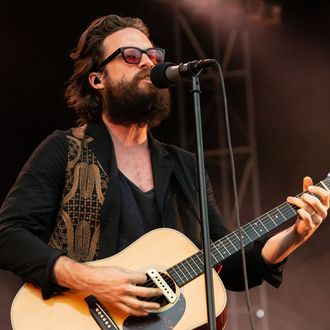 Photo: SUZANNE CORDEIRO/AFP/Getty Images
Having worked with Lady Gaga before, specifically on Joanne tracks like "Come to Mama" and "Sinner's Prayer," it's not completely surprising Father John Misty would be enlisted to pen some potential songs for A Star Is Born. But while cranking the country to 11 on a Father John Misty song does make for some extremely Jackson Maine listening, sadly the tune ended up on the cutting room floor. Fortunately the singer broke it back out at a show in Minneapolis on Friday.
"That would've sucked," he concludes after finishing the song. "I've seen that movie. There's really no place in that movie for that song, unless he was bombing at Coachella or something. The sequel? Now we're talking." You can listen to the rejected track a little after 1:20:00 in the video below and imagine a very different Best Original Song performance for yourself.