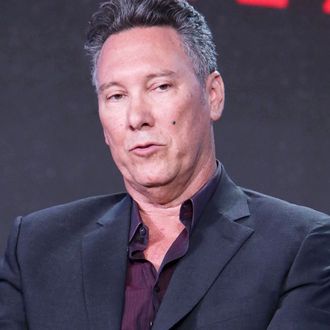 Jeff Franklin.
Photo: Eric Charbonneau/Invision/AP/Shu/Eric Charbonneau/Invision/AP/Shu
Fuller House showrunner Jeff Franklin was let go from the production in 2018, and according to multiple investigations into his conduct, he was fired for inappropriate and discriminatory behavior. Franklin also created the original Full House, and over the course of decades has been part of hits like Laverne & Shirley, It's Garry Shandling's Show, and Hangin' With Mr. Cooper, but accusations of mistreatment and creating a hostile work environment for people of color and women caught up to him, according to The Hollywood Reporter. Investigations into Franklin's conduct started in 2016, and in many interviews "concerns were raised about Franklin's handling of pregnancy-related requests for time off for doctor appointments as well as concerns about equal treatment for male and female writers for the show." He received "verbal counseling on appropriate, business-like behavior," but then new accusations were made against him in late 2017, leading to another probe.
"One woman said Franklin would talk about orgies he had over the weekend. Another woman, supported by a third, claimed that Franklin had his assistant request that all the writers come to his mansion and they were reminded multiple times to bring their bikinis," reports THR. "Franklin was also said to have complained about having to hire directors who were women or people of color, expressing preference for male writers, apologizing to his staff for not dating Jewish women, describing female directors as 'all the same' and making sexualized comments." Other comments Franklin is alleged to have made include: "I wish I could make all the women on my staff get hysterectomies," and "She's one nose job away from a good fuck," referring to an underage girl. Eight Warner Bros. employees were reportedly interviewed as part of the investigation.
Franklin is suing the showrunner who took his place, Bryan Behar, and Behar is trying to get that suit dismissed. A labor relations executive at Warner has submitted a sworn declaration in Los Angeles Superior Court backing Behar's pleas for a dismissal.