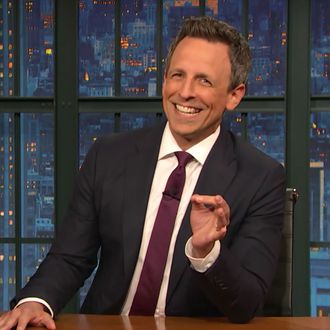 Seth Meyers.
Photo: YouTube
Donald Trump must have known debate night is just like Christmas for late-night hosts. It's really the only explanation for him saying "We're saying 'Merry Christmas' again!" while at the Faith and Freedom Conference yesterday. Well, Merry Christmas, Seth Meyers, Stephen Colbert, and Trevor Noah. Their gift was two hours of political nonsense, complete with a Spanish-off, technical difficulties, and Tim Ryan's resting shocked face. The first Democratic debate of the 2020 presidential election cycle was last night, with part two happening tonight. The three hosts all have live shows after both debates, and will answer thoughtful questions like, "Who is John Delaney?" Here's a roundup of what the late-night hosts had to say after round one.
Late Night With Seth Meyers
After dealing with Trump for so long, Seth Meyers found it "refreshing to see sane human beings speaking in coherent sentences about actual policies on national television for a change." Not to mention, the candidates were full of surprises. Beto O'Rourke broke out his Spanish and nearly broke Cory Booker in the process. "It's actually the face of a guy thinking 'Aw, man. I was gonna do that,'" Meyers joked. Luckily for Booker, he's not the only one with a meme-able expression. Basically every shot of Tim Ryan makes him look like "his dog just talked."
The Late Show With Stephen Colbert
According to Colbert, the first part of the Democratic debate was "an excellent dress rehearsal for tomorrow's actual debate." The CBS host couldn't get enough of Beto O'Rourke and Cory Booker having the same exact secret weapon. They each went for "linguistic surprise" but ended up somewhere around "embarrassing dad at a Mexican restaurant." Colbert was equally obsessed with the technical difficulties the moderators faced at the start of the second half. "Wow, that is really embarrassing to have a live show where you don't know whose mics are on and whose mics are off while you're doing your show," he rambled as band leader, Jon Batiste, spoke incoherently in the background. "I was really just trying to see if you wanted to get something to eat after this," he replied.
The Daily Show With Trevor Noah
On The Daily Show's live coverage, "Votegasm," Trevor Noah stressed the importance of the debates for lower-profile candidates. "They could go from 'Who is that guy?' to 'Oh, yeah, that guy. No, I'm not gonna vote for him, no.'" Because he's part comedian, part service journalist, Noah provided a super-simple mnemonic device to help viewers remember all of the night's candidates: "Brave dancers breathlessly try rapidly jumping canyons cradling bacon even while bastard orphans antagonize kangaroos twirling grape jelly inside John Delaney." Now just match all those words to Bill de Blasio, Tim Ryan, Julián Castro, Cory Booker, Elizabeth Warren, Beto O'Rourke, Amy Klobuchar, Tulsi Gabbard, Jay Inslee, and John Delaney. It's simple!