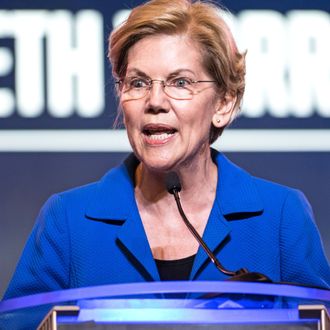 Photo: Sean Rayford/Getty Images
Millions of people will watch the Democratic presidential-primary debates tonight and Wednesday, but it'll be a shock if ratings for the two-night event come anywhere close to matching the massive Nielsen numbers seen during the 2016 election cycle. While voter interest in the 2020 election is remarkably high, at this point the contest lacks a number of the elements that boosted tune-in last time, including the most important ratings driver of all: Donald Trump onstage.
The former reality-TV star's first appearance in a debate scored unicornlike ratings back in August 2015, attracting 24 million viewers to Fox News — the biggest-ever audience for a primary debate. It was nearly eight times as big as the first GOP debate of the 2012 cycle (3.2 million) and almost 10 times as big as the early debates for both parties back in 2007 (each of which notched around 2.2 million viewers). Curiosity over how the political novice would do in a formal debate setting, combined with Trump's very loyal fan base, made the early Republican debates event programming: A CNN debate with Trump in September did nearly as well, drawing 23 million viewers. And while audience levels declined as Trump marched toward the GOP nomination, every Republican debate during the 2016 cycle managed at least 11 million viewers—bigger than any debate in the 2012 or 2008 primary campaigns. Unless Trump suddenly decides to fly to Miami and join the Democratic race, it's unlikely (though not impossible) that the Wednesday or Thursday debates will come anywhere close to the 24 million Fox News drew in 2011.
This is not to say the debates are certain to be a dud. For one thing, the Democrats and NBC News wisely decided to triplecast the first two showdowns, airing them on the NBC broadcast network, cable news outlet MSNBC, and Spanish-language broadcaster Telemundo. Though it's not at all unusual for a broadcast network to air a primary debate, it is uncommon for such an early debate to get a three-network simulcast. In particular, the debates airing on NBC and Telemundo means Dems might be able to reach more casual viewers, like folks who tune in expecting a Law & Order: SVU rerun and decide to stay for the political fireworks. NBC News will issue cumulative audience numbers for the debates, figures that will be compared with ratings performances of debates that aired on just one network. (It's a strategy AMC Networks smartly used earlier this year for season two of Killing Eve: It simulcast the show on BBC America and AMC, all but assuring the show's ratings would be up over season one.)
Still, even with the bigger platform, the first Democratic debates might struggle a bit in comparison with 2015. The first Dem debate that year came much later in the year (October) and featured a marquee showdown between a rising-in-the-polls Bernie Sanders and Hillary Clinton (no offense, Martin O'Malley, Jim Webb, and Lincoln Chafee). As a result, it did very well, drawing 15.7 million viewers to CNN — almost seven times as many as the 2.3 million viewers for the first Dem debate on MSNBC in 2007. (There were no Democratic debates in 2011–12.) By contrast, instead of two big contenders squaring off for the first time, this year the early Dem debates will feature 20 candidates over two nights. Will that take the drama out of the whole affair, resulting in two hours each night of a bunch of candidates fighting to say anything of substance in the 60 seconds they'll get to answer questions? Or will the spectacle of so many politicians fighting to break through actually drive tune-in, resulting in bigger-than-expected numbers?
As MSNBC and Stephen Colbert's ratings for most of the past three years underscore, there's incredible interest in politics right now, particularly among the Democratic base most likely to watch debates. Perhaps that strong desire among Dems to find someone to replace Trump will prove as powerful a lure to viewers as Trump's actual presence on the stage was in 2015. But given how early debates in past cycles struggled to reach even 3 million viewers, a much likelier outcome will be notably lower ratings this time around — followed, of course, by the inevitable Trump tweet bragging about how much better his ratings were.