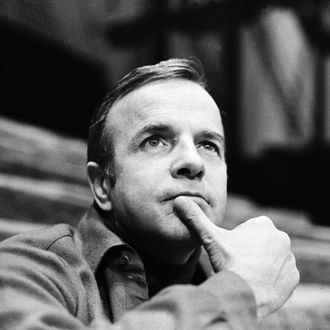 Franco Zeffirelli.
Photo: Jack Mitchell/Getty Images
Italian film director and opera, television, and film producer Franco Zeffirelli died on Saturday at 96 years old. He died at home in Rome according to his son, Luciano. "He had suffered for a while, but he left in a peaceful way," Luciano told the Associated Press. The director is best known for his elegant film adaptations of Shakespeare plays. His 1968 version of Romeo and Juliet earned him an Academy Award nomination. He also directed The Taming of the Shrew in 1967, with Elizabeth Taylor and Richard Burton as the leads. Over 20 years later, after producing operas and adapting them for the screen, he returned to Shakespeare with Hamlet (1990), starring Mel Gibson, Glenn Close, and Helena Bonham Carter.
The only rival to his onscreen extravagance was his decadent opera and theater productions. He began his career in stage design, working his way up to directing and producing in some of the finest opera houses in the world, including the Met and La Scala. Zeffirelli worked closely with Maria Callas, directing her in La Traviata and Tosca.
A conservative Roman Catholic and generally passionate man, Zeffirelli did not shy away from controversies, political or social. He is survived by his two adopted sons, who worked with him closely and served as his caretakers later in life.