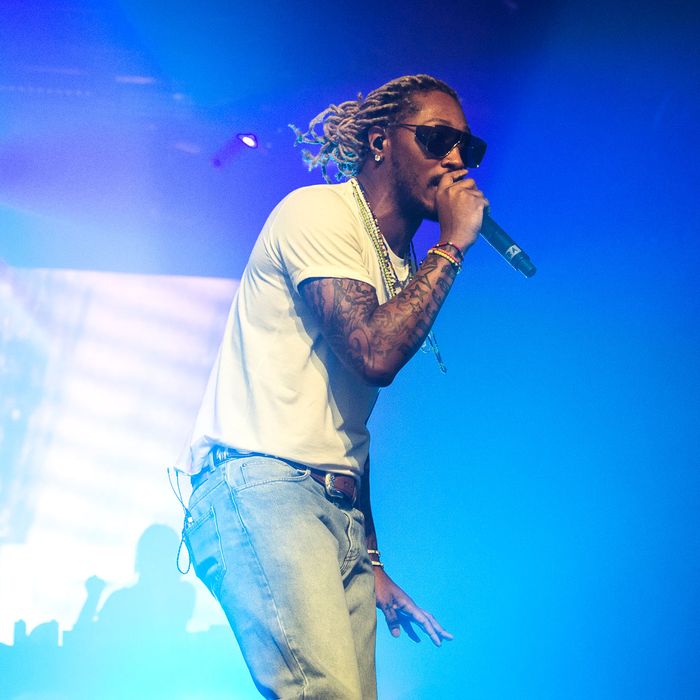 Save Me
isn't a wash. It's just a little drunk on its own drama.
Photo: David Wolff-Patrick/Redferns/Getty Images
Future's prolificacy is a gift and a curse. It's smooth sailing until it's not. You know the one too many when you hear it. What seems like an effortless knack for sharp hooks and lines suddenly feels labored. Ideas run together. Song concepts cross each other up. The feeling that he's pulling songs fully formed out of thin air becomes a wish that he'd rein it in and release less music. Save Me, his new EP and second project in five months, is one of these. It is, by turns, both a little undercooked and a little overwrought. "St. Lucia" lays the vocal manipulation on too thickly. "Please Tell Me" distracts from the main vocal with a few too many ad-libs, while Future slurs his way through verses and choruses, the way a young buck like Playboi Carti might. "Love Thy Enemies" ignores meter as the rapper croons sluggishly out of time, stopping the verse halfway through on a cough, as if the source of truth in Future's music is how broken his voice can be made to sound, rather than how he manages to succeed in the face of his demons.
Coating Future in effects to make him sound defeated on sad songs is the same kind of miscalculation A$AP Rocky made with Testing, an album that wore its druggie bona fides in the mix more so than in the writing. The most moving Future songs don't use a coat of effects to get the point across. You feel the love in "Blood, Sweat, Tears" and "Lie to Me" in the determination to send the hook into the stratosphere. The most unnerving quality about Monster's brokenhearted hate-fuck anthem "Throw Away" is clarity. Save Me carries its sad-sack tendencies a step further than the great dejected Future songs have in the past, but making this record sound like a downer taking hold ultimately obscures the natural expressiveness of the singer's voice. He can commute these feelings without the bells and whistles.
Save Me isn't a wash. It's just a little drunk on its own drama. The best songs express the tug-of-war at the root of the rapper's writing, the balance between his rapping and his singing, and between his dueling desires to be loved and envied. "Government Official" revives the harsh raps of FUTURE; "Shotgun" and "Extra" return to HNDRXX's hunger for love. "Xanax Damage" is quick and catchy, as is "Please Tell Me," in spite of the feeling that the rapper is cannibalizing tics and ideas from his back catalogue. Consistency is Future's superpower, but he needs to be challenged and edited. (Last year's airtight Zaytoven team-up Beast Mode 2 sifted through dozens of records to get to the nine that made the final cut. The Genius annotations for Save Me are full of producer notes about quirks the rapper was encouraged to leave in.) At its best, Save Me is an intriguing expression of knotty realities. Situating the debauched "St. Lucia" next to the desperate "Please Tell Me" is a not-so-subtle suggestion that men don't really know what the hell they want.
That said, Save Me's mixed messages make the sturdier organizing concepts of Monster, DS2, FUTURE, HNDRXX, Beast Mode, and Honest — album-length dives into a specific quadrant of the rapper's creativity — feel like the most efficient method of packaging new Future music. Here, he's juggling lust, love, pride, arrogance, depression, affluence, and inadequacy, and getting a little lost in the shuffle. Does Future need saving, or is he painting himself into a corner the more his songs about reckless thoughts and feelings resonate? Is this a breakdown or is it theater? Should we be worried? It gets harder to tell every year.