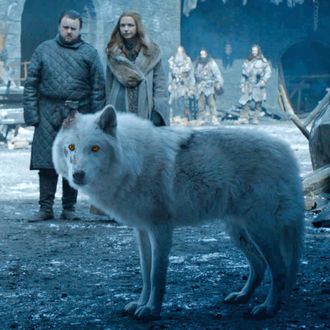 Woof?!
Photo: Helen Sloan/HBO
As much as we would've loved to see a bunch of fluffy good boys patrolling around Game of Thrones' final season, their lack of presence boiled down to simple financial matters: The required CGI and visual-effects work became too costly to maintain, even for a show as big as Thrones. That ultimately left an idea director Miguel Sapochnik entertained for the Battle of Winterfell on the cutting-room floor, which would've been a scene featuring Jon Snow's faithful companion, Ghost, facing off with the help of 49 (!) other direwolves against Daenerys's dragon, Viserion. "There were many things that happened that people would've been so happy to happen — attacks of direwolves and crazy stuff," Sapochnik said on Indiewire's Filmmaker Toolkit podcast. "At a certain point you're, like, '50 direwolves attacking an undead dragon does not a good movie make.' This was stuff we did not shoot; it's part of the process."
While the show's finale ended up checking in with Ghost and showing some cute and cuddly direwolf action, Sapochnik added that showrunners David Benioff and D.B. Weiss were cognizant about the likelihood of 50 direwolves banding together, anyway. "They were completely ruthless when it came to that thing of 'no we want this, no we want this,'" he said. "At the same time, at some point there were moments of realization of 'we physically can't do some of these things, and some things we can.'" Now, we'll just have to wait and see if those good boys show up in Thrones' very secretive prequel.