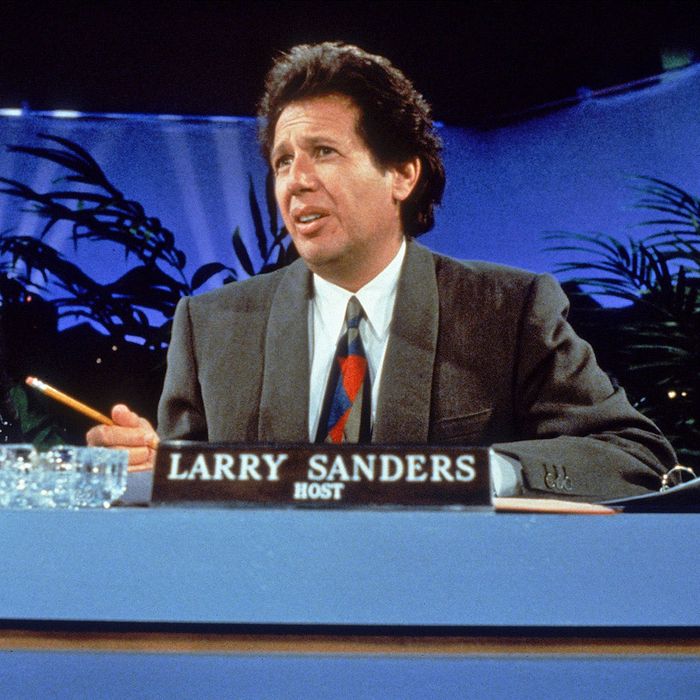 Garry Shandling on
The Larry Sanders Show.
Photo: HBO
When HBO aired The Zen Diaries of Garry Shandling, Judd Apatow's four-hour-plus documentary on the late comedian, over two nights in March of 2018 it felt like perhaps the final definitive statement on Shandling's fascinating career and life. But in the wake of the documentary release, the Garry Shandling estate also launched a website dedicated to the comedian, where troves of photos, videos, personal diaries, and comedy journals were made available to the public. So with both an expansive documentary and a comprehensive website dedicated to Shandling, it seemed that by the end of 2018 basically every corner of his life and career had been covered.
But if you've watched Apatow's documentary and taken a deep dive into the archives and still want more of your favorite comedian, there is an overlooked work from Shandling's career that is worth your time: Confessions of a Late Night Talk Show Host: The Autobiography of Larry Sanders. The book, credited as "as told to Garry Shandling with David Rensin," is bizarre, hilarious, and has a spiritual twist that provides an intriguing snapshot of Shandling at the end of the Larry Sanders Show era. Perhaps more importantly, it serves as a kind of pure distillation of Garry's humor — something you can pick up and skim when you are looking for a quick dose of his trademark way of turning a joke.
Confessions of a Late Night Talk Show Host was published by Simon & Schuster in late 1998. In May of that year, The Larry Sanders Show ended its six-season run on HBO. The physical and psychic toll that running and bringing The Larry Sanders Show to a conclusion took on Shandling has been much discussed and, according to a Salon review by Joyce Millman from 1998, may have resulted in Shandling missing his deadline to submit the manuscript for its original publication date.
But if Shandling was creatively exhausted, it does not show within the pages of the book. From the dedication page ("To me") on, his one-liners, non sequiturs, and absurd recollections as Larry Sanders are in full force. The "autobiography" starts with Larry's reason for writing the book: mainly jealousy over other celebrities like Howard Stern, Geraldo Rivera, Roseanne Barr, and Burt Reynolds writing and selling their own tell-all autobiographies. He also tells us that he's publishing this autobiography in order to "come back to you just like Jesus did, to speak to you one last time about something even more riveting than that of which Jesus spoke: show business and all the gossip and dirt and rumors that I have accumulated over a lifetime."
The book moves to Larry's upbringing in the 1950s in Mound, Minnesota, a suburb of Minneapolis. Larry writes that his parents were both welders during World War II, but that his mother then sold cosmetics at Woolworths and that she missed her welding job so much she still wore the welder's helmet to the store each day. His father loved welding so much that sometimes, to relax, he would clean his blowtorch after dinner. Larry describes his childhood as loveless, saying that the kids called him four eyes even though he didn't wear glasses; when he does eventually get glasses, they call him "six eyes."
In this early part of the book we learn that Larry's birthday is December 31, that he knew he wanted to be a talk-show host in 1963 when he was watching an episode of The Tonight Show, and, bizarrely, that his mother had an affair with Joe Jackson and that his little brother is Tito Jackson. We also learn that Larry lost his virginity as a teenager to a waitress at Denny's named Edna. Larry surmises that Edna was attracted to him when he noticed one day at Denny's that "she was stirring my coffee with a condom." Larry's first sexual encounter is replete with airport runway strobe lights that Edna has set up to help young Larry on his way.
We follow Larry on his journey to Los Angeles, which happened in "1979 or 1992." Larry breaks in at The Comedy Store and befriends Jimmie Walker, Freddie Prinze, and Gabe Kaplan ("Gabe wasn't a loner after all, just too good for his friends. I couldn't wait to be like that"), works with a partner named Stan Paxton (played on the HBO show by Eric Bogosian) that he comes to despise, and rubs elbows with other famous comedians and celebrities including Dick Cavett — who Larry tells us tried to have Johnny Carson killed — and Rodney Dangerfield, to whom Larry suggests changing his trademark "I get no respect" to "I get no pussy." Larry makes his way in Hollywood, meets his first wife, gets a coveted stand-up set on Carson, moves on to game-show work and then to guest-hosting for Johnny, and finally gets his own show.
Larry gives us brief descriptions of some of our favorite members of The Larry Sanders Show. We hear about Artie's career pre-Larry, when he was a producer on The Tonight Show with Jack Paar and The Jackie Gleason Show; we get the story of how Larry and Hank met on a cruise ship. Larry tells us that his assistant Beverly is "the most important person in his life" but that he doesn't "know anything about her. She's been with me twelve years and I just recently discovered that she's black."
These descriptions are followed by an extensive series of photos from The Larry Sanders Show that all have captions serving up a variety of one-liners. A picture of Jennifer Aniston on the show features a caption that says: "Jennifer Aniston is one of the most beautiful women we have ever had on the show aside from Warren Beatty … I asked her in a commercial break if I could be one of the Friends, and she said, 'Not even a pen pal.'"
The book also covers Larry's burnout from the show and eventual decision to walk away. But it concludes with an interview that Larry imagines will happen between God and himself upon his death. (Larry describes his death as "a sad day for show business and the entire Muslim world.") The interview features God impersonating Humphrey Bogart and offering Larry advice to figure out who he truly is without his fame and fortune. It concludes with God saying Larry's catchphrase, "No flipping."
The Larry Sanders we encounter in Confessions comes off as a more cartoonish and exaggerated version of the Larry from the HBO show. In the show, Larry is insecure, petty, and selfish, but his many faults are all balanced by the fine mixture of nuance, humor, karmic retribution, and camaraderie that the series manages to pull off in its depiction of life behind the scenes on a late-night talk show. In the book, Larry bounces off of people and things (or in the case of Sandra Bullock, he is flung by them: "[Sandra and I] actually had a two-week fling. There was no sex, we just flung each other around") and passes through 20th century comedy as a Zelig-like figure. The book even goes so far as to list all the women Larry slept with. It's all very funny (though sometimes dated), but what's missing is the balance that Artie, Hank, Beverly, Paula, Mary Lou, and Phil gave to Larry's neuroses and ego. But the book isn't meant to be The Larry Sanders Show; it's meant to simply serve as Larry's life story, and that story is an extremely absurd and extremely self-serving one.
Confessions of a Late Night Talk Show Host is also a unique book in that it is a fictional autobiography of a character from pop culture. Since the book's publication, just a few other examples of pop-culture autobiographies have emerged. In 2007, Stephen Colbert published I Am America (And So Can You!), a book of essays and thoughts on specific topics in the voice of his Colbert Report alter-ego. The closest comparison to Confessions of a Late Night Talk Show Host is Steve Coogan's I, Partridge, a memoir he published in 2012 as his iconic Alan Partridge character.
But Shandling's book (and Coogan's) fits into a larger canon of literature that is focused on fictional autobiographies and biographies. Some of the most prominent fictional autobiographies have come from the greatest writers in the English language: Virginia Woolf's Orlando, Saul Bellow's The Adventures of Augie March, and Laurence Sterne's The Life and Opinions of Tristram Shandy, Gentleman. Confessions of a Late Night Talk Show Host most closely resembles the work of Bellows and Sterne; all three follow protagonists from humble roots who try to make their way in the world, and all three are autobiographies that are filled with digressions and asides and a lot of humor. Whether or not Shandling intended to follow in this tradition isn't clear, but the similarities are there.
Confessions of a Late Night Talk Show Host may not be a major piece of Garry Shandling's career, but within its pages is as pure a distillation of all things Garry that you can find. We move from classic Shandling wordplay ("[Publishers] assumed that I was just a one-dimensional talk show host who simply sat in his chair and could only talk to the people on his right. In fact, I'm a deep man who can talk to people on either side") to examples of whiplash dialogue between Artie and Larry. "I wouldn't do it," Artie says of Larry's decision to write his autobiography. "I'd have to tell the truth and I can't." Larry responds, "I thought you always told me the truth." To which Artie replies, "Of course I do. That's my job." If you are looking for a specific type of Shandling joke to get your fix, you can find it just by flipping (no pun intended) idly through this book.
What is perhaps Shandling at his purest, though, is the "About the Author" page, where Larry admits to being a fictional character and tells the reader that he doesn't exist. "We are all energy," Larry says, tapping into Shandling's well-documented spirituality and yearning for understanding his place within the universe. But then he adds, "especially Don Rickles." Show business and spirituality rub elbows once again. It wouldn't be a Garry Shandling joke without it.