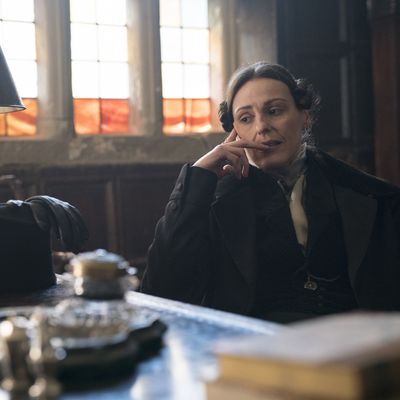 Prior to her work taming the seas and shitting on her annoying brother as Yara Greyjoy, Gemma Whelan was a stand-up comic who worked in character as a kind of proper British Andy Kaufman–esque ninny named Chastity Butterworth. She was also a tap dancer. Sorry I didn't tell you this before Game of Thrones wrapped up, but please keep it in mind as Whelan's Marianne opens this week's episode of Gentleman Jack, pulling faces while her sister, Anne Lister, blisters at her new hot groom, mister.
Yes, Anne is planning to go abroad solo and needs a new traveling servant because her previous groom was shot and killed while trying to scare birds out of a tree for hunting during her last trip. This show certainly brings Downton Abbey's "we're best friends with the help who live in the basement" sentiment back to earth. Anyway, Anne's new groom is attractive, and while her sister bats several lashes in his direction, Anne doesn't even lift her head to glance at him while rattling off her expectations.
Relatable.
Not because lesbians can't tell if men are attractive. I can. (I think — is Jason Momoa the world's only attractive man?) But attractive men don't usually throw me off my game. The current seasons of Killing Eve and Fleabag are so sexy —thanks, Phoebe!— they made me realize straight folks must get to feel sexy watching TV all the time. A lot of sexy straight experiences fly directly over my head. For the first several years of my stand-up career, there were no other queer women working open mics in Chicago, so it honestly never occurred to me that other open mic-ers were fucking each other. Stand-up is chaste, I thought to myself as I sat through 9,000 dudes making jokes that required using the mic as a penis.
Speaking of relatable things, in "Why've You Brought That" we get to see how Anne remains connected to the women she has loved before. Reeling from the heartbreak of Ann's departure for her sister's house, Anne deals with her pain by reconnecting with Mariana, her longtime on-again, off-again lover. Mariana's nephew has just died, after having his arm chopped off in a bone-crushing mill (maybe get the bone-massaging mill next time, guys), and her husband is pissed that she has chosen to travel with Anne instead of attending the funeral. Still, Mariana carries on and tells Anne how this death affects her future: That nephew would have been charged with her care in the event that her much older husband dies before she does. Now her future will be in flux, especially since living with Anne at Shibden had been her backup post-husband's-death plan.
Through this conversation, we get some details about Anne and Mariana's relationship — all the different times each of them tried to commit to the other, only to be pulled away by timing, circumstance, and their queer queerness. We get a sense of how hard these women have had to work to remain in each other's lives without acceptance, legal protection for gay folks, or autonomy as women. The only thing I'd add from the perspective of 2019: Acceptance, legal protection for gay folks, and autonomy as women still don't guarantee a direct, unwavering path to happiness and lifelong marital bliss.
No, marital bliss comes only after you kill your father and feed him to pigs. Yes, pigmurderer is getting married! He killed his dad and is gonna get away with it and make a go of working in his dad's place, which is fine by me and everyone else, since that dad was an abusive piece of shit.
Elsewhere, Ann Walker — isolated at her sister's gloomy, child-filled house — is having the shittiest time of anyone. While Anne's sister will not be marrying the gauche rug-salesman suitor who appeared last episode, Ann's sister is several years into what seems like a crappy marriage to a scary man. She literally has children hanging from her breasts in every scene. Pig murderer is truly the only person on this show who seems to be entering a stable, loving marriage.
Anyway, Ann isn't getting any mental-health care — even the weird, ineffective health care she has gotten up to this point is now inaccessible — and her only comfort seems to come from a little drawing she made of Anne. She stares at it the way you and I scroll through Instagram photos of our crushes. And then, having been whisked away from Anne and her life in Yorkshire for her safety, Ann cuts her wrists and tries to kill herself.
It's almost as though maybe Anne and Ann had a better life together than they do apart.
Other Notes:
• Anne sort of leaves her coal-mining plans half-baked before taking off from Shibden. Seems like that could blow up down the line.
• Mariana and Anne fight and sleep together in this episode, which I kind of loved. Their total distrust of each other's ability to deliver on a commitment to their future together doesn't distract from their need to sex it up.
• Being a total pest, Anne goes to a fancy dinner in a dress and leaves Mariana at the hotel in London after inviting her there to begin with. It's a fun dick move, and because of it we see Anne Lister looking exactly as I do in a ball gown.
• Anne goes to see her other ex, Miss Hobart, while in London. Keeping in touch with all your exes is the gayest thing of all.